The Simple Makeup Hack To Nail Dewy Skin Without Ever Looking Sweaty

mbg Beauty & Wellness Editor
By Jamie Schneider
mbg Beauty & Wellness Editor
Jamie Schneider is the Beauty & Wellness Editor at mindbodygreen. She has a B.A. in Organizational Studies and English from the University of Michigan, and her work has appeared in Coveteur, The Chill Times, and Wyld Skincare.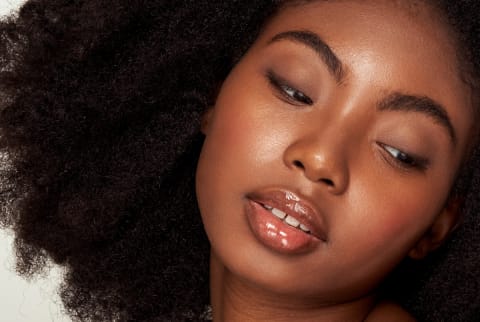 Image by HANNAH CRISWELL / Stocksy
June 1, 2021
Ah, dewy skin. The hallmark of a natural, minimalist beauty look, many would say. Your complexion looks radiant and lit from within; your skin supple and plump, like it's about to burst with moisture.
Although, the line between looking dewy and (shall we say?) drenched is frustratingly needlelike. You want to glisten just right, with a sheen of morning mist—not like you were hosed down. When summer rolls around and things get sweaty, it's much easier to cross over into the latter territory.
Advertisement
This ad is displayed using third party content and we do not control its accessibility features.
You may dust on a setting powder to absorb the oil, but these can grip and look caky if you layer them over cream or liquid makeup. You could opt for matte products for a completely shine-free complexion, but you might not want to nix all the dew—just, you know, some of it.
In comes makeup artist Criss Scortezz with a simple trick: "I have the easiest step to help fix that," he says in a recent TikTok. So you can fight the summer sweat, and have your dew, too.
A hack to tone down the shine & still look dewy. 
Apply your foundation and concealer as usual (to nail dewy skin, we recommend airy, slightly satiny foundations and creamy concealers), and grab a clean beauty sponge.
Dampen the sponge, making sure to squeeze out the excess water, and wrap it up in a tissue. Pull the tissue taut and gently blot away wherever you notice the most shine—for many, the T-zone area accrues the most oil, which can sometimes read sweaty. "It's that easy," Scortezz says.
The tissue acts as a blotting paper of sorts, absorbing oil through its tiny pores without throwing off your makeup. If your tissue is two-ply, you can even separate it into thinner pieces for even more precision. Using a beauty sponge, as opposed to tapping on the tissue with your fingers, also gives you more dexterity and helps you reach tinier crevices (like the corners of your nose).
Just a couple of tips here before you blot: Always bounce the beauty sponge—never drag, lest you smear all your concealer. Also, make sure the sponge isn't too wet; most makeup has an oil base, and too much water can create pilling (remember, oil and water are not friends). A good rule of thumb is to make sure the tissue stays dry—that way, it can lift up excess oil instead of making the skin look even more misty.
Feel free to reuse the technique any time you feel your makeup sweating off. Say, stash the sponge and a couple of tissues into your bag, and you can eliminate shine on the go.
The takeaway. 
It's simple, but this hack really works: To help your skin stay dewy without tipping the scales over to sweaty, a tissue and beauty sponge are all you need. No extra products to pile on or reason to elect for matte makeup, if it's not your thing. Just you and your dewy skin, with the right amount of shine.
Advertisement
This ad is displayed using third party content and we do not control its accessibility features.