The Shocking Tip That Will Help You Build Muscle, From A Nurse Practitioner

mbg Beauty & Wellness Editor
By Jamie Schneider
mbg Beauty & Wellness Editor
Jamie Schneider is the Beauty & Wellness Editor at mindbodygreen. She has a B.A. in Organizational Studies and English from the University of Michigan, and her work has appeared in Coveteur, The Chill Times, and Wyld Skincare.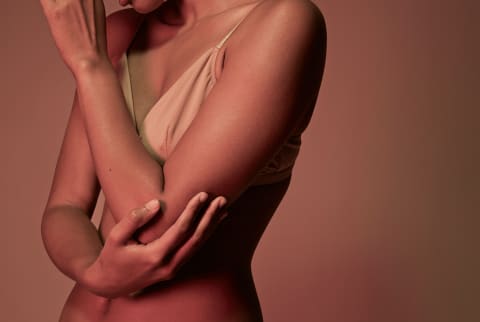 Image by Klaus Vedfelt / Getty
May 9, 2023
Our editors have independently chosen the products listed on this page. If you purchase something mentioned in this article, we may
earn a small commission
.
Quick—what are the best ways to build and maintain healthy muscle? Perhaps you immediately think of strength training exercises, protein-rich meals, or even high-quality protein powders to increase muscle-building amino acids.
But like most optimal well-being goals, proper muscle health requires more of a holistic approach. So according to nurse practitioner Cynthia Thurlow, N.P., one of the most important things you can do for your muscles doesn't require the gym but the bedroom: "I really prioritize sleep quality," she shares on the mindbodygreen podcast.
Advertisement
This ad is displayed using third party content and we do not control its accessibility features.
The link between sleep & muscle health 
That doesn't mean exercise and nutrition aren't important when it comes to building and maintaining muscle. "When I'm working with someone who's really trying to build lean muscle, I always remind them that you have to hit protein macros, you have to lift heavy things, and you have to have high-quality sleep," she explains. "You can't build healthy, lean muscle without all three of those."
That being said, it's common to skimp on the sleep part of the equation—but Thurlow recommends we flip the script. Sleep, after all, is essential for restoring your body; and deep sleep (also known as stage 3 sleep or slow-wave sleep), promotes muscle and tissue growth, along with cell repair.
Research has even shown that individuals with low muscle mass more frequently report very poor sleep efficiency1. Another study found that even a single night of sleep deprivation is enough to decrease muscle protein synthesis2 in young, healthy males and females. The bottom line? Catching Zzz's is very, very important for muscle gains—just as important as resistance training and proper nutrition, Thurlow would say.
Now, the question becomes: How does Thurlow promote deep, quality sleep? It's a quest she's personally invested in, as "so many of my female patients and clients struggle with sleep," she notes. Through her research, "looking at different types of supplements can be helpful," she adds.
She specifically points to GABA, a neurotransmitter that helps the body and mind to relax and fall asleep. In a recent study3, participants who took 100 milligrams of a natural form of GABA (PharmaGABA) before bed fell asleep faster and had better-quality sleep after one week of supplementation. Bonus points if you also supplement with magnesium, which binds to GABA receptors and activates them as GABA would4, eliciting a calming effect.
Here, you can browse our favorite (melatonin-free!) sleep aids, some of which include both hero ingredients.
The takeaway
Muscle mass is a huge predictor of longevity and health span, but optimal muscle health requires multiple approaches, including a quality sleep schedule. "You can't skimp on the sleep, and you can't eat a garbage diet and think you're going to be able to build healthy muscle," says Thurlow. As with every aspect of health and well-being: It's all about balance.
Advertisement
This ad is displayed using third party content and we do not control its accessibility features.