This Dietitian's Kimchi Noodle Soup Has Gut-Friendly Benefits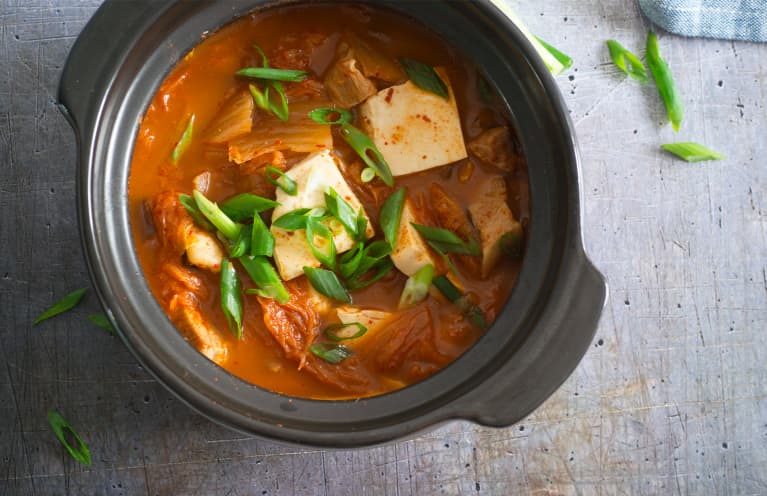 Kimchi, a mix of fermented and salted cabbage, radish, and other nutrient-dense veggies, is a Korean staple. Aside from being tangy and downright delicious, the fermentation process makes kimchi a gut-friendly dish.
Health benefits of kimchi.
Lactic acid bacteria (LAB) is produced during fermentation, creating a pungent flavor similar to sauerkraut. The LAB provides probiotic health benefits, which support the gut microbiome. Research also shows kimchi may have benefits beyond the gut, including anti-inflammatory properties, immune support, as well as brain and skin health promotion.
In order to get the benefits, I recommend eating probiotic-rich foods (like kimchi) on their own or as a topping for dishes at the end of the cooking process. Studies show that certain probiotic strains are more sensitive to extreme temperatures and therefore may be less potent after prolonged heating.
You can make your own kimchi or find it in the fridges of many grocery stores. One of my favorite ways to enjoy it is in my easy kimchi noodle soup recipe, rich in antioxidants and protein.
Kimchi Noodle Soup Recipe
Noodle of choice (such as soba, udon, or rice noodles)
2 teaspoons vegetable oil
2 cloves garlic, minced
1 scallion, chopped
3 to 4 shiitake mushrooms, thinly sliced
⅓ cup cabbage kimchi, chopped
2 teaspoons Korean red pepper powder
2 cups low-sodium vegetable broth
6 oz. extra-firm tofu, sliced
3 cups of your favorite veggies (bean sprouts, enoki mushrooms, napa cabbage, spinach)
1 tsp. sesame oil, kimchi, and chopped scallion for garnish (optional)
Cook noodles per directions on the package.
Heat oil in a medium pot. Add mushrooms, garlic, and scallion. Stir-fry until fragrant.
Add kimchi and cook for an additional 5 minutes.
Add the broth and Korean red pepper powder. Bring to boil and simmer for 5 minutes.
Add additional veggies and tofu.
Serve over prepared noodles, and garnish with scallions, kimchi, and sesame oil (optional).