The Ultimate Low-Carb, Keto Burger Buns For Your Next Cookout

Contributing Health & Nutrition Editor
By Stephanie Eckelkamp
Contributing Health & Nutrition Editor
Stephanie Eckelkamp is a writer and editor who has been working for leading health publications for the past 10 years. She received her B.S. in journalism from Syracuse University with a minor in nutrition.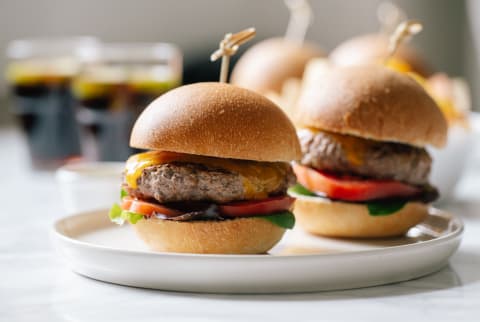 Image by Davide Illini / Stocksy
June 6, 2019
Our editors have independently chosen the products listed on this page. If you purchase something mentioned in this article, we may
earn a small commission
.
We don't have to tell you: Summer means cookouts, and cookouts mean burgers (whether you opt for grass-fed beef, turkey, or veggie).
And if you're on the keto diet, well, you've probably come to terms with the fact that you'll be leading that #bunless life for a while. But the truth is, if you're willing to do a little prep work, buns are still very much on the picnic table. Nope, we don't mean lettuce buns either (because, honestly, when you're juggling a low-carb hard seltzer, three different keto sides, and a romaine-wrapped burger, there's real potential for disaster).
Advertisement
This ad is displayed using third party content and we do not control its accessibility features.
But how exactly do you make burger buns on an ultra-low-carb diet that shuns anything resembling bread? Rest assured, even though the keto diet is high in good fats—like avocados and coconut oil—and very low in sugar and carbs, you can almost match that authentic burger bun flavor and texture by making strategic keto-friendly ingredient swaps (hello, coconut flour and flaxseed meal!).
To prove it, two of our favorite keto burger bun recipes from Nicole Downs' new cookbook Keto for Foodies are below (although, you could definitely use them as sandwich rounds or a makeshift English muffin, too!).
What makes these buns keto-friendly?
To keep your total carb intake low (so you can stay in that fat-burning state known as ketosis), the best keto bun recipes (much like keto bread) forgo traditional flour for high-fiber and high-fat ingredients like coconut flour, flax, eggs, cheese, and fats like grass-fed butter. This not only helps you hit your keto macros, but it ups your intake of some good nutrients as well.
Coconut flour and flaxseed meal, for example, are sky-high in fiber to keep blood sugar balanced and boost the health of your microbiome, cheese delivers a nice dose of protein, and glorious eggs are a potent source of choline, vitamin K2, and biotin, among other nutrients.
Of course, you're not going to achieve that perfect crumb and bouncy texture of traditional burger buns (gluten is responsible for that classic elasticity), but the final product is certainly good enough for your next grass-fed patty.
Buttery Slider Buns
These slider buns are as close to the original as you'll get, while containing just 2 grams of total carbs each. Much as their name implies, the combo of mozzarella, butter, eggs, and coconut flour delivers a satisfying buttery flavor that's perfect for burgers or a BLT.
Makes 14 buns
Ingredients
3 large eggs
⅓ cup coconut flour, sifted
½ teaspoon baking powder
½ teaspoon onion powder
¼ teaspoon garlic powder
Pinch of fine sea salt
¾ cup shredded mozzarella cheese
3 ounces cream cheese (¼ cup plus 2 tablespoons)
2 tablespoons unsalted butter
Advertisement
This ad is displayed using third party content and we do not control its accessibility features.
Preheat the oven to 400°F. Line a baking sheet with parchment paper.
Crack the eggs into a small bowl and whisk until frothy. In a separate small bowl, whisk together the coconut flour, baking powder, onion powder, garlic powder, and salt until well combined. Set both bowls aside.
Put the mozzarella, cream cheese, and butter in a large microwave-safe bowl and microwave in 20-second intervals, stirring after each interval, until the mixture is smooth and completely combined.
Quickly dump the flour mixture and beaten eggs into the cheese mixture and stir with a fork until completely combined.
To make 14 small slider buns, each about 2 inches in diameter, use a 2-tablespoon cookie scoop to scoop up some of the bun mixture and place it on the prepared baking sheet. Repeat with the rest of the dough, leaving 2 inches between the buns.
Bake the buns for 10 to 12 minutes, until lightly browned. Remove from the oven and allow to cool on the baking sheet before serving.
Wrap leftover buns in plastic wrap and store in the refrigerator for up to 1 week. To freeze, wrap in plastic wrap, then in foil and store in the freezer for up to 1 month. Let frozen buns thaw in fridge overnight.
Best Ever Flax Buns
For an added dose of gut-friendly fiber, opt for these flax-infused buns. One bun also packs a surprising 6 grams of protein. While these are great for burgers, we think they'd be an awesome base for avocado toast as well.
Makes 8 buns
Ingredients
¾ cup flaxseed meal
½ cup shredded mozzarella cheese
3 large eggs
3 tablespoons unsalted butter, melted
1 teaspoon baking powder
½ teaspoon blended erythritol-stevia blend
⅛ teaspoon fine sea salt
⅛ teaspoon ground black pepper
Advertisement
This ad is displayed using third party content and we do not control its accessibility features.
Preheat the oven to 350°F. Line a sheet pan with parchment paper.
Combine all the ingredients in a large bowl and stir to mix well. Wet your hands, then divide the dough into 8 equal pieces. Place the sections in mounds on the prepared sheet pan, 3 inches apart, and form into rounded bun shapes.
Bake for 10 minutes, or until crusty and lightly browned. Transfer the buns to a baking rack to cool completely.
Store in an airtight container in the fridge for up to 1 week.
Based on excerpts from Keto for Foodies by Nicole Downs, with the permission of Victory Belt Publishing. Copyright © 2019.
Want to turn your passion for wellbeing into a fulfilling career? Become a Certified Health Coach! Learn more here.
Advertisement
This ad is displayed using third party content and we do not control its accessibility features.