A Keto Banana Bread Recipe That's Yummy, Low-Carb & Easy To Make

Certified Dietitian and Nutritionist
By Isabel Smith, R.D., CDN
Certified Dietitian and Nutritionist
Isabel Smith is a New York City-based dietitian, fitness expert, and founder of Isabel Smith Nutrition and Lifestyle.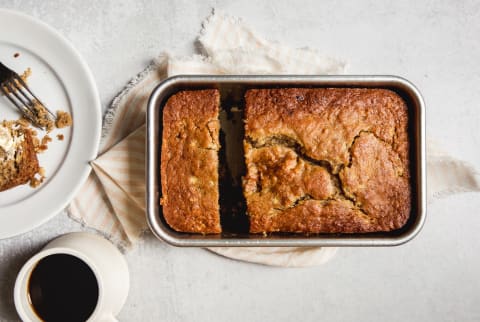 Image by Kelly Knox / Stocksy
February 15, 2020
Tuck into this banana bread as a snack or as a breakfast side, pairing it with your favorite nut butter or an egg or two for a complete morning meal. (Or you can just eat a couple of slices as your whole meal—why not!)
Keto-Friendly Banana Bread
Ingredients:
3 cups almond flour
4 Tbsp. coconut flour
1 Tbsp. baking powder
1 tsp. cinnamon
1 tsp. nutmeg
1 tsp. baking soda
Pinch of salt
⅓ cup granulated monk fruit sugar (erythritol)
5 Tbsp. coconut oil, melted
⅓ cup unsweetened hemp, flax, or almond milk
4 large eggs (or 4 flax eggs, made with 1 Tbsp. flax meal + 2½ Tbsp. water)
4 Tbsp. banana extract
Method:
Preheat the oven to 350°F.
Line the bottom of an 8-inch loaf pan with parchment paper (use coconut oil to grease the sides, but if you don't have parchment paper, you can use coconut oil throughout).
In a medium mixing bowl, mix together the dry ingredients (almond flour, coconut flour, baking powder, cinnamon, nutmeg, baking soda, pinch of salt, granulated monk fruit sugar), then set it aside.
In a separate bowl, mix together the wet ingredients—coconut oil, milk of choice, eggs (or flax eggs, for a vegan keto option), and banana extract.
Next, fold the wet ingredients into the dry ingredients—mix until well combined.
Pour the mixture into the pan and place it in the oven.
After about 45 to 50 minutes, check to see if the loaf is cooked by inserting a toothpick into the center. If it comes out clean, it's ready.
Cool, then serve!
Want to turn your passion for wellbeing into a fulfilling career? Become a Certified Health Coach! Learn more here.

Isabel Smith, R.D., CDN
Certified Dietitian and Nutritionist
Isabel Smith is a New York City-based dietitian, fitness expert, and founder of Isabel Smith Nutrition and Lifestyle. She received her B.A. in health and exercise sciences from Gettysburg College before a M.S. in nutrition communications at Tufts University. She also completed a dietetic internship and worked as an oncology fellow at New York Presbyterian Hospital. In her private practice, she works as a concierge nutritionist for both individual and corporate clients, including Fortune 500 corporations and their C-level executives. Smith has helped hundreds of people worldwide reach their nutrition, fitness, health, and wellness goals, and she also spends time writing and works as a nutrition consultant to a variety of health-minded brands.