A Keto Banana Bread Recipe That's Yummy, Low-Carb & Easy To Make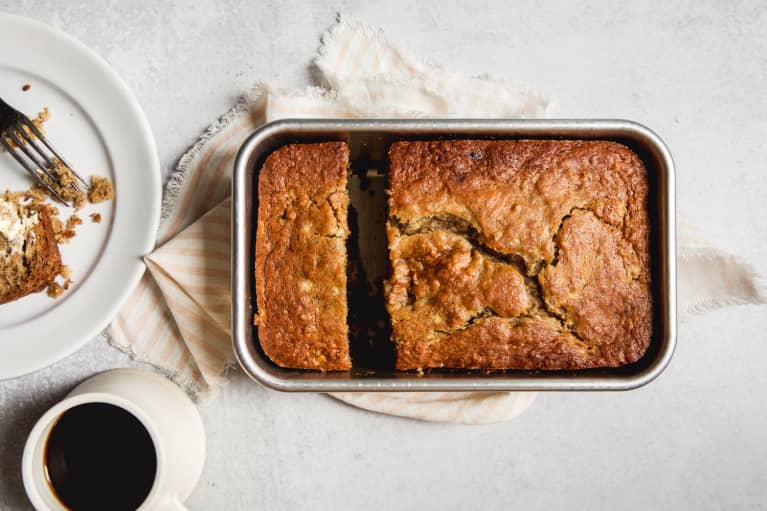 Yes, you can have banana bread if you're on a low-carb or keto diet. This keto-friendly bread uses banana extract and monk fruit rather than banana and sugar—you'll still get the sweet taste while remaining compliant with your keto plan.
Tuck into this banana bread as a snack or as a breakfast side, pairing it with your favorite nut butter or an egg or two for a complete morning meal. (Or you can just eat a couple of slices as your whole meal—why not!)
Keto-Friendly Banana Bread
3 cups almond flour
4 Tbsp. coconut flour
1 Tbsp. baking powder
1 tsp. cinnamon
1 tsp. nutmeg
1 tsp. baking soda
Pinch of salt
⅓ cup granulated monk fruit sugar (erythritol)
5 Tbsp. coconut oil, melted
⅓ cup unsweetened hemp, flax, or almond milk
4 large eggs (or 4 flax eggs, made with 1 Tbsp. flax meal + 2½ Tbsp. water)
4 Tbsp. banana extract
Preheat the oven to 350°F.
Line the bottom of an 8-inch loaf pan with parchment paper (use coconut oil to grease the sides, but if you don't have parchment paper, you can use coconut oil throughout).
In a medium mixing bowl, mix together the dry ingredients (almond flour, coconut flour, baking powder, cinnamon, nutmeg, baking soda, pinch of salt, granulated monk fruit sugar), then set it aside.
In a separate bowl, mix together the wet ingredients—coconut oil, milk of choice, eggs (or flax eggs, for a vegan keto option), and banana extract.
Next, fold the wet ingredients into the dry ingredients—mix until well combined.
Pour the mixture into the pan and place it in the oven.
After about 45 to 50 minutes, check to see if the loaf is cooked by inserting a toothpick into the center. If it comes out clean, it's ready.
Cool, then serve!