paid content
 for

Here's What Happened To My Anxiety After Two Weeks Of Online Therapy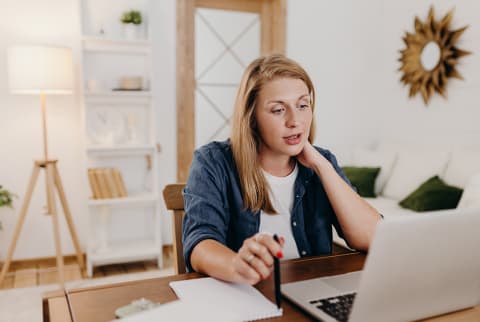 Image by Stereo Shot / Stocksy
September 13, 2022
I'm a big believer in asking for help. Through generations of trial and error, we've literally evolved to lean on one another. We tend to undermine the potency of conversation and a cup of coffee, but research1 indicates social support increases survival by 50 percent. We thrive in community and collaboration, particularly in times of stress.
And aren't these stressful times? Nearly two-thirds of American adults say their lives have been forever changed post-pandemic. Stress about money is at its highest since 2015, and 73 percent of Americans say they're overwhelmed by the smorgasbord of global crises. On top of our collective dilemmas, we each have our own personal stressors, too—and don't I know it. Between moving homes, picking up a side gig again, and the normal bouts of relationship stress—I've recently felt the kind of overwhelm that might be too much for one person to handle (but you know I'll try). My emotional overwhelm has been a red alert: time to seek out some affordable online therapy.
Affordable online therapy for stress.
I knew I needed some support, but like most of us, I didn't have endless hours to bounce from office to office interviewing therapists. So embracing the modern era, I decided this was the perfect opportunity to go digital. BetterHelp is the world's largest online therapy platform, and they've already helped over 3 million people get help. With over 30,000 licensed therapists within their network, I figured odds were high that someone might know how to help me defuse my stress.
What intrigued me even more was that, once paired with my therapist, I'd have the choice to communicate via phone, video, or live chat. As a person who likes to do most things à la sweats and a messy bun, the convenience was undeniable. But I also had my concerns. Online therapy is up to 50 percent more affordable than in-person therapy, but was it as effective? The only way to find out was to try it for myself.
How does online therapy work?
The first step to my BetterHelp membership was matching with a therapist through a detailed questionnaire (quiz-lovers, rejoice). To me this questionnaire felt like an intake: It covered the most basic information but more effectively. The getting-to-know-you details are important, but I was relieved to give a digital glimpse of my life story versus spending precious time with my therapist on vocation and birth order. The questionnaire also helped me get clear on what I was really seeking out of therapy: What did I want to work on? (Relationship *sigh, always* and career stress.) What kind of feelings was I having? (Anxiety, uncertainty, merciless chocolate cravings.) Once I finished the questionnaire, I felt lighter already.
I matched with my therapist and had my first appointment scheduled in under 48 hours. In transparency, I was nervous. Because I need to see someone to really feel connected, I opted for a video call. But I was worried: Would it feel awkward? Would I feel comfortable sharing intimate details about my life with a stranger on a screen?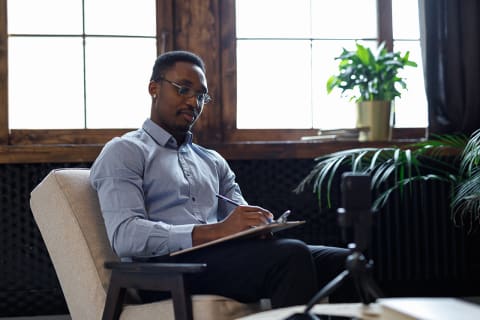 Image by Oleksii Syrotkin / Stocksy
My kind of therapist.
As they say, you'll only get out of something what you put into it. So, in reverence to the perfectionism that was sure to surface in my session, I set up my space for an optimal experience. I closed the door for privacy, made myself a calming hot bevvie, lit a candle, and stashed my journal close by. As I joined the video call, my nerves were popping off… But my therapist quickly dismantled them. "Instead of spending all this time covering the basic information," she started, "I like to get started by simply asking what's on your mind. Let's just dive into the good stuff and work from there." My kind of therapist, I thought. And to my surprise, the conversation flowed—just like any other therapy session, but from the comfort of my own home.
And two weeks later…
After that first session, I was in near disbelief at just how easy it was to grab a helping hand. Honestly, I lovingly laughed at myself. Months of enduring relationship and career stress when a little support was a few clicks away. Surrounding the first couple sessions with my therapist, it was a true relief to know I could message my therapist whenever I needed with follow-up questions, second thoughts, reflections… I've always been a fan of therapy, but between its affordability and accessibility, BetterHelp takes things to the next level. I have a therapist, but she feels more like an ally.
Tackles stress your way with online therapy services.
Our culture likes to reward independence and autonomy, but the beauty of life is forged through connection. And while phoning a friend or leaning on a partner can provide relief, therapy is like the major leagues of getting help. It's an hour of space just for you; a container of time wherein you never have to worry about burdening your listener or being judged. And when it's online? Well, those benefits come wherever and however. I know… Therapy is intimidating (not always fun when someone sees straight through you). But with BetterHelp, we can enjoy therapy on our own terms. In this modern world, there's no shortage of everyday problems… But there's also an abundance of solutions.
Devon Barrow
Branded Content Editor
Devon Barrow is a Branded Content Editor at mindbodygreen. She received her degree from the University of Colorado. When she's away from her desk, Devon is teaching yoga, writing poetry, meditating, and traveling the world. She's based in Boulder, Colorado.
Devon's first book, Earth Women, is coming soon. To learn more, join the mailing list, and receive updates, head to www.devonbarrowwriting.com.