6 Comforting Soup Recipes That Can Help Support Your Immune System
mbg Spirituality & Relationships Editor
By Sarah Regan
mbg Spirituality & Relationships Editor
Sarah Regan is a Spirituality & Relationships Editor, and a registered yoga instructor. She received her bachelor's in broadcasting and mass communication from SUNY Oswego, and lives in Buffalo, New York.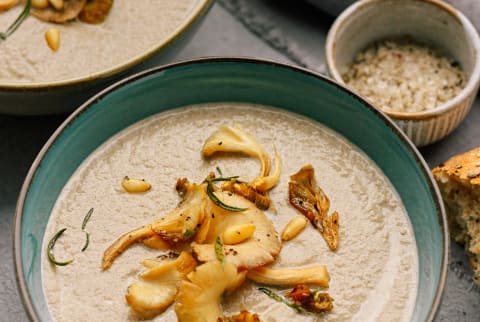 Image by Darren Muir / Stocksy
December 25, 2020
We carefully vet all products and services featured on mindbodygreen using our
commerce guidelines.
Our selections are never influenced by the commissions earned from our links.
Sure, it may be warming up a little, but early spring still brings plenty of cold days—and this spring in particular calls for immune supporting comfort food. What better than a comforting bowl of soup to keep us all going?
With immune system-supporting power from ingredients like garlic, bone broth, mushrooms, and turmeric, these recipes offer our bodies a helping hand—and a delicious meal.
Garlic Mushroom Soup Recipe
Ingredients
1 ounce dried shiitake, porcini, and oyster mushrooms (add extra fresh shiitake mushrooms, if available)
1 tablespoon olive oil
1 medium white onion, finely chopped
1 thumb-size piece of ginger, peeled and grated
1 whole garlic bulb, peeled
4 cups water
1 tablespoon vegetable bouillon powder or 1 vegetable stock cube
Juice of 1 lemon
Sea salt and freshly ground black pepper
Method
Pour 1 cup of boiling water over the dried mushrooms in a bowl and leave them to soak for 10 minutes.
In the meantime, heat the oil in a heavy-based ovenproof pan. Add the onion and ginger, then crush in all the garlic cloves. Fry gently until softened and aromatic.
Add the mushrooms and their water to the pan, plus any fresh mushrooms, then stir in the stock and the lemon juice.
Season, then gently simmer with the lid on for at least 2 hours. Alternatively, transfer the pan to a low oven (about 250˚F). Season to taste before serving with crusty bread.
Bone Broth Borscht Recipe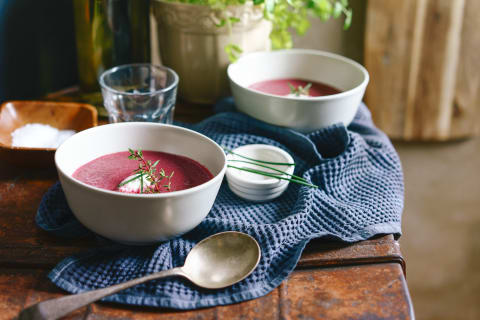 Image by Darren Muir / Stocksy
This recipe, created by functional nutritionist Brooke Scheller, DCN, M.S., CNS, puts the healing benefits of borscht and bone broth in one delicious soup. Borscht is traditionally made with beets, fennel, and garlic, while bone broth is both anti-inflammatory and contains minerals like calcium, magnesium, and potassium.
Ingredients
1 to 2 quarts of beef bone broth
3 medium beets, peeled and chopped into 1-inch cubes
1 yellow onion, diced
4 stalks celery, chopped
1 fennel bulb, thinly sliced
3 carrots, chopped
5 garlic cloves, minced
2 tablespoons extra-virgin olive oil
¼ lemon, for juice
Sea salt and freshly ground black pepper
Method
In a medium pan, heat 1 tablespoon olive oil until warm but not hot. Add the onion, celery, fennel, carrots, salt, and pepper and saute for about 2 to 3 minutes.
Add the garlic and stir for another 1 to 2 minutes or until translucent.
Transfer the vegetables to a large saucepan or crockpot. Add the bone broth, beets, and a touch more salt and pepper. For crockpot: Cook on low for 5 to 6 hours, or simmer for 1 to 1½ hours on the stovetop.
Once all vegetables are tender, add the juice of ¼ lemon and the remaining tablespoon of olive oil. These ingredients help to build the texture and the flavor. (You may find adding a little more lemon, oil, or salt will help bring out the flavors, but make sure you keep tasting!)
Green Detox Soup Recipe
Ingredients
1 head broccoli
1 zucchini
3 handfuls fresh spinach and kale
2 cups shelled sweet peas
4 cups vegetable broth
1 chopped leek
1 clove of garlic
3 tablespoons olive oil
½ cup packed cilantro leaves
Juice of 1 lemon
Sea salt and freshly ground black pepper
Method
Wash and roughly chop broccoli, zucchini, spinach, kale, and sweet pea. Set aside.
Dice and slice the leek and garlic.
In a large saucepan, heat olive oil over medium-high until warm.
Add leeks; stir and soften for about 5 minutes until fragrant.
Add garlic, and stir for 1 minute.
Next add broccoli, zucchini, sweet peas, and kale; stir and cook for an additional 5 minutes.
Pour in vegetable broth and bring soup to boil; reduce heat and simmer for 15 minutes until vegetables are tender. Stir occasionally.
Add the spinach and sweet peas; simmer for another 2 minutes.
Turn off heat and allow soup to cool.
Pour into a blender with lemon juice, cilantro, and parsley, and purée until smooth.
Serve in a bowl, add a swirl of a fragrant olive oil, and garnish with a few cilantro leaves, kale chips, or shaved almonds.
Coconut, Ginger & Turmeric Soup Recipe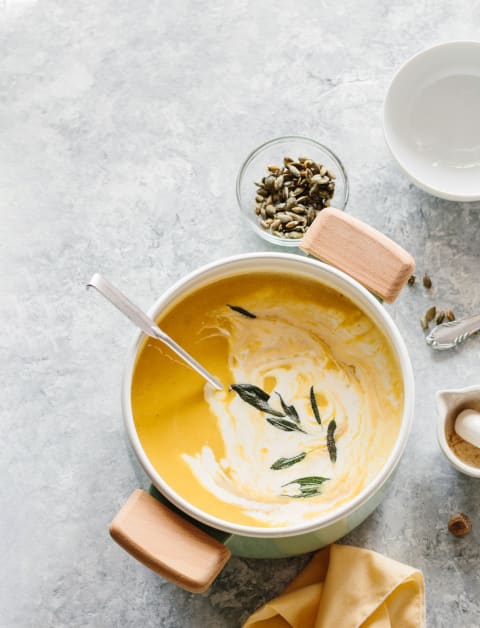 Image by Mariela Naplatanova / Stocksy
This next recipe comes from The Wholefood Pantry and was created by Amber Rose, a chef who's worked for Kate Hudson, Kate Moss, and more. The ginger-turmeric combo offers a mildly spicy but refreshing flavor, perfect for all things upper-respiratory. Plus, it's immune-boosting with its spices and bone-broth base.
Ingredients
1 quart homemade bone broth or store-bought chicken or vegetable broth
1¾ cups full-fat coconut milk
A knob of fresh ginger, peeled and very finely sliced
½ teaspoon ground turmeric or a knob of fresh turmeric, finely sliced
Juice of ½ to 1 lemon (add desired amount)
¼ teaspoon red chili flakes or cayenne pepper
A small handful of cilantro, roughly chopped
2 teaspoons raw virgin coconut oil
Sea salt and freshly ground black pepper
Method
Put all the ingredients, except for the cilantro and coconut oil, into a medium saucepan, and bring to a gentle simmer.
Simmer for 5 to 10 minutes, remove from the heat, and allow to cool for a few minutes.
Season with sea salt and plenty of black pepper, sprinkle over the cilantro, and spoon in the coconut oil. Taste and add more lemon juice if you like, and serve.
Roasted Cauliflower & Fennel Soup Recipe
Roasted vegetables in this soup give it a rich, savory flavor, and the blended cauliflower lends a smooth texture without requiring any dairy. Not to mention it uses a whole head of garlic and boasts fiber, potassium, and vitamin C thanks to the fennel.
Ingredients
1 medium-size fennel bulb, sliced into ½-inch-thick rounds, fronds set aside and stalks discarded
1 small- to medium-size head of cauliflower, cut into florets
1 medium-size head of garlic, with the woody base cut off (exposing the cloves, while keeping everything in place)
1 medium yellow onion, finely chopped
4 cups vegetable broth or water
2 cups raw baby spinach
olive oil
fennel fronds, as desired (optional, for serving)
½ cup cooked grains per serving (optional, for serving)
Method
Heat oven to 415°F. Toss sliced fennel with olive oil and a sprinkle of salt, and spread out on a baking sheet. Do the same to the cauliflower florets and spread out on a separate baking sheet.
Take a piece of foil and drizzle it with olive oil. Place the head of garlic (exposed-clove-side down) on the olive oil. Wrap the foil securely around the head of garlic.
Roast the fennel for about 20 to 25 minutes. Roast the cauliflower for 30 to 35 minutes. Roast the head of garlic for 30 minutes in its little foil pouch.
While the vegetables are roasting, heat a glug of olive oil (or oil of your choice) in a large pot or Dutch oven, over medium-high heat. Add chopped onion and a pinch of salt and cook, stirring, for about 5 minutes until translucent. Add vegetable broth or water and bring to a boil. Remove from heat if vegetables aren't done roasting yet.
Once vegetables are roasted, add to the simmering vegetable stock and onion mixture. Wait for garlic to cool a bit, then squeeze the cloves out of the skins (they should be soft and caramel in color) directly into the soup.
Simmer for 5 minutes and remove from heat. Stir in spinach and allow to cool for 5 to 10 minutes. Puree with a stick blender or in a regular blender in batches. Serve with cooked grains and fennel fronds.
Chicken Zoodle Soup
Last but not least, we have a keto-approved soup from The Family-Friendly Keto Instant Pot Cookbook by Anna Hunley. Recent research suggests the keto diet may actually have some immune-boosting benefit itself, and this comforting throwback is like an updated version of your go-to cold and flu remedy, chicken noodle. This simple recipe is easy on digestion, as well as warming and soothing.
Ingredients
1½ pounds (680 g) boneless, skinless chicken breasts
3½ ounces (100 g) chopped onion
1½ ounces (42 g) diced carrot
2 ribs celery, chopped
3 cups (720 ml) chicken broth
2 teaspoons salt
1½ teaspoons poultry seasoning
½ teaspoon black pepper
10½ ounces (294 g) zucchini noodles
Method
Add the chicken, onion, carrot, celery, chicken broth, salt, poultry seasoning, and pepper to the Instant Pot.
Close the lid and seal the vent. Cook on HIGH pressure for 25 minutes. Quick-release the steam. Press CANCEL.
Remove the chicken from the soup and shred with two forks. Return the chicken to the soup.
Add the zucchini noodles to the hot soup and let sit until the noodles are soft, 5 to 10 minutes. If you'd like a softer noodle, you can cook the soup an additional 1 to 2 minutes on LOW pressure.
Want to turn your passion for wellbeing into a fulfilling career? Become a Certified Health Coach! Learn more here.
Sarah Regan
mbg Spirituality & Relationships Editor
Sarah Regan is a Spirituality & Relationships Editor, a registered yoga instructor, and an avid astrologer and tarot reader. She received her bachelor's in broadcasting and mass communication from State University of New York at Oswego, and lives in Buffalo, New York.