It's Probably Time To Wash Your Hair Ties — Here's An Easy Tutorial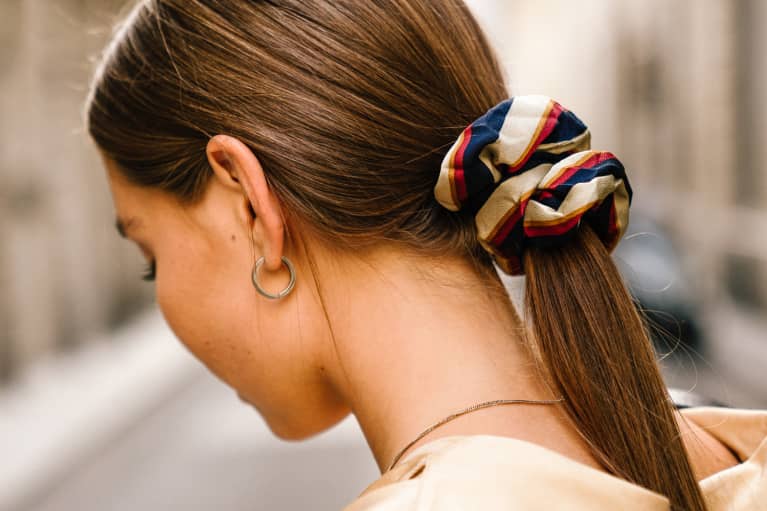 Quick question: When was the last time you cleaned your hair scrunchies? Honest answer: It's probably been too long. Yes, you need to regularly wash those guys—perhaps even more so in the summer months.
If you haven't given your hair ties a proper cleaning in a while (or, uh, ever), consider this your friendly shove to get scrubbing. It doesn't take too long (promise!), and your scrunchies and elastics will look as pristine as the day you got 'em.
Below, find expert-approved tutorials for how to wash any type of hair tie.
Why you need to wash your hair ties more in the summer.
Simple: You tend to sweat more in warmer temperatures, which means those ties can easily build up with oil, bacteria, hair care products, and overall grime. So just as you might shampoo a bit more to tackle the extra sweat and oil that comes with hot, humid weather, you'll want to increase the wash schedule for your greasy ties.
This mainly applies to scrunchies and larger ties (since they have a bigger surface area to accumulate grime), but your smaller elastics are still not off scot-free: Unless you regularly swap them out, make sure you're giving them a scrub, especially after a particularly sweaty workout.
So, it depends on the type of fabric. Of course, you could always toss them in a delicates bag and launder them with the rest of your clothes. But if you don't have a washing machine at home or would rather wash them by hand, you can do so in a few easy ways.
For cloth scrunchies or elastics.
It's a similar method to how you would hand-wash any piece of clothing—you just might not need as much detergent, given the smaller size. Fill your sink with warm water and a few drops of gentle, eco-friendly liquid detergent, Castile soap, or dish soap (if that's all you've got).
Let the scrunchie soak for about 10 to 30 minutes, depending on how dirty it is. After that, "Rinse and wring the [fabric] out by rolling it in a bath towel to remove most of the moisture," natural cleaning expert Becky Rapinchuk of Clean Mama says regarding washing clothes by hand. Finally, hang the hair tie out to dry—either on a clothesline, on a drying rack, or in your bathroom.
Silk ties require a bit more care, given that they're made from delicate, fine fibers (they're also incredibly smooth, which means your strands will gently glide against the hair tie without snagging). You may be able to get away with a longer time between washes since the fabric is moisture-wicking, but they can still garner stains after some time.
When they're ready for a clean, you can always machine wash on a cold, gentle cycle and hang them out to air-dry. Or you can use an extra-gentle hand-washing method: Fill up a clean sink or bucket with cold water and a few drops of mild, unscented liquid soap. You can spot clean any stains beforehand by adding a drop of soap directly to the stain and using your fingers to gently rub it in. Then gently swish the silk tie in the sudsy water, letting it soak for 15 to 30 minutes.
Rinse the scrunchie in cold water a couple of times to get all of the soap out, then gently press it against the side of the sink or bucket to drain any excess water. Do not twist, squeeze, or wring it out (this can create folds and wrinkles in the delicate fabric), and let it hang dry on a rack or clean towel.
As a general rule, you should wash any garment that comes into contact with your skin (and scalp), including hair ties. The how-to is simple: Just hand-wash them depending on the type of fabric, and they should be good as new.