How To Repurpose Your Sourdough Discard & Stale Bread Scraps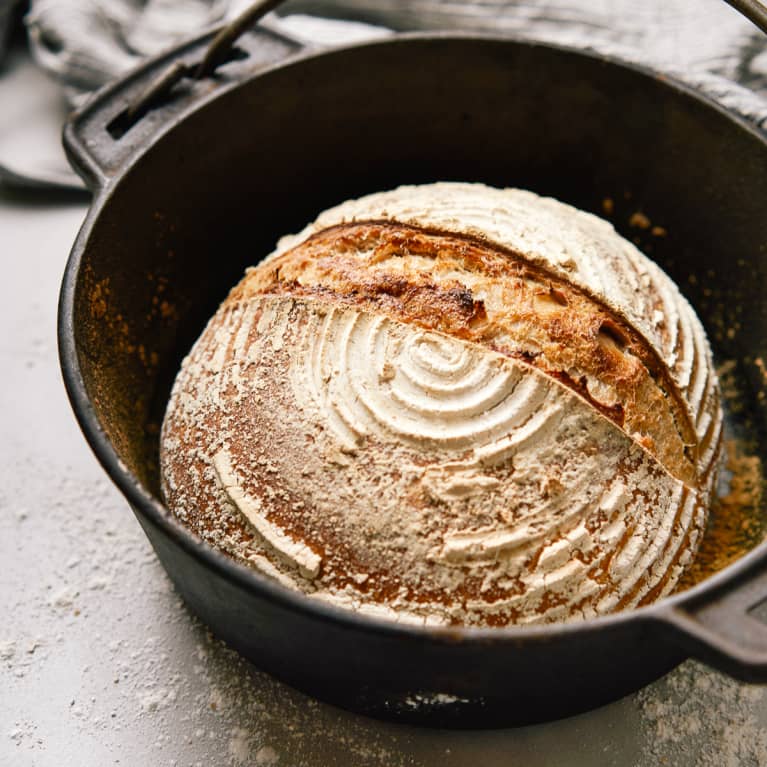 Our editors have independently chosen the products listed on this page. If you purchase something mentioned in this article, we may
earn a small commission
.
Whether it's a seed in dirt or flour in water, the process of growing your own food makes you think twice about wasting it. Unfortunately, in order to nurture a sourdough starter—which many people are doing right now—you have to discard a portion of it each day. Instead of tossing your discard down the sink, consider repurposing it into other recipes.
We spoke with avid home bakers and registered dietitians who shared recipes and advice for eliminating sourdough waste, from starter discards to stale scraps.
First of all, what is sourdough discard?
To keep your sourdough starter well nourished, you have to feed it with flour every day. To make room for the new food, though, you have to remove or "discard" a portion of the starter.
Typically, this part is no longer able to leaven and will interfere with your dough's ability to rise. While it may feel wasteful to get rid of this portion of the starter, it's necessary to prevent overflow.
What to do with sourdough discard.
Registered dietitian Willow Jarosh, M.S., RDN, has been making sourdough for more than nine years now. "Right now I usually turn any excess into pancakes or waffles," she says. "But on my docket are chocolate chip cookies, banana bread, tortillas, and onion rings."
Another option is to keep your sourdough starter in the fridge, where it requires less attention. Jarosh keeps hers refrigerated and feeds it only every one to two weeks, depending on how much she's baking. This helps limit the amount of discard you're producing. When you're ready to use it, Jarosh recommends taking a scoop of your starter out of the fridge and letting it sit, at room temperature, for a day or two before baking.
Since discard is just a combination of flour and water, you can use it in any recipe that requires flour and a liquid. Just replace the portions evenly. For example, the New York Times explains, "If you want to add 115 grams discard to a recipe, remove 57 grams of flour and 57 grams liquid from the amounts the recipe originally called for."
What to use sourdough starter in:
Baked goods (brownies, cakes, muffins, cookies, etc.)
Pancakes or waffles
Batter for fried foods
Pizza dough
Crackers
Biscuits
Pie crust
Flatbreads (naan, tortillas, wraps, etc.)
While you could adjust the portions of your favorite recipes to include sourdough, here are five that have already done it for you.
These vegan sourdough brownies are everything a brownie should be—gooey in the center and crispy on top. Cookbook author Izy Hossack adapted her original sourdough brownie recipe to make this vegan version.
The eggs are replaced with the foamy liquid from canned chickpeas (aquafaba), and ground almond flour is used to replace the richness egg yolks would normally provide.
Uses 1 cup of sourdough discard.
If you're in search of the perfect cracker to add to your charcuterie board, look no further. These sourdough crackers are herbaceous, salty, and easy to make. The crunch and subtle sour flavor balances well with creamy goat cheese and sweet honey. But who are we kidding? They'll pair well with pretty much any cheese or dip.
Uses 1 cup of sourdough discard.
These sourdough pancakes require only five ingredients to make. If you prefer fluffier pancakes, add 2 tablespoons of coconut flour. For thinner, crepe-style pancakes, leave it out. The recipe refers to these as gluten-free pancakes, but for that to be true, your starter should be made with gluten-free flour and water.
Uses 1 to 1½ cups of sourdough discard.
Vegan Sourdough Pizza Crackers
The combination of red pepper, thyme, oregano, basil, and chives—to name a few—makes these zesty sourdough pizza crackers good enough to eat on their own. If you want to achieve that true pizza flavor, though, try dipping them in marinara sauce.
Uses 1 cup of sourdough discard.
Sourdough Banana Bread Muffins
These sourdough banana bread muffins are both healthy and delicious. Plus, they combine the two biggest quarantine bread trends (sourdough and banana bread) into a single recipe.
These pastries are high in fiber from the almond flour, chia seeds, and whole grain rolled oats. They also use coconut sugar rather than refined white sugar and provide you with ample potassium from the bananas.
Add antioxidants with either dark chocolate chips or wild blueberries, depending on your taste preference.
Uses 1 cup of sourdough discard.
What to do with stale sourdough scraps.
Once you've repurposed all of your discard and your sourdough starter is ready to become bread, bake away. Even if you overdo it and can't finish the whole loaf on your own, there are plenty of ways to use your stale scraps.
These are three of registered dietitian Maggie Moon, M.S., R.D.'s favorite ways to use stale sourdough.
Deconstructed Grilled Cheese
Dry toast the scraps in a pan.
Toss with olive oil and add any seasonings you like.
Place the scraps on the bottom of a soup bowl; pour in tomato soup.
Sprinkle with sharp cheddar cheese shreds.
Toss sourdough scraps with eggs, milk, vanilla, cinnamon, and salt.
Place in oven-safe skillet.
Add whatever toppings you like (walnuts, chopped dates, fresh fruit, honey).
Cover with foil and bake at 350°F for 20 to 30 minutes.
Toast your sourdough scraps, then let them cool.
Pulse them in a food processor.
These can be combined with chopped nuts to coat fish or chicken, used to thicken soups, or as a binder for meatballs and crabcakes.
The bottom line is, whether you're in the sourdough starter phase or toward the end of your bread's shelf life, there are plenty of creative ways to eliminate waste.