The Underrated Oil This RD Uses On All Of Her Meals, Both Sweet & Savory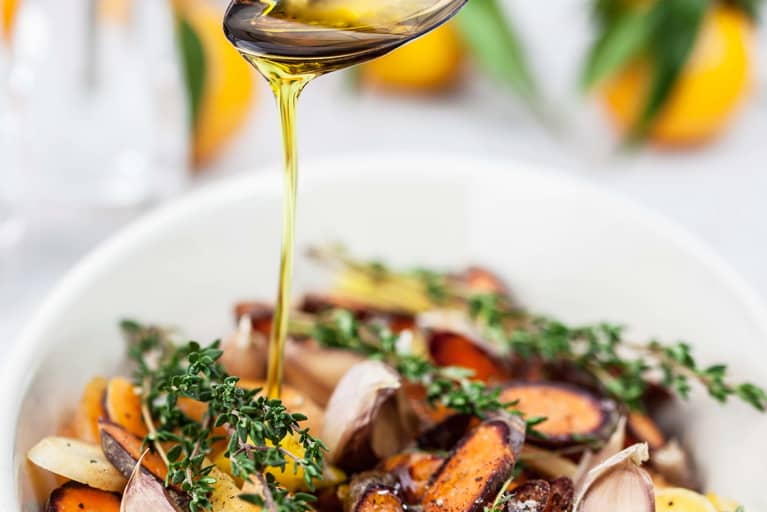 Ask a foodie their healthy seed oil of choice, and chances are they'll have a few favorites. Some love the strong flavor of sesame oil, while others are more partial to the neutral taste of avocado oil. As for registered dietitian Maya Feller, M.S., R.D., CDN? Safe to say her star oil is far from conventional. Pumpkin seed oil takes the cake in Feller's eyes: "Pumpkin seed oil is one of my absolute favorites," she shares on the mindbodygreen podcast.
Here's why you, too, should stock your cupboard with the dietitian-approved drizzle.
First things first: Pumpkin seed oil doesn't come from your ordinary gourd. It's actually made from the seeds of a specific type of pumpkin found in Austria, called the Styrian pumpkin. And while the oil has made its way stateside, it's long been coined the "Austrian secret," as pumpkin seed oil has been used as traditional medicine in Austria for hundreds of years.
The health benefits don't disappoint, either: One study found that pumpkin seed oil's anti-inflammatory properties were able to help manage non-alcoholic fatty liver disease and atherosclerosis development. Another smaller study also found that the oil was associated with increased hair growth when participants took a pumpkin seed oil supplement for 24 weeks.
Health benefits aside, the oil has quite the unique taste. Reminiscent of a walnut or hazelnut oil, it has a strong, nutty flavor with hints of butter. And to top it all off, it's an amazing dark green color, making it as aesthetically pleasing as it is rich in flavor.
How to use this rich oil.
Feller personally uses pumpkin seed oil in two, equally delicious ways: as a salad dressing (the nutty flavor enhances any veggies you decide to toss into the mix) and as a dessert drizzle. "One of my friends takes a full-fat yogurt and pours pumpkin seed oil over it as a dessert," she says. "It is ridiculously good."
Pumpkin seed oil has such a versatile flavor that it works with just about any meal you make. Just make sure to use it as a finishing step rather than a sauté on the stove—pumpkin seed oil has a smoke point of 320 degrees, so you don't want to be cooking with it. Rather, drizzle it on all your favorite dishes, use it as a finishing step for roasted veggies, or impart a toasty flavor on desserts á la Feller.
Get your hands on some rich pumpkin seed oil, and you'll have a flavorful finish for all your meals—sweet or savory. Add it to the growing list of healthy oils that pack quite a punch.