10 Clever Ways To Use Oranges: Avoid Waste, Reap Nutrition Benefits & Elevate Your Cooking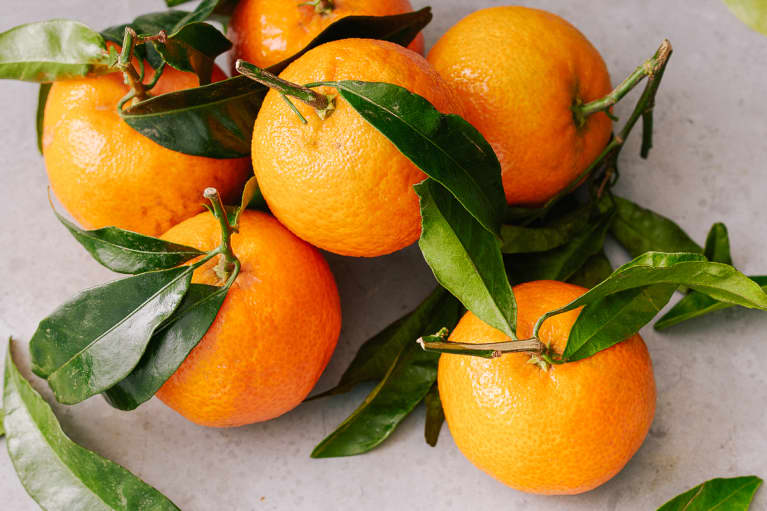 Our editors have independently chosen the products listed on this page. If you purchase something mentioned in this article, we may
earn a small commission
.
Winter can feel like a dark, gray time. Perhaps that's why citrus fruit is particularly uplifting at this time of year. Its gorgeous skin and fruit are not only colorful and fragrant but also incredibly nutritious. And, best of all, each and every part can be used in myriad ways. Celebrate National Citrus Month with these 10 clever ways to use one of my favorites: oranges!
Most of us toss our orange peels on our way to the main event—the fruit inside. But the peel offers plenty of benefits. It contains hesperidin, a polyphenol that may have anti-cancer benefits. And that wonderful aroma that you smell when you peel an orange comes from the citrus oil, limonene, in the peel, which has anti-inflammatory and anti-cancer benefits, specifically for skin cancer:
By now I'm sure you've made lemon water about a million times, but how about orange water? You can make a simple beverage infusion with oranges by slicing the fruit into wheels and then just dropping them into hot tea, water, kombucha, or beer. You can also just squeeze orange wedges into your drink.
Yes, you can buy flavored vodka, but that's exactly what you're going to get—vodka with orange or lemon flavoring added. Make your own DIY flavored vodka with this easy method.
Use a channel knife or vegetable peeler to create strips of orange peel from two California oranges.
Place orange zest strips and one bottle of vodka into a large jar; cover and shake.
Let infuse for several days until desired flavor is reached, then strain with cheesecloth or a fine-mesh sieve. The vodka can be stored at room temperature or in the refrigerator.
Not only is candied citrus peel a delicious treat, but it's also a smart way to cut down on food waste!
Remove the orange peel and pith (the white part under the skin) in four pieces. Then cut those into strips.
Place strips into boiling water for 15 minutes, then drain.
Combine 1½ cups of sugar and 3 cups of water in a large pot. Stir and bring to a boil.
Place orange peel strips into the mixture and simmer for 30 minutes, until peel is very soft. Drain, saving the syrup (store in the refrigerator) to sweeten cocktails, tea, and more!
Toss peels with additional sugar and place on a parchment-lined baking sheet until sugar is completely dry, three hours or overnight. And, of course, you can dip them in melted dark chocolate for extra goodness! These make a fantastic homemade gift.
A breakfast staple, the naturally sweet juice from an orange is loaded with health benefits. An 8-ounce glass provides 420 mg of heart-healthy potassium, 41 micrograms of folate, which is essential for moms-to-be, plus over 100% of your daily value for immune-supporting vitamin C.
Create ice cubes with freshly squeezed California orange juice and drop them into tea, water, lemonade, or smoothies. They're a simple way to boost the flavor of your drink and add a kick of vitamin C!
2.
Perk up your baked goods:
A little fresh orange juice adds a splash of flavor to cupcakes, muffins, and quickbreads. You can replace half of the liquid in a recipe with fresh orange juice. For example, if a recipe calls for ½ cup of milk, swap out half of it for ¼ cup of orange juice. You can also make an easy glaze for baked goods with OJ, powdered sugar, a little melted butter, and orange zest (see more ideas for that below).
3.
Brighten up marinades and dressings:
Chicken, fish, beef, pork, and tofu can all gain a flavor boost from a zesty citrus marinade. Combine fresh orange juice with extra-virgin olive oil, garlic, fresh ginger, fresh herbs, salt, and pepper.
The zest of the orange is just the colorful, outer part of the peel and can add flavor to so many things. The best way to remove it is with a citrus zester.
Add orange zest to seafood, chicken, grain, and vegetable dishes. Simply grate the zest over the pan while you're cooking.
Brighten up the flavor of any smoothie by adding orange zest.
Perk up the flavor of bottled salad dressing and mayonnaise with fresh orange zest.
Muffins, quick breads, pancakes, and waffles can all benefit from a dash of orange zest in the batter. And you can always add a bit more on top for color!