Close Banner
Advertisement
This ad is displayed using third party content and we do not control its accessibility features.
How To Support A More Accessible & Inclusive Future For The Yoga Industry
By Carly Quellman
mbg Contributor
Carly Quellman is a creative storyteller and movement enthusiast. She received her bachelor's degree in journalism from Sacramento State University after studying architectural design at University of Technology, Sydney. Carly has worked with many top publications and brands including Quoted Magazine, NBC, and Yelp.
Image by Sweenshots & Shaymone / Stocksy
We carefully vet all products and services featured on mindbodygreen using our
commerce guidelines.
Our selections are never influenced by the commissions earned from our links.
In the past two years, the yoga space has shifted a lot. For starters, yoga has become more popular in Western countries as people catch on to its health benefits like stress management, pain relief, and better sleep. But while a shift toward the yogic way is occurring, only a certain percentage of people have access to it.
Take one 2019 survey of 2,000 Americans by OnePoll and Eventbrite that found that the average yogi spends $62,640 on yoga classes, workshops, and accessories over their lifetime—around $90 per month. Separate research published in the journal Complementary Therapies in Clinical Practice1 concluded that "yoga is underutilized among racial/ethnic minorities and low-income populations" due in part to its perceived high cost and the belief that it is practiced mostly by white, thin females.
In response to these disturbing trends, a movement is building to ensure the ancient practice finds its way to all bodies who could use it.
Accessibility, inclusivity, and empowerment are the three cornerstones of this far-reaching approach to yoga. Today, we're speaking with leaders who are exemplifying each one to learn about the work that they're doing—and how we can all support it.
Accessibility: Using yoga as a tool for education globally.
If you look at a Western yoga studio's schedule, it's not uncommon to see a donation-based or "karma" class listed. While this is a great alternative for lower-income individuals or those unsure about committing to yoga, it doesn't remove all the barriers to entry.
"Yoga and meditation are practices that assume someone has time or safety. Someone needs to feel safe and secure and be fed first and foremost," says Jordan Ashley, founder and executive director of Souljourn Yoga and the Souljourn Yoga Foundation—a 501(c)3 nonprofit organization on a mission to equalize education through cultural immersions and training. Even if a practice is free, Ashley adds, "If your basic needs are not being met, you are not going to want to sit and do breathwork."
Ashley launched Souljourn in 2016 upon her return to the U.S. after a stint traveling abroad. On the road, Ashley connected with some of the over 130 million women around the world who are denied an education due to gender inequalities.
"I hadn't realized how far girls' education can go in these regions. Education is something that can't be taken away from you," Ashley tells me. "It really does have the power to change the world."
So, she set out to increase access to education using yoga. Through Souljourn, she now runs yoga retreats and cultural immersions that raise money for female empowerment and education. On each trip, attendees are asked to give a $300 to $500 donation to partner organizations supporting on-the-ground education in the region.
So far, Ashley's nonprofit has visited Peru, Nicaragua, Cambodia, Morocco, Tibet, Rwanda, and Cape Town, South Africa, working alongside local partners to help close the education gap and provide housing solutions for low-income individuals and their families. Once these basic needs are met, yoga can be introduced as a further force for good in the community.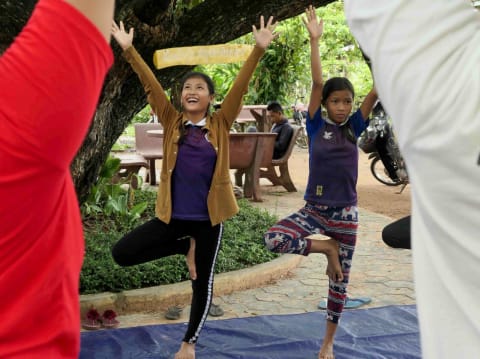 A Souljorn yoga class in Cambodia.
Image by Souljorn
In 2019, Souljourn launched its On The Ground Teacher Training program, which teaches people around the world to facilitate yoga in their communities as a tool for healing. Their first program was in Rwanda, and Ashley's team is heading to Morocco next.
The goal? To empower local leaders to serve their community's unique needs. "It takes myself out of the equation, it takes Souljourn's teachers out of the equation," she says of the program. "[Trainees] have the skillset to teach themselves, each other, and other members of their community. It's coming from within."
Inclusivity: Changing our view on what a yogi can be.
Jesal Parikh, a self-proclaimed yoga industry disrupter and co-host of the podcast Yoga Is Dead, thinks that in order to make yoga truly inclusive, we'll need to widen our perspective of what it is—and who can do it.
"Why does the student feel like the studio class is the only way to get yoga?" she asks. "There are lots of different ways [to practice yoga] that don't mean paying $40 for a drop-in at the studio. Sometimes we forget that there are breathing practices and meditation and mantra."
She challenges the boutique yoga industry to shift its perspective and look at accessibility from a racially and culturally inclusive lens. Considering physical accessibility is also essential, she implores studios to bring in more people "that don't fit what the mainstream 'fit' person looks like." This can mean accommodating larger-bodied people, people with physical disabilities, less mobile people, and/or people older in age.
Language and communication barriers also tend to keep populations out of the studio, to which she says that "you'd be surprised how a warm smile goes a long way." The way that studios and practitioners greet people is key, and it's something that's easily within their control.
Finally, to make yoga more inclusive to all, she says it's essential to pose everything on the mat as an invitation. If you have 30 bodies in the room, no one is going to be doing exactly what someone else is doing—and that's OK.
"The yoga philosophy asks us to confront our own areas of discomfort so we can overcome them or work with them in a way that feels peaceful. The byproduct is health and healing," Parikh says. "[But] some of it requires re-education."
Empowerment: Spreading yoga as a health service.
Yamasaki has been using yoga to support survivors of sexual trauma since 2007. Through trauma-informed yoga teacher trainings and online courses, she empowers survivors of all gender identities, racial and ethnic backgrounds, sexual orientations, and abilities to find union and establish connections in their lives. She's found that the practice can make it easier for survivors to navigate the chronic stress of trauma, as well as everyday challenges.
Yamasaki notes that trauma-informed yoga is not a checklist but rather a lifelong philosophy and skillset.
"Trauma-informed yoga often helps survivors build incremental shifts over time to widen their window of tolerance, strengthen their coping skills, and, most importantly, feel empowered in their choices and grounded in their worth," she says. "The practice is a reminder of their innate capacity to heal and that [trauma survivors] are never alone in their experience."
How we can all support this new vision of yoga.
Even if you're not a practitioner—or even a regular student—of yoga, you can still support the movement that Yamasaki, Parikh, and Ashley are building. Here, they share a few ways to do so:
1.
Show up to class with humility.
"You don't know someone's experience when you come into a yoga class," Ashley says. "You don't know that person's lived experience on the mat next to yours, so it's really about coming together for a collective and transformative experience."
2.
Show compassion for yourself and others.
If you are a practitioner, consider how you can create an open environment for listening, feedback, and support. Yamasaki says, "Practicing compassion with self and others is [the] ripple effect. This alone can change the world."
3.
Be open to the local experience on retreats.
When you're on a local [yoga] retreat or traveling, Ashley says, "You're learning from the people rooted there." To give back, she recommends spending time with—and if you can, financially supporting—the local people in that place.
Yoga can feel equal parts fascinating and frustrating at times. But "being a student and being open to learn from others—being surprised, having your thoughts and ideologies challenged—is what makes it a lifelong practice," Ashley says. Being open to knowledge is how we continue to pass it on.
5.
Define yoga for yourself.
Yoga can be self-care in the truest sense. "Yoga can be going to church, making a meal with a friend, or going for a walk with loved ones," Ashley said. "Do what works for you."
For Yamasaki, yoga has been a "steady and safe anchor amid the intense crashing of the waves. [It's] always there as a reminder. A soft place to land. To ground. Even amid the resistance—even when it's hard."
The bottom line.
Yoga can be a major force of healing for those who need it most, as evidenced by the people using it to build a more accessible world. When we use the practice as a reminder to treat others with compassion, lean into community, and be open to re-education, there are no limits to how much good it can do.
Carly Quellman
Carly Quellman is a creative storyteller and movement enthusiast. She received her bachelor's degree in journalism from Sacramento State University after studying architectural design at University of Technology, Sydney. Carly has worked with many top publications and brands including Quoted Magazine, NBC, and Yelp.
When Carly's not covering sustainability topics, she spends her time tackling social impact issues regarding the environment & its inhabitants, practicing self-reflection (on and off the mat), and reading memoirs from Black authors. She lives in Brooklyn, New York.