A Sacred Activism Practice To Try This International Women's Day
mbg Spirituality & Relationships Writer
By Sarah Regan
mbg Spirituality & Relationships Writer
Sarah Regan is a Spirituality & Relationships Writer, and a registered yoga instructor. She received her bachelor's in broadcasting and mass communication from SUNY Oswego, and lives in Buffalo, New York.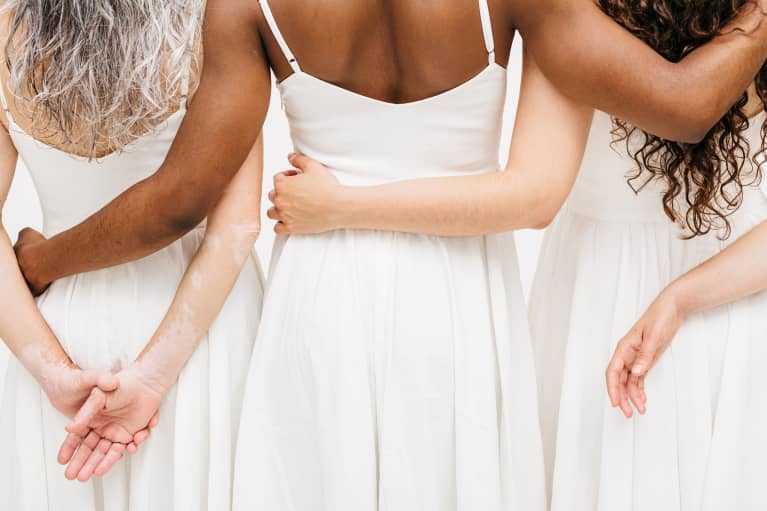 Our editors have independently chosen the products listed on this page. If you purchase something mentioned in this article, we may
earn a small commission
.
Sacred activism is all being an active participant in the world around us while still connecting to our spiritual center and vice versa.
Amisha Ghadiali, an intuitive therapist and the author of Intuition, specializes in the concept and describes it as "living a path where we find ways to come into deeper healing and transformation with ourselves, and at the same time, staying very grounded into the reality of the world that we live in and the systems of oppression that we live amongst."
She notes that often, the spiritual path can be detached from the problems the world is facing as a whole and how we can help. And likewise, a more traditional approach to activism may not include elements of self-awareness, "so we're actually acting out our own trauma through the ways in which we protest and campaign."
Sacred activism embodies the interrelationship between inner transformation and systemic change, Ghadiali says, adding that for her, "it's a combination of living a life that involves a commitment to spiritual practice as well as being aware and using the privilege that I have to show up in the ways that are possible for me."
How to practice sacred action this International Women's Day:
The first step in sacred activism is to really understand whichever cause you're getting behind and how it's affected the world, those around you, and even yourself.
In the case of International Women's Day, Ghadiali explains, that means taking some time to look at how things like patriarchy, as well as racism and economic inequality, have affected women and what it really means to be a woman today.
"If you are a woman," she says, "take stock of how your life has been impacted, and where there could be healing for you in your own sense of womanhood and the trauma you may have experienced." And if you don't identify as a woman, she adds, "Recognize that you came from a womb—you came from a woman. Understand how these systems have affected those in your life, the women in your life, and particularly your mother."
Shifting the lens from your life to the collective, you can then consider the things happening in the world that are adversely affecting women. "Some examples of that include the rape and murder that many women are still experiencing in all kinds of situations," Ghadiali notes, "from war to domestic abuse to random acts of violence."
After you've reflected on specific issues surrounding women today, you can look for ways to contribute to these communities, whether they're right in your current city or halfway around the world. Ghadiali says you can focus on raising awareness or raising funds—what's important is that you're doing something about it.
Maybe you make it a point to shop from small, woman-owned businesses, or you donate to nonprofits that support educating women in foreign countries. You could volunteer at a local women's shelter, share your favorite women artists' work on your social media, or start your own women's circle, to uplift the women in your own life.
Whatever you do, do it from a place of love and understanding for the collective and the issues we face.
And finally, sacred activism does call for a degree of self-care. While rewarding, activism can feel emotionally exhausting, and it's important we take time to restore ourselves.
For this, Ghadiali recommends meditation and taking walks in nature. "Even if you're in the city, just remembering to look up more at the sky and connect to feminine wisdom," she says, "and that sense of how we're not alone, even if we might be feeling overwhelmed or anxious in these times."
On top of that, she also emphasizes the importance of community and connecting with like-minded people. Nothing helps a tired heart like sharing your experiences and lifting each other up. But really, anything you like to do to show yourself some self-love will help you on your sacred activism journey.
Connecting with the sacred doesn't have to mean we completely detach from reality, and practicing activism doesn't mean disconnecting from your spiritual life. This International Women's Day, sacred activism allows us to do both so we can lift up the world's women and stay true to our center all the while.