13 Racial Justice Educators To Follow, Learn From & Support Right Now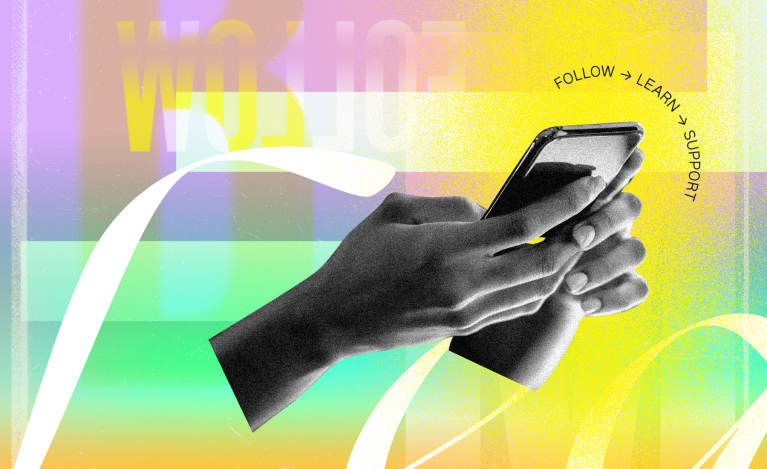 Our editors have independently chosen the products listed on this page. If you purchase something mentioned in this article, we may
earn a small commission
.
Last updated on July 1, 2022
When it comes to being an ally to the Black community right now, signing petitions, donating, and circulating resources with family and friends is a start. But the work can't and shouldn't end there.
One of the biggest lessons I, as a white woman, am learning from the response to the murders of George Floyd, Breonna Taylor, Tony McDade, and Ahmaud Arbery is that I (and a lot of other nonblack folks) need to educate ourselves about race and our place within a deeply racist system—and that won't happen over the course of one scroll through Instagram. Facing, questioning, and untangling biases will be an active and long-term process. Thankfully, there are plenty of resources that already exist to help inform and guide this ongoing edification.
Here are a few of the many racial justice educators who offer anti-racism classes, books, journalism, podcasts, and webinars. Follow them; support them; invest in them. Let's get to work:
Austin Channing Brown is a writer and producer whose work explores racial justice, faith, and Black womanhood. Her memoir, I'm Still Here: Black Dignity in a World Made for Whiteness, is a recounting of how Brown has seen allies' actions fail to live up to their words over the course of her life. Since its publication in 2018, Brown has released a digital discussion guide that further explores some of the book's themes. Her latest venture is a web series called The Next Question, which just wrapped up its first season. In it, she and cohosts Jenny Booth Potter and Chi Chi Okwu interview inspiring people in the racial justice space. Sign up for Brown's newsletter Roll Call to read and watch her latest works and do daily "homework" assignments on the subject of anti-racism work.
Offerings: Roll Call newsletter, I'm Still Here book, I'm Still Here course, The Next Question web series
4. Dr. Thema Bryant-Davis
Trabian Shorters is an author, speaker, and founder of BMe: an organization that trains companies such as the Bill & Melinda Gates Foundation and The Heinz Endowment in matters of diversity and inclusion using asset-framing, which seeks to define people "by their aspirations and contributions before exploring their deficits." He's also the editor of Reach: 40 Black Men Speak on Living, Leading, and Succeeding.
Offerings: Reach book, BMe Community training, videos on changing the narrative about Black men
Myisha T. Hill is a mental health activist whose new book, Check Your Privilege: Live Into the Work, invites readers to embark on their own anti-racism journey—knowing full well that it won't look perfect. "In a society that promotes perfectionism, anti-racism work is made tougher, paralyzing those of us who want to do better with worry that we might make a mistake," the book's summary reads. In her Co-Conspirators Lounge, Hill broadcasts a monthly anti-racism masterclass, shares biweekly writing prompts, and hosts two virtual meetups per month.
Offerings: Check Your Privilege book, Heal Your Way Forward: The Co-Conspirator's Guide to an Antiracist Future book, Co-Conspirators Lounge, Co-Conspired Conversations podcast
Attia Taylor is the founder and editor-in-chief of Womanly, a stunning health magazine that tells stories primarily geared toward Black and underrepresented women and nonbinary people. "This magazine is in response to centuries of violence and oppression, and that comes with a number of challenges in reaching people in a way that can actually effect real change and leave a lasting impact," Taylor says in an interview with thecnnekt. For every magazine sold, Womanly gives five free copies to underserved women around the country. You can also donate directly to the mag and learn from them on Instagram @womanlymag.
Offerings: Womanly magazine
12. Sonja R. Price Herbert
A leading voice in the anti-racism space, Rachel Ricketts hosts online classes focused on Spiritual Activism, which is all about getting "comfortable with your discomfort around discussing and addressing race and racism" and becoming an advocate for racial justice. Ricketts, like so many on this list, wants it to be known that anyone thinking of following her on Instagram @iamrachelricketts or taking one of her classes should be ready and willing to engage in anti-racism work, not just the performance of it.
Offerings: Spiritual Activism workshops
Do you have any names to add to the list or more anti-racism resources you wish mbg would cover? Send me an email at emma@mindbodygreen.com.