How To Deal When Your Partner Is Constantly Traveling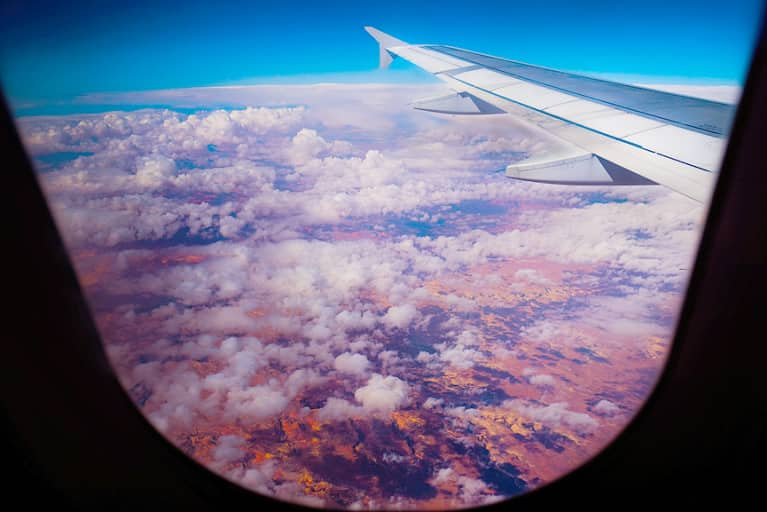 For most of the 30 years my husband and I have been married, he has had to travel for business. Over the past decade, his travel has increased dramatically, and now he's away at least two days every week.
While I always understood why he had to travel, I never grew to like it. It made me feel resentful. I often found myself very anxious when he was away. And in the last 10 years, my anxiety has increased in correlation with the amount of time he spends traveling.
For a while, there was unaddressed tension in our relationship for this reason. I eventually realized that nothing would change until we acknowledged that the arrangement was affecting our relationship and had an honest conversation about it.
I'm hardly alone in this. I know many couples struggle to find balance when a great amount of time apart is necessary. So, I want to share what I've learned about myself and my marriage and how my husband and I manage to stay close and connected despite challenging circumstances:
1. I had to acknowledge my anxiety and recognize that my resentment was causing more tension than the travel itself.
When my husband travels for work, it's only ever for a couple of days. But anxiety isn't rational, and my anxious thoughts used to tell me irrational things: "I'm all alone. I'm sad. I have no life of my own."
When I was able to locate these fearful thoughts, I saw my anxiety in action and could no longer avoid it. I realized that my resentment didn't have to do with the fact that my husband was away but that he was busy and engaged with a job that he liked. My own feelings of stagnation about my life were at the root. Once I saw how my anxiety distorted my perspective, I was able to see the situation much more clearly.
2. I tried looking at my life from a different perspective.
After acknowledging my anxiety, my next task was to examine my thoughts further—to question them and perhaps even disprove them.
Once I realized that my anxiety and resentment were not my husband's "fault" or caused by his job, I began to explore the issues in my life that his travel brought to light. I began to see this time of anxiety as an opportunity, not a crisis. I decided that rather than remaining unhappy, I would change my life. I committed to figuring out what I wanted from my work, from friends, from my hobbies. I knew it was going to be a step-by-step process, and I was OK with that.
3. I began thinking of my time alone as "me time" rather than time away from my husband.
Eventually, I created a schedule for myself and began making regular plans with friends while my husband was away. Instead of feeling "left," I began seeing this time as positive space for me to take care of myself. I got back into going to classes at my gym. I reached out to friends I hadn't seen in a while, always making sure to plan at least one social night per week—be it dinner, a film, a cool lecture, or an event.
When I'd stay home, I enjoyed talking on the phone with friends (not texting!), reading, ordering in dinner, and eating on my bed while I watched whatever TV show interested me. (After enough time in a relationship, getting full control of the remote becomes its own kind of luxury.)
4. I initiated an open, honest talk with my husband about how his traveling was affecting both of us.
Although I had begun adjusting well to the weekly separation, I knew there were still things my husband and I needed to discuss.
As his traveling became increasingly regular (weekly), I felt reluctant to let on how I was feeling. So I "shut down," becoming falsely agreeable and not as talkative as I usually was. I was creating exactly what I DIDN'T want—free-floating tension in the relationship.
Of course, he was able to tell that something was bothering me, but he couldn't read my mind.
When I decided to share my side of the story and open up a discussion, I learned that I had been so wrapped up with my own worries that it hadn't occurred to me to ask my husband how the traveling made him feel. I assumed he just liked staying in nice hotels, eating meals in great restaurants with his co-workers, and going to the gym each morning before work. But he told me he missed me, our home, and our fun activities together, like going out to dinner with friends and binge-watching our favorite TV shows.
My vulnerability gave us both the opportunity to see our situation from each other's perspectives and approach it as a team. We could begin brainstorming concrete ideas about how to make his time away easier for both of us.
5. My husband and I made explicit plans to stay in touch while he was away.
When my husband first began to travel 10 years ago, our communication was very random. I usually didn't initiate contact. I didn't want to bother him while he was working and, more importantly, I wanted him to "prove: that he was thinking of me by reaching out first.
But I knew that my husband never liked talking on the phone. When he would call, I often sensed he was distracted and disengaged. This, of course, made me feel even more distant from him.
Together, we decided to come up with a plan that would work for both of us. We started to have short phone "visits" around 10 p.m. each night—sometimes to watch part of a TV show or the news "together." We also established a quick call in the morning to check in, which we still do to this day. Throughout the day, we'll send each other a few texts—a cute or funny photo or an interesting article or anecdote from the day. Learning to stay in touch with each other this way actually helped strengthen our communication in general.
6. I realized how special his weekly "homecoming" could be and am now more present when we're together.
Each week, I look forward to my husband's "homecoming." Now more than ever, we put time and energy into planning interesting things to do together on weekends—and relish getting back into our familiar routine.
Our time apart each week is no longer a disruption but a gift. It enabled us to look at ourselves, confront issues that needed attention, acknowledge our needs, and have honest conversations to make our relationship work for both of us!
Absence may make the heart grow fonder, but it also presents an invitation for us to examine ourselves.
Want more insight into your relationships? Find out the two types of passion (and which one is good for your sex life), then learn what the number of sexual partners you've had actually says about you.