In The Market For An "Immunity Tea"? This Simple 3-Step Brew Is MD-Approved
mbg Associate Editor
By Jamie Schneider
mbg Associate Editor
Jamie Schneider is the Associate Editor at mindbodygreen, covering beauty and health. She has a B.A. in Organizational Studies and English from the University of Michigan, and her work has appeared in Coveteur, The Chill Times, and Wyld Skincare.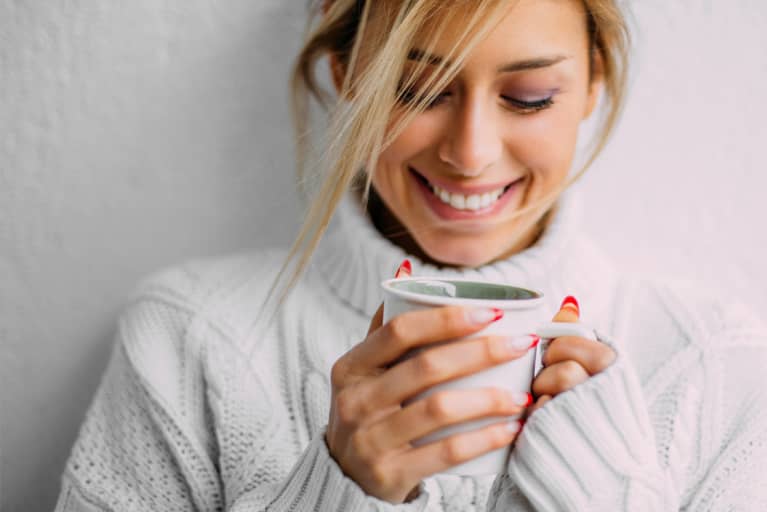 Our editors have independently chosen the products listed on this page. If you purchase something mentioned in this article, we may
earn a small commission
.
Ask any expert their version of "immunity tea," and chances are they reveal some sort of ginger-infused brew. Nothing against ginger, of course. Its antihistamine and decongestant properties are great for busting colds.
But let's mix up your immune-strengthening arsenal a bit: Ever heard of pine needle tea? Apparently, it's the best antioxidant-rich infusion, and it tastes just like the winter holidays. Count. Us. In.
Why pine needle tea is great for immunity. 
"Pine needle is basically a substance found in pine bark," says integrative medicine physician Bindiya Gandhi, M.D. "That is why it has great immune-boosting properties." Pine bark (specifically, pycnogenol—a standardized form of pine bark from a specific tree genus off the southwest coast of France) has been shown to stave off free radicals and manage oxidative stress when taken as a supplement. It's also great for restoring immune function, says Gandhi, by "increasing lymphocyte production and regulating cytokine release reducing inflammation."
And in case you needed more hard science: In another study of 146 people suffering with the common cold, pine bark was able to reduce the duration of cold symptoms, as well as the severity of the symptoms themselves.
OK, but you're here because of pine needle tea. Good news: Those spiny needles have the same benefits as the bark, especially in tea form. Apparently, the hot water creates even more of an antioxidant effect: "Due to its potent antioxidant composition, [pine needle tea] boosts the effectiveness of vitamin C more than five times," Gandhi notes.
How to make pine needle tea. 
Two routes to take, here. You can either purchase ready-made pine needle tea (here's an organic option), or you can always make your own. According to Gandhi, "It's easy to make."
For what it's worth: Yes, you can pick the pine right off the branch—just make sure you choose the right type of tree: According to a USDA Forest Service study, Eastern white pine has an impressive amount of ascorbic acid per gram. Another study touts balsam fir needles (technically a type of pine) for their vitamin C content, so those two seem to be the best options. Regardless, it's super, super important to I.D. your pine before taking a sip—you don't want to be drinking just anything off the ground, here. If you have any doubts at all, snag a market option that's formulated safe—the DIY route can wait.
If you do have the right pine needles at the ready, follow Gandhi's simple steps:
Gather some pine needles, noting the details above.
Rinse the needles in cold water before steeping. You might also want to cut the brown scale off that connects the bunch together.
Soak the pine in boiling water, steeping until it's fragrant and all the oils are released.
Sip, and enjoy!
In terms of taste? It's a little citrusy, a little woodsy—reminiscent of a snowy holiday. Feel free to add honey to sweeten things up a bit, or drink the pine straight.
In the market for an immune-supporting brew? Pine needles have got you covered. While you can totally source from your own backyard, always double-check you're using the right pine. Other than that, it's just three steps to a really good sip.