This Gel Is Easy To Make At Home & Loaded With Nutrients For Hair Growth

Beauty & Health Editor
By Jamie Schneider
Beauty & Health Editor
Jamie Schneider is the Beauty Editor at mindbodygreen. She has a B.A. in Organizational Studies and English from the University of Michigan, and her work has appeared in Coveteur, The Chill Times, and Wyld Skincare.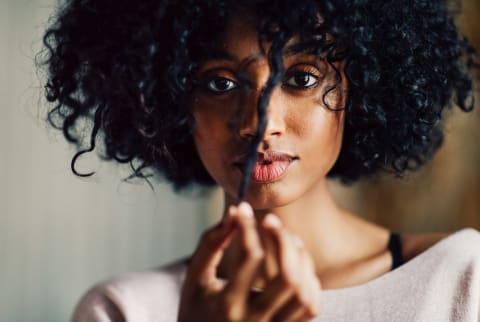 Image by Addison Jones / Stocksy
March 25, 2022
We carefully vet all products and services featured on mindbodygreen using our
commerce guidelines.
Our selections are never influenced by the commissions earned from our links.
Friends with waves and curls, you probably know the hassle of finding a gel that offers enough hold without weighing down the strands or making them feel stiff. It's a quest not for the faint of heart, as it can take rounds of testing to find a styler that works best for your individual texture. If you've hit a standstill, might we suggest a jar of flaxseed gel?
Now, flaxseed gel has been dear to the curl community for ages—we also have a full explainer on how to use it, if you're curious. But like other beauty staples that see a sudden resurgence (rice water is another one), TikTok creators have quickly propelled flaxseed gel back into the spotlight; the search term alone garners 56 million views, and some users even swear it provides better hold than the famous Olaplex bun—the goop hydrates your strands all day long, never drying down to a hard shell on your scalp.
It's a multitasking ingredient that elevates your style and your hair's health, and it's oh-so-easy to whip up your own concoction at home. Here's everything you need to know.
How to make flaxseed gel.
As I mentioned up top, we do have a full guide to flaxseed gel, which includes an easy recipe. Along with flaxseeds and water (which is really all you need), it also recommends aloe vera juice for even more hydration—so if you want to elevate your DIY hair care just a bit, we suggest you head over there. But for a basic no-fuss gel, see below for the simplest recipe:
What you need:
3 to 4 tablespoons flaxseeds (the more flaxseeds, the stronger the hold)
1 to 2 cups water
Fine-mesh strainer or cheesecloth
Jar with a lid
How to:
Pour water and flaxseeds into a saucepan on medium-high heat. Let it come to a boil, stirring frequently.
Once boiled, remove the pan from heat and strain the mixture into a jar.
When it cools, it will form into a gel.
Apply to wet or dry hair; just allow it to cool completely before using.
Benefits for hair. 
As you can tell, creating your own flaxseed gel is incredibly easy—but it's rich in hair-healthy nutrients that help give the gel its flexible, never-crunchy hold. Specifically, flaxseeds are rich in vitamin E and omega-3 fatty acids, both of which can nourish dry hair. Vitamin E is beloved for conditioning the hair and providing antioxidant protection—when used topically on the hair shaft, it also can "create greater elasticity in the hair while adding shine," Austin-based hairstylist Sarah Lund tells us about vitamin E in hair care. For waves and curls, this means healthy, bouncy, juicy strands.
Fatty acids have also been touted for quenching thirsty strands, thanks to their molecular structure: They have a hydrophilic end that aids in moisture retention and a hydrophobic end that boosts shine, which makes them great topical ingredients. Internally, though, those healthy oils can also moisturize the strands: Some research suggests1 that omega-3 fatty acids can support hair growth when taken along with other antioxidants.* Why do we bring this up? Well, using flaxseed gel topically is a great way to keep the strands you have healthy (and secure a smooth, shiny style), but to reap the hair growth benefits of those fatty acids, you might want to consider looking internally.*
So along with your DIY flaxseed gel, you can sprinkle some flaxseeds onto your smoothies and salads, too—or find a supplement that contains flaxseed oil to consume those fatty acids on the daily. mindbodygreen's vitamin D3 potency+ includes a trio of organic, virgin oils (avocado, flaxseed, and extra-virgin olive), which provide unsaturated omega-3 and omega-9 fatty acids (over 400 milligrams in each gelcap!) and offer antioxidant and anti-inflammatory properties that can help support hair health.*
The takeaway. 
Flaxseed gel not only keeps your curls defined and springy but also nurtures the strands over time—that's why curly girls love the DIY styler for all-day hydration. Plus, it's so easy to whip up a mixture and have the hair-healthy goop on hand.
If you are pregnant, breastfeeding, or taking medications, consult with your doctor before starting a supplement routine. It is always optimal to consult with a health care provider when considering what supplements are right for you.

Jamie Schneider
Beauty & Health Editor
Jamie Schneider is the Beauty Editor at mindbodygreen. She has a B.A. in Organizational Studies and English from the University of Michigan, and her work has appeared in Coveteur, The Chill Times, and more. In her role at mbg, she reports on everything from the top beauty industry trends, to the gut-skin connection and the microbiome, to the latest expert makeup hacks. She currently lives in Brooklyn, New York.