Will Adding Hemp Oil To Your Hair Care Routine Give You Longer, Healthier Locks?
mbg Health Contributor
By Gretchen Lidicker, M.S.
mbg Health Contributor
Gretchen Lidicker earned her master's degree in physiology with a focus on alternative medicine from Georgetown University. She is the author of "CBD Oil Everyday Secrets" and "Magnesium Everyday Secrets."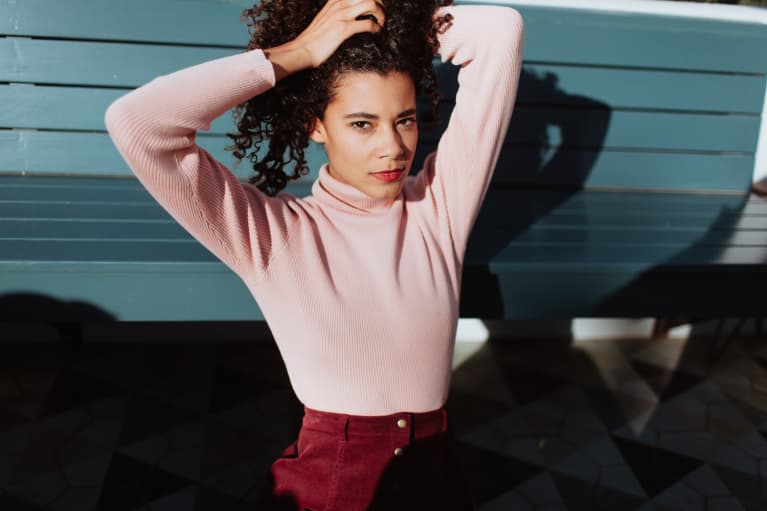 As hemp oil becomes more popular and mainstream, people are beginning to work it into their haircare routines. It makes sense: Hemp contains lots of fatty acids, proteins, and vitamins that could make it effective at soothing the scalp and nourishing the hair.*
When it comes to hemp-based products, it's important to first note the difference between hemp oil and hemp seed oil, since their benefits differ. Hemp seed oil is made from pressed hemp seeds and prized for its high fatty acid count. It's different than hemp oil, which contains high concentrations of cannabinoids like CBD and is often taken to promote a positive mood and foster relaxation.* Both are legal, contain little to no THC, and are non psychoactive (meaning, they won't make you feel "high.") They are both potentially beneficial for your hair and scalp, but make sure you look closely at the label. It's not always obvious which one you're buying. Here's what else you need to know about how to use hemp to up your hair game.
The benefits of hemp oil for the scalp.
1. It could help strengthen the scalp.*
Many people assume that dandruff and other scalp issues are just a dry skin problem, but in reality, they can be caused by a wide range of issues like dermatitis, eczema, or a fungal infection. While there isn't any research on the benefits of hemp oil on the scalp directly, there are studies that support using CBD for inflammatory skin conditions.* In addition, a 2014 review noted that the topical application of hemp seed oil strengthens the skin and makes it more resistant to infections, which could help promote scalp health.*
2. It could promote hair growth and help slow down hair loss.*
Hemp seed oil also has the potential to promote hair growth due to its high amounts of omega-6 and omega-3 fatty acids, like oleic acid, stearidonic acid, and gamma-linolenic acid.* Studies have shown that a higher intake of these fats (in the case of one study, oral omega supplements for six months) can support improvements in hair diameter and density.*
How to use hemp oil on your hair.
If you're wanting to add some extra nourishment to your hair care routine, a good place to start would be a daily scalp massage with a hemp or hemp seed oil. You can also dilute it in coconut oil to make an at-home hair mask that's even more nourishing. If you're not a fan of DIY-ing and you'd rather purchase a hemp-oil-infused hair product, try this CBD Daily CBD Shampoo, $18.99, or this EMERA Nourishing CBD Shampoo, $25. The latter actually contains high-CBD hemp oil and hemp seed oil for double the benefits. The brand Prose is another option; they do custom hair care products and utilize CBD oil in their formulations.
The research on hemp oil for hair is far from extensive, but if you're struggling with scalp issues or any number of hair woes, experimenting with hemp or hemp seed oil might be worth a shot.