Will Adding Hemp Oil To Your Hair Care Routine Give You Longer, Healthier Locks?
mbg Health Contributor
By Gretchen Lidicker, M.S.
mbg Health Contributor
Gretchen Lidicker earned her master's degree in physiology with a focus on alternative medicine from Georgetown University. She is the author of "CBD Oil Everyday Secrets" and "Magnesium Everyday Secrets."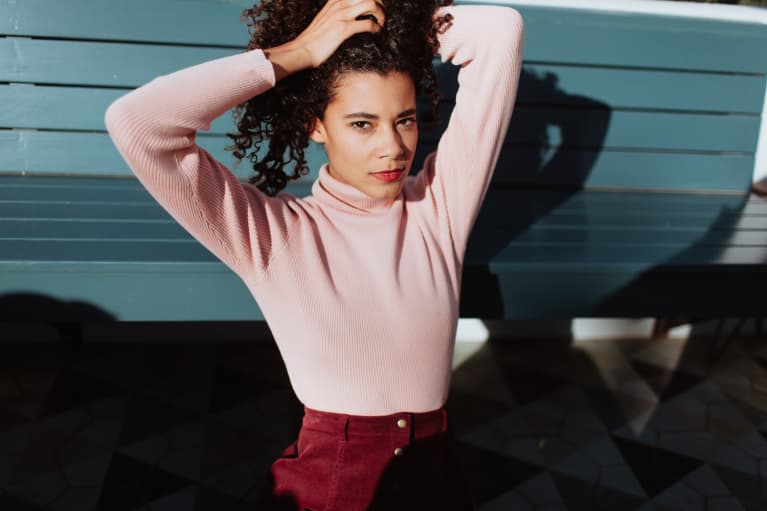 If you started researching hemp oil's benefits and found yourself exclaiming "What CAN'T it do?" you're definitely not alone. This anti-inflammatory, high-antioxidant oil extracted from the hemp plant has been praised for everything from preventing wrinkles and dementia to healing GI disorders, psoriasis, and even preventing seizures in children with rare disorders that don't respond to medication.
These benefits are backed by varying degrees of scientific research—for example, the anti-wrinkle claim is purely anecdotal but multiple double-blind, placebo-controlled clinical trials have confirmed hemp oil's anti-seizure properties—but the truth is that at the end of the day, a ton of people are using hemp oil in a lot of different ways.
And now, to add to the list of uses and benefits of hemp oil, people are using it on their hair and scalp.
Hemp oil for hair health.
As hemp oil becomes more and more popular and mainstream, it's no surprise that salons are starting to add hemp oil hair treatment to their list of services. The benefits of doing this mainly surround cannabidiol (CBD), which is one of the main compounds found in hemp oil. CBD has known anti-inflammatory properties, which are thought to be good for the scalp and nourishing to the hair.
While there isn't any research on the benefits of hemp oil on the scalp directly, there are studies that support using CBD for inflammatory skin conditions like psoriasis and eczema. A 2016 paper that reviewed existing studies concluded that the current evidence suggests that cannabinoid therapies could be helpful for psoriasis. In addition, a 2014 review noted that the topical application of hemp seed oil strengthens the skin and makes it more resistant to infections, which could help improve scalp health. Many people assume that dandruff and other scalp issues are just a dry skin problem, but in reality, they can be caused by a wide range of issues like dermatitis, eczema, or a fungal infection.
You may have noticed that last study was on hemp seed oil. This brings us to a very important point when it comes to using hemp-based products on our hair.
Hemp oil versus hemp seed oil.
When it comes to hemp-based products, knowing the difference between hemp oil and hemp seed oil is paramount. There's a lot of confusion here about what's what—and it matters which one you buy because while they're both healthy, they have entirely different benefits.
So what is the difference, exactly? As Jon Mitchell, PA-C, physician's assistant and functional medicine expert, wrote for mbg, "hemp seed oil has been extracted from hemp seeds. Hemp seed oil contains little to no THC or CBD and is instead extracted for its healthy fatty acid profile." In contrast, "hemp oil has been extracted from the stalk of a hemp plant, mainly for its CBD content. Legally, it must have less than 0.3 percent THC," he explained.
They are both potentially beneficial for your hair and scalp, but make sure you look closely at the label. It's not always obvious which one you're buying.
Hemp oil for hair growth and hair loss.
Despite the lack of hard evidence, leading hair health specialists are recommending high-CBD hemp oil to their clients to promote hair growth with a lot of success. Hemp seed oil also has the potential to help with the same issue due to its high amounts of omega-6 and omega-3 fatty acids, like oleic acid, stearidonic acid, and gamma-linolenic acid. Studies have shown that a higher intake of these fats—in the case of this study, participants took oral omega supplements for six months—can lead to improvements in hair diameter and density.
Hemp oil hair care products.
If you're wanting to add CBD to your hair care routine, a good place to start would be a daily scalp massage with this Lord Jones Royal Oil, $100. It's got a heavy price tag, but it's formulated with just two ingredients—high-CBD hemp extract and pure grapeseed oil—and designed to be used for DIY purposes. You can dilute it in coconut oil and make an at-home scalp massage. Then, leave it in like you would a hair mask to make sure the hemp oil can really get to work.
If you're not a fan of DIY-ing and you'd rather purchase a hemp-oil-infused hair product, try this CBD Daily CBD Shampoo, $18.99, or this EMERA Nourishing CBD Shampoo, $25. The latter actually contains high-CBD hemp oil and hemp seed oil for double the benefits. The brand Prose is another option; they do custom hair care products and utilize CBD oil in their formulations.
Despite the lack of research on hemp oil for hair, if you're struggling with scalp issues or any number of hair woes, a hemp- or hemp-seed-oil-infused hair care routine might be just what the doctor ordered. The good news is that both hemp oil and hemp seed oil are extremely safe to experiment with. As Mitchell wrote for mbg, "Animal studies have not found any toxicity issues with using hemp oil."