How To Keep A Garden Journal: 22 Tips & Creative Ideas
Author & Conservationist
By Julia Watkins
Author & Conservationist
Julia Watkins is the author of "Simply Living Well" and "Gardening for Everyone" and the creator of the popular Instagram account @simply.living.well, where she shares about living simply, slowly, and sustainably.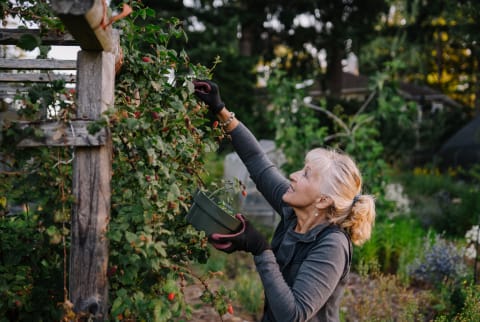 Image by Rob and Julia Campbell / Stocksy
March 8, 2022
We carefully vet all products and services featured on mindbodygreen using our
commerce guidelines.
Our selections are never influenced by the commissions earned from our links.
There are few things I enjoy more in the middle of winter than spreading out a large sheet of paper on the kitchen table and sketching out a plan for my garden. I like to start a few weeks before it's time to order seeds and sow some of them indoors. My sketches are by no means works of art, but I take great satisfaction in creating a vision for what I want to plant and carefully rendering it on the paper before me. I use a pencil, of course, since planning is a process, and I always make a lot of changes along the way.
There are any number of ways to plan a garden, but I like to follow an adapted version of Jill McSheehy's step-by-step method from her book Vegetable Gardening for Beginners:
Write down the average last spring frost date for your area.
Make a list of all the crops you would like to grow. Then whittle your list down to crops you'll actually grow.
Divide the crops you'll grow into two groups: cold-season crops and warm-season crops.
Color-code each crop according to whether you plan to start seeds indoors (blue), purchase transplants from a nursery (green), or direct-sow seeds outdoors (brown).
Using the average last frost date for your area and the information on the seed packets, determine when to start seeds indoors (if applicable) and when to plant crops outdoors. Write the dates beside each crop.
Under each crop, write down its plant-spacing requirements, how many plants fit in a square foot (if you're square-foot gardening), days to harvest, plants that make good companions, and whether the plant needs vertical supports.
Sketch the borders of your garden on a piece of paper. If you like straight lines and right angles, graph paper is helpful, especially because each square of the graph paper can be a square foot of your garden. Whether you have in-ground beds, raised rows, or raised beds, try to draw the borders to scale to make planning easier. If you're using containers, include the size of the containers you plan to use so that you can determine the appropriate spacing for them as well.
If you plan to build or place vertical structures in your garden, include them in your sketch.
Fill the sketch of your garden with crops you would like to grow. Indicate how many plants you will grow in that space. If you plan to grow crops in succession, make a note of that. If this is not your first season growing in your garden, refer to last year's plan so you can factor in crop rotation, if needed, and repeat anything that worked well.
Make changes as needed. Since you've used a pencil, it won't be hard to do!
Keeping a garden journal.
The best book about gardening is the one you write yourself. Nothing will better capture what's going on in your garden than the little notes, stories, sketches, and figures you jot in a personal garden journal. Journaling habits are as diverse as the gardeners who keep them. One gardener might scribble a note or two every week; another might keep careful tables teeming with data. Still others might record every little daily detail, and a few might fill each page with meticulously annotated drawings. Journals can be practical, poetic, quantitative, or just plain quirky. There are no rules for keeping one, so long as it reflects what is significant to you. Here are some suggestions for getting started:
General information: List your zone, frost date, and soil test results.
Garden happenings for every month of the year: Each month, record what chores need to be done, what plants are in bloom, and any incidental observations you find useful. As the years pass, you'll likely add more tasks, reminders, and observations, for example, when to mulch, hill up potatoes, plant garlic, clean up the garden, and cover beds with row covers or sheeting.
Purchased seeds and plants: If they're mail-order or online purchases, cut out the catalog photos and descriptions and paste them into your journal. If locally purchased or grown from seed, staple the plant tags or seed packs to your pages. Leave space to jot down notes on each plant, for example, whether it was robust, hearty, or flavorful.
A sketch of your garden layout: Include sketches of your garden that show what you planted where. Not only will your sketch help you remember what you planted this year, but it'll also come in handy when you're looking back to plan what to plant next year. Detailed sketches are particularly useful when planning for crop rotation or when you want to remember where you planted fall bulbs come spring.
A chart to record the plants you are growing: If you create a table, include columns to record the dates you sowed, hardened off, transplanted, and harvested each plant. A column to record special notes about each plant is also useful.
A record of pests and diseases: The same pests often appear at the same time each year. Write down pests encountered and the dates they appeared, to help alert you to potential infestations for upcoming years. Note what you did to minimize their damage, including anything you tried but didn't find successful.
Fertilizers you used: Record the type, amount, and date of any fertilizers you used to help you keep up with what works and doesn't work, as well as when you need to apply them again. A clear record can also help you troubleshoot growth problems.
Plants that need special care: If a plant requires annual pruning, deadheading, or staking, it's worth noting that so you are prepared and can perform the task at the appropriate time.
Bird, pollinators, and other wildlife sightings: Just pretend you're keeping a bed-and-breakfast and having your animal guests sign in. Make note of all visitors, as well as when they came and what they liked to eat!
Plants received from fellow gardeners, friends, or family: If you are gifted perennial plants, keep a record of who they were from and when you planted them. This information will be cherished by your children and grandchildren someday!
A "wish list" of plants or projects you'd like to try: Paste in photos to remind and inspire you to try new plants, methods, and projects.
Photographs: Pictures are worth a thousand words—someday, you and your loved ones will relish looking back at the different ages and stages of your garden.
From Gardening for Everyone by Julia Watkins. Copyright © 2022 by Julia Watkins. Reprinted by permission of Harvest, an imprint of HarperCollins Publishers.
Julia Watkins
Author & Conservationist
Julia Watkins is the author of Simply Living Well and Gardening for Everyone and the creator of the popular Instagram account @simply.living.well, where she shares about living simply, slowly, and sustainably. A lifelong lover of the natural world, Julia has worked in environmental and natural resource management for most of her life and has a graduate degree in conservation science and policy. Along with her husband Scott, Julia co-founded Lookfar Conservation in 2016, a nonprofit that supports conservation and restoration projects around the world. When she's not experimenting with new recipes and remedies, you can find her in her art room crafting with her children or in her garden growing veggies, herbs, and edible flowers. Julia lives in an old farmhouse on the northshore of Chicago with her family.