These 11 Author-Approved Journals Are A Dream To Write In

mbg Sustainability + Health Director
By Emma Loewe
mbg Sustainability + Health Director
Emma Loewe is the Senior Sustainability Editor at mindbodygreen and the author of "Return to Nature: The New Science of How Natural Landscapes Restore Us."
October 27, 2021
Our editors have independently chosen the products listed on this page. If you purchase something mentioned in this article, we may
earn a small commission
.
As someone who writes on the internet for a living, I see journaling as a real treat. Unlike a computer screen, a notebook can serve as a landing pad for all of your half-baked ideas, convoluted thoughts, and nascent plans. It's a place you can go to drop the need to be perfect, work things out with yourself and for yourself, and write without fear of being judged.
Of the many journals I've acquired in my life, a few were so inviting that they made this exploration super easy. Curious about the journals that other professional writers keep coming back to, I asked a pool of authors to tell me about their personal top picks.
Advertisement
This ad is displayed using third party content and we do not control its accessibility features.
From a timeless Moleskine to a waterproof journal fit for an adventure, there's something on our list for every type of writer (even the ones who don't know they're writers yet!). Choose one that catches your eye, grab your pen, and get expressing.
11 best journals for 2021
Best leather: Graphic Image Leather 9" Flexible Cover Journal
Annie Daly, a travel journalist and the author of Destination Wellness, says that opening this leather journal feels like "hanging out with an old, treasured friend." After a long period of testing notebooks that were either too formal or too flimsy, she landed on this one that strikes just the right balance of approachable yet elegant.
"I also love the satin ribbon marker that keeps my place," Daly adds. "It's so beautiful and brings me a tiny bit of joy every time I open the page!"
Graphic Image Leather 9" Flexible Cover Journal ($105)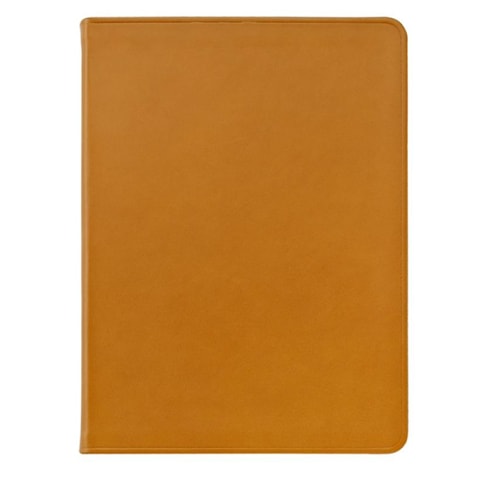 Graphic Image Leather
Best unlined: Magic of I Vegan Leather Journal, Unlined
Unlined journals allow for more free-form writing and doodling, and Becca Piastrelli, author of the upcoming book Root & Ritual, loves this one from Magic of I. Piastrelli tells mbg that the special, cosmos-inspired cover makes her want to carry this vegan leather book around with her everywhere—and fill its blank pages with everything from "freewriting to dream recollections to notes for my next book."
Magic of I Vegan Leather Journal, Unlined ($28)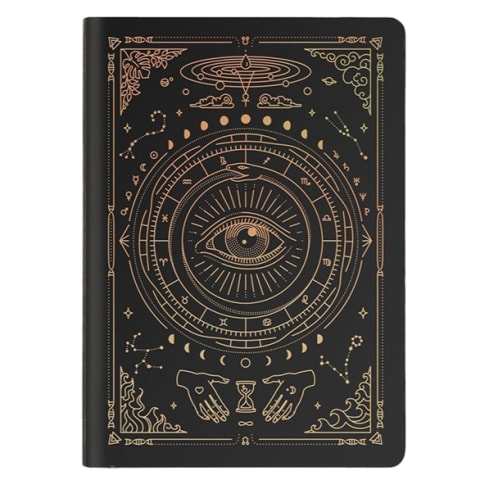 Magic of I
Best fancy: Papier Mirage Foiled Notebook
Papier makes a whole family of notebooks with chic, timeless covers. This desert-inspired one, complete with raised gold, shimmery touches, caught my eye right away. I appreciate that you can choose what kind of paper to fill it in with (lined, dotted, or plain) and even have the option to customize it with your name or personal writing mantra. It would also make a fantastic gift for the journalers in your life.
Papier Mirage Foiled Notebook ($31.99)
Papier
Best spiral: Fringe Studio Sage Notebook
Andrea Scher, author of the upcoming book Wonder Seeker, didn't hesitate to name her favorite writing tool: The faux leather, spiral-bound notebooks from Fringe Studio. "They are soft and bendable, clean and practical, and also feel luxurious and feminine," she tells mbg. "Their simple beauty inspires me to carry them around and write more."
Fringe Studio Sage Notebook ($20)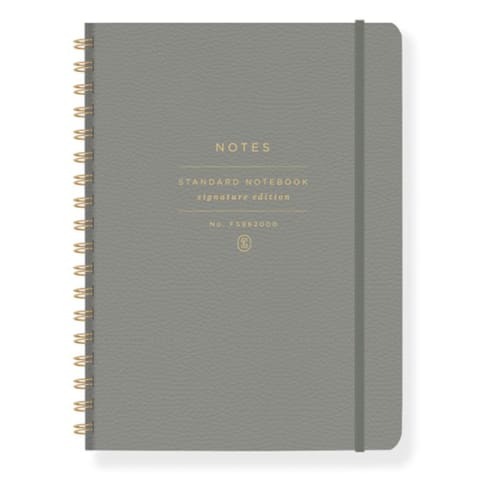 Fringe
Best recycled: Decomposition Seahorses Book
Featuring 144 pages of 100% recycled paper bound in a soy-ink printed cover, this Decomposition book is great for the writer looking to leave a lighter impact. The blank notebook is also super lightweight and easy to stuff into a purse or backpack. And at $10, it's affordable to boot.
Decomposition Seahorses Book ($10)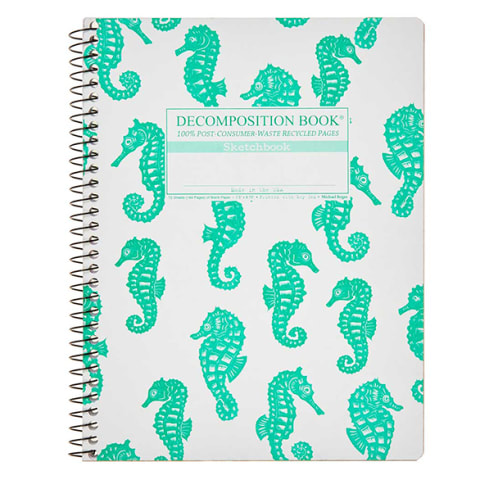 Decomposition
Best classic: Moleskine Classic Notebook, Soft Cover, Large
Moleskine Italian notebooks and planners have graced desks around the world for over 20 years. They're a classic for a reason! Made to mimic the traditional notebooks of great thinkers through time like Van Gogh and Hemingway, they feature strong, bleed-proof paper, a ribbon bookmark, and an outer elastic band to keep everything compact. Rounded edges and a cushioned cover mean that this notebook, despite being luxurious, remains approachable and not daunting.
Moleskine Classic Notebook, Soft Cover, Large ($16.46)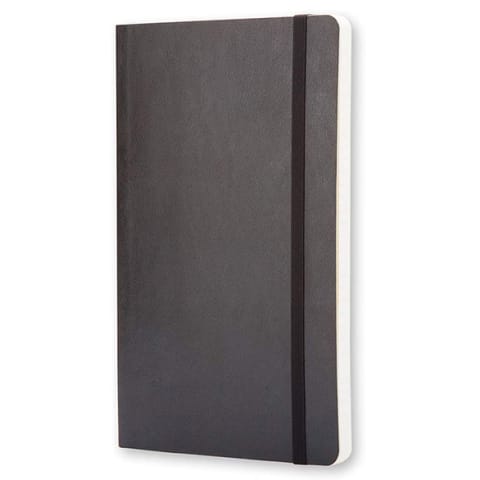 Moleskine
Best portable: XYark 12-Pack Notebook Journals
When Terri Trespicio, writing instructor and author of Unfollow Your Passion, leads writing retreats, she hands attendees the same journals she uses herself: These slim, soft cover models that you can snag from Amazon for less than $2 a piece. "The job of a journal is to listen; your job is to write," she says of her choice. "If a notebook is bulky or fussy or heavy, it's not doing its job. The lighter it is, the more likely you'll bring it along—and have it handy when the moment strikes."
As opposed to more elaborate (and sometimes intimidating) journals that tend to collect dust and stay blank for longer, she finds that these give her the freedom on the page she craves.
XYark 12-Pack Notebook Journals ($18.99)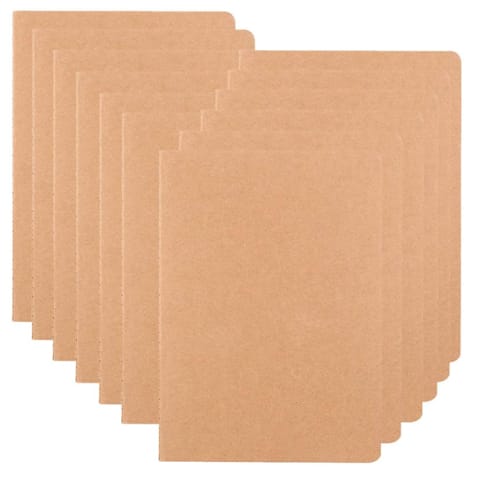 XYark
Best mini: Field Notes National Park 3-Pack
For me, it was love at first sight with these unique National Park notebooks from Field Notes. Measuring in at 3½" × 5½", they fit into the palm of my hand and are the perfect size for quickly jotting down notes or random reflections. It doesn't hurt that their small but mighty cover illustrations nudge me to seek out inspiring wild places near and far every time I look at them.
Field Notes National Park 3-Pack ($12.95)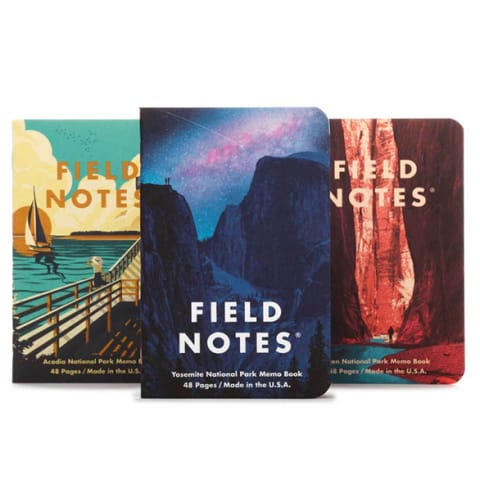 Field Notes
Best digital: Paperlike iPad Screen Protector
One downside of notebooks is they can quickly take over a drawer or shelf. Author Christine Platt of The Afrominimalist's Guide to Living With Less says that going paperless has been the most challenging part of her journey toward a minimalist life.
"I'm old-school—I love the feeling of pen to paper. But I hate the wastefulness that comes with printing multiple drafts to edit and I'm still trying to reconcile my obsession with paper products," Platt tells mbg.
One nifty tool that's making the transition a little easier? Paperlike—a screen protector that's designed to mimic the feel of writing on paper. Throw it on your iPad, grab your Stylus pen, and pat yourself on the back for getting your thoughts down in a clutter-free way.
Paperlike iPad Screen Protector ($39.99)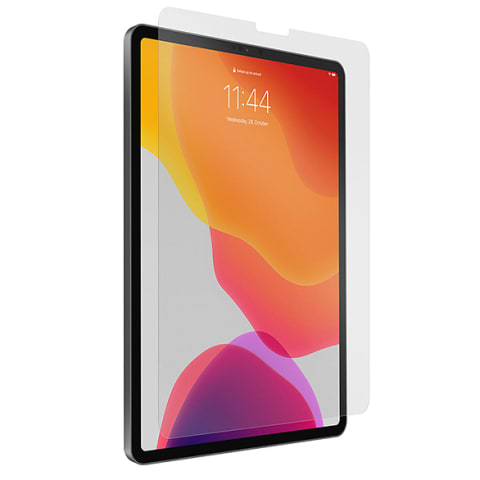 Paperlike
Best for outdoors: Rite In The Rain
While journaling on your couch or at your dining table has its perks, sometimes you want to bring your writing out into the elements. For those days, this Rite in the Rain waterproof spiral notebook is a near-magical tool that lets you write in the rain or by the riverside. Pair it with one of the company's field-biologist-tested all-weather pens, and you'll be all set for a mess-free outdoor journal entry (that will still be legible later).
Rite In The Rain Side Spiral Notebook ($7.95)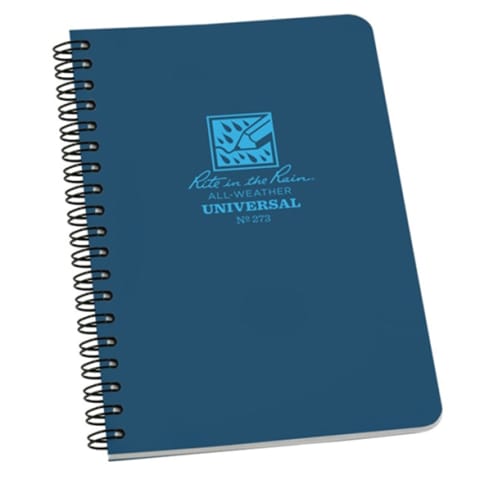 Rite in the Rain
Best for beginners: Intelligent Change The Five Minute Journal
For the times when a blank page feels too intimidating (been there), this cult-favorite guided journal is filled with short prompts to help you plan every morning and reflect every night. It's encouraged over 1 million people to write for at least five minutes daily about their triumphs, challenges, and goals—and have fun doing it.
Intelligent Change The Five Minute Journal ($24.95)
Intelligent Change
The bottom line.
Advertisement
This ad is displayed using third party content and we do not control its accessibility features.