4 Camouflage Techniques For A Thinning Crown: Hairstylist Tested & Approved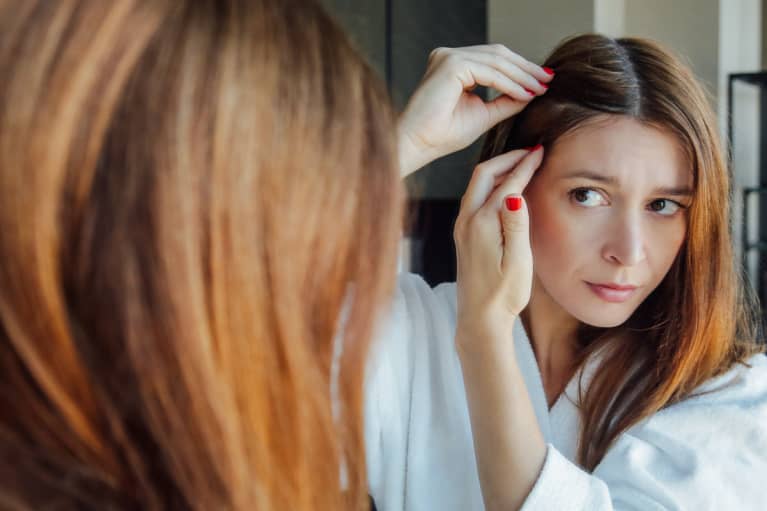 Our editors have independently chosen the products listed on this page. If you purchase something mentioned in this article, we may
earn a small commission
.
Hair shedding happens for a number of reasons, not all of them having to do with a specific condition (although, you should always check and make sure). Sometimes, it simply comes down to aging—perhaps over time you notice your widow's peak expanding, your part widening out, or your temples looking a bit bare, and there's seemingly no rhyme or reason for the extra hairs swirling down the shower drain.
Not to fret: In addition to slowing down the hair loss itself (yes, there are a few ways), you can rely on camouflage techniques to make your hair appear fuller and thicker—you know, while you wait for more long-term methods to take hold. Of course, concealing bare areas shouldn't be your only plan of action when it comes to shedding hair: "The most important thing is to get to the root of [hair loss] and try to stop it if possible," notes board-certified dermatologist Iris Rubin, M.D., founder of SEEN Hair Care.
Nonetheless, here are a few hairstylist tips and tricks to cover up those thinned-out areas, assuming you've already identified the underlying cause and next steps:
If you notice your part becoming wider, try switching things up to conceal any thinned-out areas. Flip your strands to one side for extra volume, or create a zigzag part to liven up flat hair.
Plus, flipping your part is also hair-healthy: As hairstylist Levi Monarch has told us about speeding up hair growth, you don't want to put pressure on the same spot each and every day. "You never want to repeatedly do the same thing to your hair," he says.
2.
Change up your haircut.
Cutting off even more hair may sound a bit strange, but hear me out: Similar to switching up your part, a whole new 'do can help create some volume—try adding layers for some piecey texture. Or, as celebrity hairstylist Nick Stenson, artistic director of Matrix, recommends, you can experiment with bangs: "Embrace a new fringe that falls forward," he notes. It's especially helpful if you're experiencing a receding hairline with thinning along the forehead or an expanding widow's peak—a shaggy fringe can cover up any bare spots.
"If a lot of your scalp is showing because of hair loss, a root spray can be a great way to 'fill in' your hair," notes hairstylist and licensed cosmetologist Christina Marie. It's an old hairstylist trick, but it's one that covers up any thinned out areas and creates the illusion of thicker hair. Best part? There are tons of natural-leaning spray, powder, and stick formulations on the market that provide a believable blend. (Find our favorites here.)
4.
Perhaps try highlights or lowlights.
Highlights and lowlights create dimension in the hair, so they're able to soften up any stark differences. It's similar to growing out your grays: Adding in some color can conceal the contrast. So, say, if you have super-dark hair with a lighter scalp (or vice versa), highlights or lowlights can camouflage any skin peeking through. Just remember to switch to a color-safe hair routine if you've never dyed your strands before.
Hair loss can understandably feel frustrating at times, but there's much you can do to target the issue at hand. In addition to slowing or stopping the shedding itself, you can also conceal some patchy areas in the meantime. All it takes is some creativity in the hair care department.