How To Find The Right Shade Of Blush & Test It Correctly, From Makeup Artists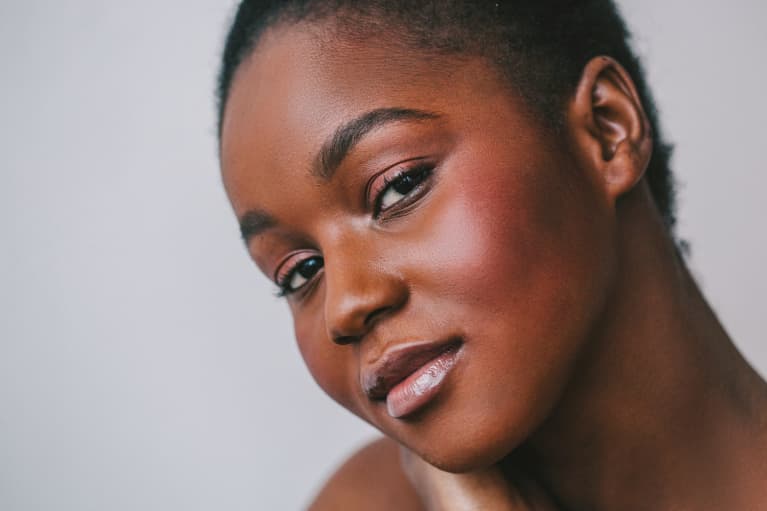 Our editors have independently chosen the products listed on this page. If you purchase something mentioned in this article, we may
earn a small commission
.
I've said it before, and I'll say it again: Blush is truly a hero makeup product. A mere tap on those cheekbones can spring your complexion back to life, and it's incredibly versatile—blush can be playful and bold, all-natural and minimal, beachy and sun-kissed, and so on.
If you're a fellow blush enthusiast, I'd wager you have that one signature pot of rouge you consistently turn to for a subtle flush. And if you don't? You've absolutely come to the right place: Find your go-to hue below, and you'll never splurge on the wrong shade again.
How to find your most natural shade of blush.
Now, first and foremost, you can wear whatever shade of blush you want at any time. Want a lush and vampy cranberry red to feel playful? Go for it! Opting for a citrusy grapefruit pink for a pop? All you. What we are talking about here, though, is finding your most natural flush. And surprise, surprise: It has everything to do with your undertones. If you don't know which category you fall into (or the term "undertones" has you scratching your head), see here for our foolproof quiz. Then select your shade below:
Think peachy, bronzed, coral hues like Tower28's Happy Hour. Although, if your warm tones read more pink (rather than yellow or golden), you may want to opt for shades leaning toward apricot or orange. "It will bring overall balance to the complexion, instead of exaggerating the pink tone," says makeup artist Alexandra Compton, product development manager at clean beauty retailer Credo. This Hot Flush Blush from PYT Beauty strikes a nice balance.
"Cool skin tones work beautifully with pinks, plums, russets, and reds," says celebrity makeup artist Mary Irwin. A too-orange hue can appear splotchy or just generally off; you'd be better off with something like this pinky pick from Milk Makeup or this burgundy number from Merit.
As with most makeup categories, those with neutral undertones can get away with practically any hue. "It's just a matter of finding the right depth of color," says Irwin. "A sheer formula compared to an ultra-pigmented one will give a totally different effect, even if they're the same color." A general rule for all blush escapades but something worth mentioning here.
To match the undertones in olive skin, opt for a peach, rose, mauve, or berry blusher. These hues complement the green tone without appearing too gray (a gripe for many olive-toned individuals). We love this berry from Kjaer Weis and Tata Harper's Peachy Cream Blush for a sheer moment.
5.
Universally flattering shades
The thing is, you can apply whatever blush makes you feel most beautiful—that's the No. 1 "rule" when it comes to makeup, if you will. Although, Compton says that anyone, regardless of undertones, can pull off bright pops of color: Think look-at-me fuchsia or cherry red. Just use them sparingly, she explains. "Start with a sheer wash of color and build intensity."
The right way to test different shades. 
Many shoppers make the common mistake of testing blush on the inside of their wrist—this is a great technique to assess whether or not you enjoy the texture of a product or your skin will react to a certain formula (which arguably matters just as much when choosing a blush!), but when it comes to the shade, you're better off testing the color on your face, if you can.
Both Compton and Irwin agree: The best way to test a blush is to try it on! "Don't swatch it on your inner wrist because this is one of the lightest areas on your body, so you won't get an accurate read on the shade," Compton says.
If you don't feel like wearing makeup at the moment, Irwin says you can swatch the product on the back of your hand and hold it up to your face to imagine the color payoff. Regardless, your wrist and face are likely not the same color—so relying on that patch of skin can leave you with a wonky shade.
Find your go-to blush without a million swatches by knowing your undertones. It's not a perfect science, by any means—everyone's skin is nuanced and unique!—but it can certainly narrow down your options.
Want to turn your passion for wellbeing into a fulfilling career? Become a Certified Health Coach! Learn more here.