What To Look For In Hand Cream Formulas For Dry Skin Protection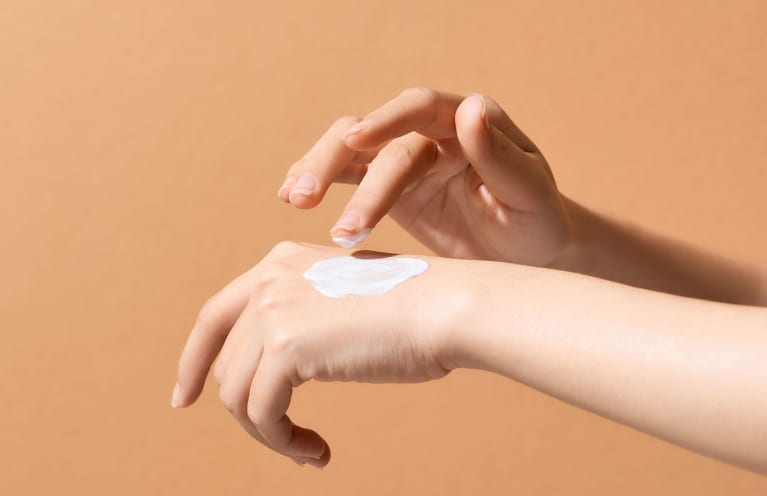 Cold, dry weather does a number on the skin. See, in the winter we experience more transepidermal water loss, or the process by which moisture in the skin evaporates into the air around you. The result is that irritated, cracked, dehydrated skin that we so often associate with the fall and winter months.
And skin that's directly exposed to the air is often the most at risk. That's why the skin on your face may become more parched (time to stock up on hydrating face creams, no?) and, most notably, hands.
Hands become even more vulnerable thanks to the fact they get more wear: Between working with them, hand-washing, sanitizing, and regular exposure to environmental stressors—that delicate skin is likely begging for more moisture and protection.
This is where hand creams come in. But not all hand creams are created equal: You need one that addresses all aspects of barrier function. Allow us to explain.
What to look for in a hand cream for dry, winter-torn hands.
To start, we need to go over skin barrier function. Your skin barrier is actually made of four parts, explains board-certified dermatologist Whitney Bowe, M.D. (she goes over this in detail in this podcast episode, so check it out because the epidermis is fascinating). These elements are the skin microbiome, lipid layer, acid mantle, and immune system (yep, your skin has its own immune system!). And to optimize your barrier function, skin care should ideally address all four.
Microbiome-supporting ingredients
For the microbiome, you can look for biotic ingredients—as well as avoiding all drying and stripping agents, which can impair the flora. Biotic ingredients can include pre-, pro-, or postbiotics and support the skin by nurturing the organisms living on the skin. Each does it in a variety of ways. Prebiotics act as food for the living flora. Probiotics translate beneficial bacteria strains to the skin (although be mindful of what brands you purchase from, as research shows that live bacteria isn't able to survive in certain topical formulations). And finally, postbiotics are key outputs generated from the biome—which are then infused into topical formulations to apply directly on the skin.
For the acid mantle, you just want to make sure you're keeping the pH of the skin relatively stable. The pH range of the skin on your face and body fluctuates between 4.7 and 5.75. You can't stop all fluctuations of the pH—even water temporarily changes the pH of the skin—but if you keep it consistent, your barrier will be in a better place. For topicals, this means looking for products formulated with pH in mind.
For the lipid layer (sometimes called the moisture barrier or simply skin barrier), you can use oils and fats—from a variety of sources. For those who prefer natural formulas, botanical oils and butters can offer these. A few common ones that tend to be well tolerated by most are shea butter, cocoa butter, oat oil, jojoba oil, moringa seed oil, and olive oil.
For the immune system, look for antioxidants. Much like your internal immune system is supported by antioxidant consumption, these free-radical fighters can help protect your skin from external stressors. Popular antioxidants are vitamins C and E, CoQ10, and niacinamide.
Taking care of your skin is of the utmost importance—especially when it's skin that's especially exposed to the elements. But it doesn't need to be challenging: Just look for smart topical formulas that you enjoy applying to your skin regularly. Want more hand cream inspo? Check out our all-time favorite options here.