Cold Weather Is Coming: Here's How To Clean Your Slippers For Fall
mbg Editorial Assistant
By Eliza Sullivan
mbg Editorial Assistant
Eliza Sullivan is an editorial assistant at mindbodygreen. She received a B.S. journalism and a B.A. in english literature from Boston University.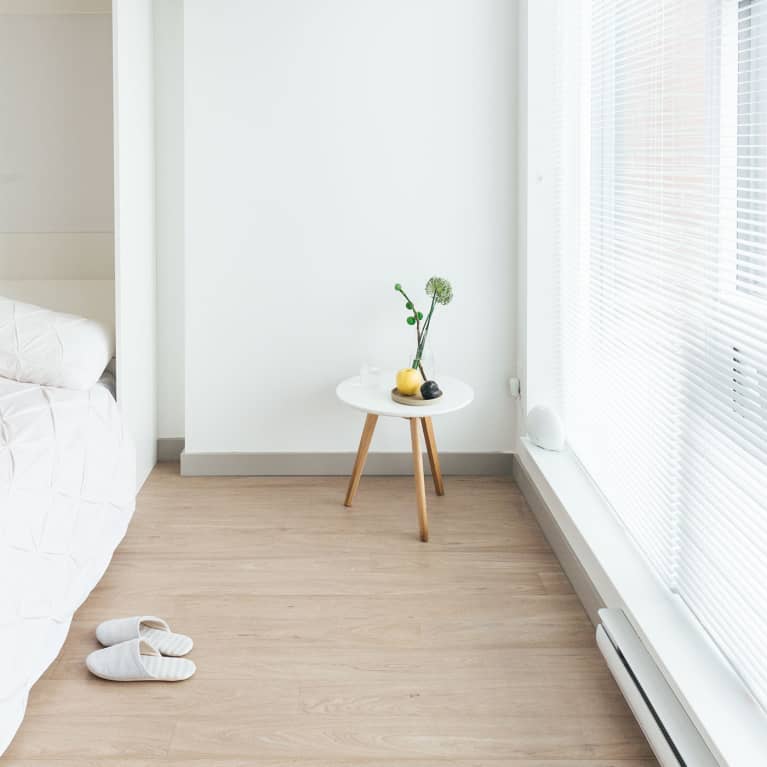 Chilly fall mornings are basically here, and with them comes our grateful return to that icon of the at-home wardrobe: the slipper.
And whether you've been rocking yours since the beginning of COVID-19 stay-at-home orders or are just digging them out as the weather dips, there's a good chance they're in need of a cleaning. That's right: While spring cleaning may get all the love, there are some things that must be addressed come fall, too.
We asked Melissa Maker, the cleaning expert behind Clean My Space, for her advice on getting our slippers prepped and ready for the start of another season of (heavy) use.
How often should you clean slippers?
"How often they should be cleaned comes down to how often you're wearing the slippers," says Maker. "There is no real prescribed amount of time—it just depends on how you use them and how dirty they get."
Assuming you've never thought to clean your slippers: Consider this your invite to give it a go. Otherwise, as Maker says, it depends on what function your slippers serve. Do you wear them outside? Do you wear socks? These are all things to take into account.
How do you clean slippers?
There's no one way to clean slippers—because there's no one type of slipper to clean. Since they come in such a variety of materials and styles, the specific cleaning method will depend on what your pair is made of.
The basic steps, though, remain the same:
Wipe down the soles of the slippers with a damp cloth.
Look for stains, and consider pretreating them.
Wash them using one of the methods that follow.
Leave them to air dry.
That last step is important: Even if you have access to an automatic dryer, you shouldn't toss your slippers in. It can damage the slippers and maybe your machine, too.
When deciding how to clean cloth slippers, check their care tag or the maker's website first to see if there are washing instructions. You may be lucky and be able to pop them into the appropriate wash cycle from there. If not, most cloth slippers can be added to the washing machine and laundered on a warm water setting.
If you don't have access to a washing machine or don't want to use one, these at-home methods for cleaning sneakers will work just as well on slippers—you just may need to be a bit more gentle with the scrubbing.
For suede or leather slippers:
When it comes to materials like suede or leather, you'll want to steer clear of the washing machine. "Suede and leather slippers should never be machine washed," reminds Maker, "or submerged in water." Your best bet is spot cleaning the outside and freshening up the insides by other means.
"If your suede slippers have spots on the exterior that need to be cleaned, use a suede brush (one with an eraser is best)," says Maker. "Use the eraser edge to rub out the stain and then the brush to sweep it away."
Multipurpose microfiber towels are the best tool for cleaning leather. "For leather slippers, spot clean as needed with a damp microfiber cloth," Maker suggests.
Tips for keeping your slippers fresh:
If you find your slippers get a bit ripe-smelling after only a few wears, it might be time to consider a simple intervention: "Wearing socks inside of your slippers if your feet are prone to smell can help with odor issues," says Maker.
If you need to freshen the slippers between washes or have suede or leather slippers that can't be submerged, this hack can help: "If you want to freshen up the insides of your slippers, you can sprinkle some baking soda inside and let it sit overnight," shares Maker. "Tap them out in the morning, and that should help to eliminate some of the odors."
Consider when you're putting your slippers on. Moisture is the enemy of soft, pleasant slippers, so be sure that your feet are fully dry when you put them on. "Another good tip is to not put your slippers on when your feet are wet," Maker says. "The same thing goes for if you put moisturizer on your feet—let them dry before putting your slippers on."