Look For These Two Ingredients To Hydrate Your Skin From The Inside Out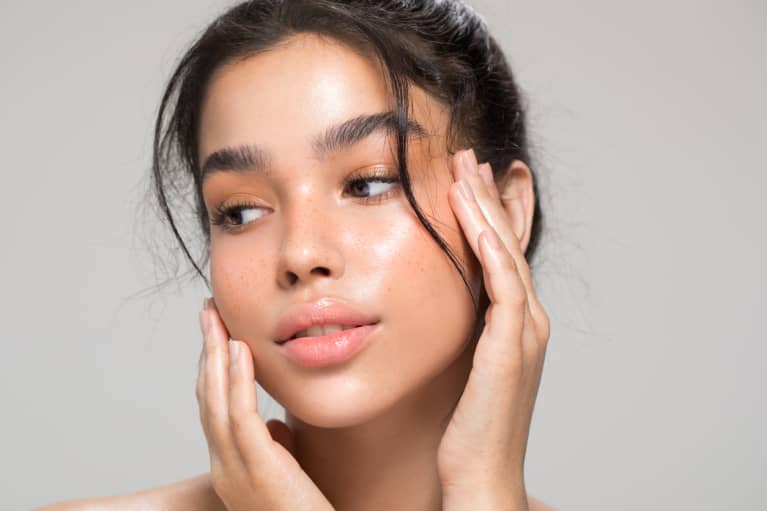 As summer turns to fall, your skin may feel and look more dry. Of course, this means you'll probably reach for a heavier face moisturizer, but what about internal hydration? Experts say you need to drink more water in the winter, so pouring yourself an extra glass may be a good idea; however, there may be one more way to help hydrate your skin from within.
How astaxanthin and phytoceramides affect internal skin hydration.
The secret: mbg's cellular beauty+. This revolutionary formula features a blend of science-backed cosmeceutical ingredients, a few of which specifically affect overall skin hydration.*
The first powerhouse ingredient is astaxanthin—an antioxidant that can help combat oxidative stress in the skin. Beyond its purpose as a free-radical fighter, this carotenoid has been clinically shown to improve skin hydration, elasticity, and smoothness after six to eight weeks.*
As with any supplement ingredient, it's important to keep the sourcing and dose in mind. In our star formula, we use a premium algal-sourced form of astaxanthin called AstaReal®. This form, in particular, has been clinically researched and shown to reduce fine lines and age spots after six to 16 weeks.*
The benefits don't stop there—this blend is also packed with plant-sourced ceramides (aka phytoceramides). In our blend, we use Ceramosides®, which have been clinically shown to significantly increase skin hydration, elasticity, and smoothness and ease transepidermal water loss (TEWL), roughness, and a wrinkled appearance.*
To say the very least, these ingredients are beneficial for overall skin health and top-notch for increased skin hydration.* So if you're gearing up for the drier months with heavier topicals, adding a supplement like cellular beauty+ may be the cherry on top of a great hydrating skin care regimen.
Many people experience drier skin in the cooler months and therefore may benefit from an ultra-hydrating skin care routine. One way to supercharge your regimen is to consume science-backed ingredients that address your skin's hydration levels from the inside out, like astaxanthin and phytoceramides. Here's a full timeline of how long it takes to see results from cellular beauty+, if you want to learn more.