This Family's Earthy Home Is Filled With The Most Beautiful Crystals We Ever Did See
mbg Sustainability Editor
By Emma Loewe
mbg Sustainability Editor
Emma Loewe is the Sustainability Editor at mindbodygreen and the author of "The Spirit Almanac: A Modern Guide To Ancient Self Care."
Sara Pavao's New Jersey home has served as a sanctuary for over a decade. Over the years, its décor has evolved along with her passion for art, spirituality, and history. "You'll find textiles from around the world, artifacts from Buddhism, crystals, artwork that I have a connection with. And to the chagrin of my husband, our home is ever-changing as my interests deepen," Pavao tells mbg. Here, Pavao explains how some beautiful little touches in the space serve to support her and her family on their wellness journeys.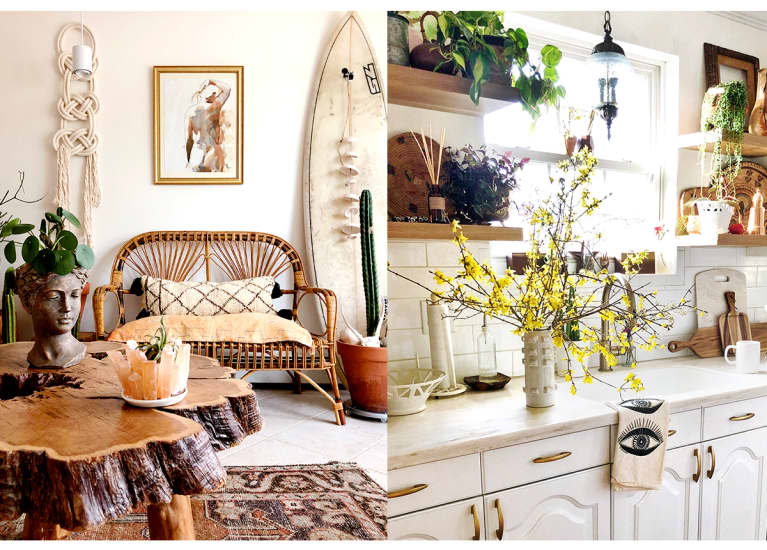 How does your home change with the seasons?
During the spring and summer months, I'll put more of our plants outside since they love the warmth and humidity. As the temperatures cool, I'll bring them back inside and our home gets a little more "jungalicious." We'll also add some more cozy throws and use our fireplace more—it's been a game-changer for cold winter mornings.
What's the oldest thing in your home? Newest?
The oldest thing is our home might be the tiger grain console table in our entryway. It had been in my parents' home through my childhood, and it's originally from a church sacristy. The handmade dining table and benches that I found on Facebook marketplace are new!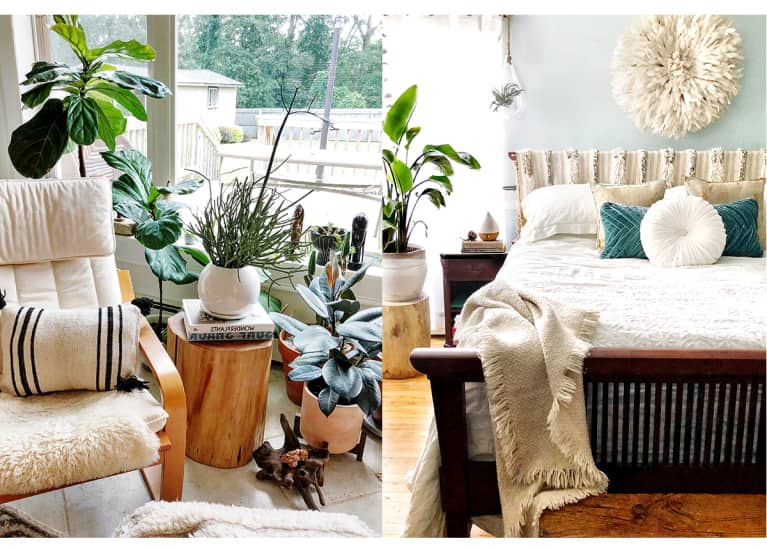 What noises can be heard in your home? What smells?
There is always some sort of music playing in the background, and our children usually take center stage with their games and chatter. It's always so wonderful to listen in on their conversations and laughter.
In the morning, I usually have my diffuser going with some calming essential oils to start the day. And sometimes I light some Palo Santo when I'm feeling the need to clear out stale or negative energy. When I get home from work, I usually light candles (especially in the colder months), and come dinnertime, our home is filled with smells from the kitchen.
How has your home changed since you had kids?
When the boys were younger, we really hadn't spent much time, energy, or money focusing on our home's design. Looking back, I think that was a blessing—it was a blank canvas that gave our boys the freedom to play and create lots of messes. Now that they are in their tweens and less likely to leave their mess all over (at least we are working on that), I have slowly introduced a lot more plants and curated vintage furniture finds. This gives me the opportunity to teach them that the living space is not a playground!
Love all your crystals! What's your favorite one, and what's the story behind it?
Ahhhh, my crystals. I'm obsessed with them and have been collecting them for years, so it's difficult to choose just one! I recently purchased a selenite lamp that I use every morning during meditation and my morning coffee. Selenite is used for clearing negative energy, and I like to think of it as a magic eraser.
Another favorite is the citrine that I've had since my 20s—the first crystal I ever had. I distinctly remember going to a tiny crystal shop with a friend and seeing this one, with the most gorgeous rainbow inclusions, and feeling like it was calling to me. I brought it home, wrapped it in wire, and wore it on a chain that hung right near my solar plexus chakra for years. When the chain broke, I knew the crystal had done its work.
There's a lot of unique art in your space — how do you decide on new pieces?
Art is such a personal thing! As someone who has studied art and is now an art educator, I've found that my favorite pieces tend to evoke a visceral response. It usually has a certain "something" I can't explain. It's definitely about more than just finding a piece that matches the décor of your space. I also like to support artists and usually don't choose art from a big-box store for that reason.
How does your home promote self-care and support your health/wellness?
I think of our home as a sanctuary from the hustle and bustle of modern life. I'm always striving to keep self-care and wellness at the forefront of our daily life as a result. It's not always easy in today's busy world to carve out time for yourself, but I make it a point to start my day with a short meditation in my plant room and some light yoga stretches. I try to focus on the senses in a holistic way that promotes emotional and mental well-being for our family.