This Treehouse Home In The Clouds Is A Total Dream: Let's Take A Tour

mbg Sustainability + Health Director
By Emma Loewe
mbg Sustainability + Health Director
Emma Loewe is the Senior Sustainability Editor at mindbodygreen and the author of "Return to Nature: The New Science of How Natural Landscapes Restore Us."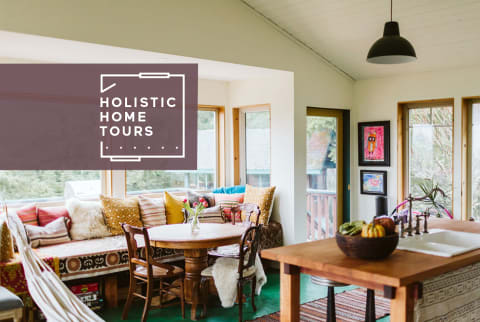 Image by Sara Parsons / mbg Creative
September 8, 2022
We carefully vet all products and services featured on mindbodygreen using our
commerce guidelines.
Our selections are never influenced by the commissions earned from our links.
On the San Juan Islands, about an hour ferry ride from Washington state, you'll find a steep dirt road that leads up to Kimberly Garner's mountaintop cabin in the trees. Transforming the remote, off-grid residence into a home fit for her young family—during the pandemic, no less—was a challenge that Garner turned onto its head and into an opportunity. She set out to use the "language of home" (which Garner calls NeuroSpatial Linguistics in her own design practice), to create a space that embodied a more playful, laidback, and inviting way of living. And if this tour of her island home in the clouds is any indication, she totally succeeded.
Tell me about your home and how long you've lived there!
The house magically found us—my 15-year-old son, Auden, 11-year-old daughter, Flora, and I—in the summer of 2020. I sold our original home right before the pandemic hit and thought it would be a piece of cake to find another home on the island. Wrong! With the onslaught of newcomers seeking refuge on the island, we spent weeks growing uncomfortably distraught and short on options before the property found us.
The home was built in the 1990s, and everything about it said so. I wasn't working during the lockdown and the demands of at-home schooling, so I had no budget in the sense there was no coffer for remodeling. Our renovation was more a process of excavation and subtraction than lavish finishes.
These walls are infused with our hopes, dreams, and intentions.
What I did have was a healthy dose of determination, a fishing boat, and a dear builder friend who struck up the best of trades. He got the boat and I got my little dream treehouse! The kids and I did a lot of the labor. I think the physicality of destruction really helped them channel what couldn't be expressed with words during such a globally wild time. We worked together with sledgehammers and crowbars removing the old story and making space for our own. It was such a beautifully cathartic process. These walls are infused with our hopes, dreams, and intentions.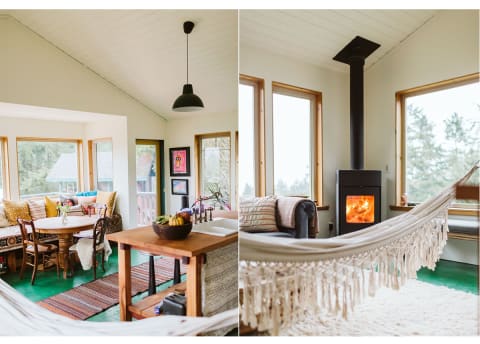 Image by Sara Parsons / mbg Creative
What is NeuroSpatial Linguistics and how did it play into your home design?
NeuroSpatial Linguistics is fancy talk for the language of home. It's the relationship between our living environment and our minds and how the two interconnect, communicate, and impact one another. I believe that every element of our home speaks a silent message to our subconscious, influencing how we think, feel, and behave.
I considered this lens of NeuroSpatial Linguistics throughout the design process—from the window placement and color selections to the art and furniture arrangement. For example, I removed 8 doors during the renovation because I think that doors carry their own message: a closed door says, "stay out," while an open door speaks, "come in." I replaced three of the doors with open archways, which really invite the experience of transition.
I know you think that our homes can help us manifest. Can you tell me more about that?
We're manifesting creatures, whether we realize it or not. The problem is we don't like calling it manifesting unless we're creating something we actually want. The trick is to know how we're doing this thing called manifesting. Once we understand the fundamentals, we may apply them to any area of our lives. For my approach, the Life+Design Method™, we begin by identifying what we want. Everything starts with our desire and the values we hold dear. When thinking about our home, we want to consider our space as if it's our living vision board…because it is!
In my life, I knew I wanted a greater sense of play, ease, and connection, so everything in our home communicates those values. For example, I painted the subfloor kelly green for a few reasons: Green is my favorite color and also speaks to growth, possibility, renewal, and play, and offers a seamless connection to the outdoors…and it was also just so much fun giving myself permission to be bold! A hammock hangs in the living room, which reflects more of that laidback ease I wanted to infuse throughout. Every space in our little home holds some symbolic reflection of our aspirations and values — reminders of what we love about our life and ourselves.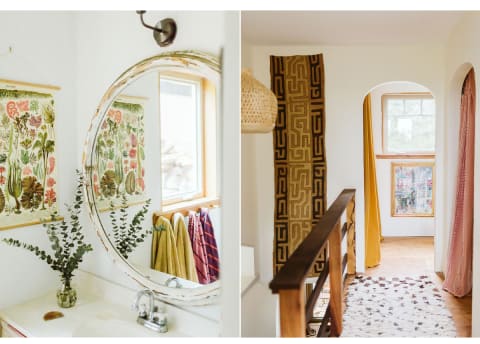 Image by Sara Parsons / mbg Creative
What noises can be heard in your home? What smells?
Music constantly plays in the background or on full blast, grooving with our moods between waking and slumber. We're surrounded by forest, so the sounds change from morning to night, season to season. I hear the wind roar through the trees in winter. In the spring, the frogs go nuts from dusk to dawn…so much so, I often wear earplugs. The owls call to each other in the evenings and the ravens during the day. The foxes are very chatty. A couple of nights ago, one woke me up in the middle of the night. (I had to have fun with it and call out, "Foxy! I'm trying to sleep. Please be quiet.") Then there's the ever-presence of our 10 clucking hens, two goats, and dog, Georgia.
During the summer months, the windows are open all day and night, so the scents of grasses and warm earth move throughout the space. During the winter, the house smells of fir and cedar as wood is our primary source of heat. With the dark mornings, my day always begins with journaling by candlelight so I don't wake the kids. I love to light candles in winter and choose scents depending on my mood.
What object in your home brings you the most joy and why?
The oversized built-in kitchen nook pulls together all the intentions and all the feels I hold dear! It's cozy, and inviting, and anchors the space with that playful treehouse vibe. I've adorned it with my favorite textiles from Uzbekistan, Thailand, and Africa. It's a people magnet! I designed it to be big enough to accommodate sleepover space and gatherings around a table together. It's the ultimate snuggly, cheerful space that invites you in to sit with tea and take in the outside world.
What is the best compliment you've received on your space?
I treasure the purity of children and young people... They don't necessarily watch design trends, yet they're spot on when it comes to how a space feels, whether they realize it or not. I love it when parents share how much their children love our home and how they want their home to be like ours.
I think there's freedom and ease in the imperfection of the space that speaks to people. There's no implied behavior when you walk in. (And if there is, it says something to the effect of "come on in, take off your shoes, enjoy yourself…we color outside the lines here.") I think it catches people off guard in the best of ways. Nothing is precious, yet at the same time, everything holds meaning and significance.
The house is very much unfinished, just like us. We're a work in progress, ever-evolving, and always under construction. Our home broadcasts the same. I think there's something about the ease of it that offers a feeling of belonging and home.
Image by Sara Parsons / mbg Creative
How does your home support your health & well-being?
My home feeds my spirit, echoing my values and aspirations. It supports my lifestyle and pushes me out of my comfort zone in the best ways. It cradles me when I hit the deck from physical, mental, and emotional exhaustion. It's like a dear friend and companion comforting me at the end of a long day, reminding me of what I most love about myself and my life while encouraging the adventure of tomorrow.
What does the word 'home' mean to you?
To me, home is sacrosanct and one of the most significant relationships of our life. Home holds memory, reminding us of who we are and where we're going. Home acts as our steadfast companion, holding us through hardship and celebrating our triumphs.
Recreate the look.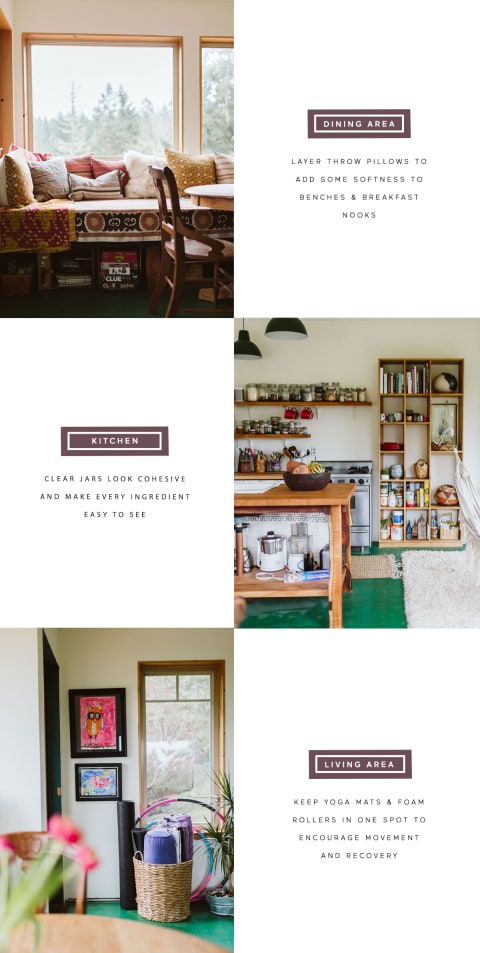 Image by Sara Parsons / mbg Creative
This experience has been lightly edited for length and clarity.