Close Banner
Advertisement
This ad is displayed using third party content and we do not control its accessibility features.
This Clever Home Strikes The Perfect Balance Of Work & Play

mbg Sustainability + Health Director
By Emma Loewe
mbg Sustainability + Health Director
Emma Loewe is the Senior Sustainability Editor at mindbodygreen and the author of "Return to Nature: The New Science of How Natural Landscapes Restore Us."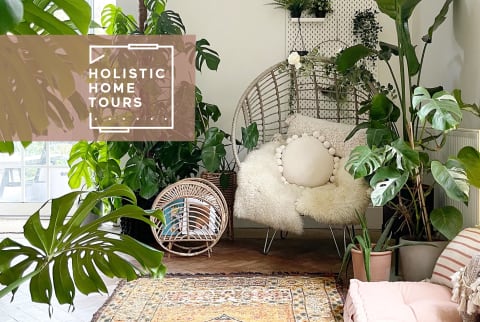 Image by mbg Creative / Dani Sandels
For many people, the home now needs to do double duty: It's a productive zone during the day and a calming retreat at night. This summer, we're teaming up with IKEA to share advice on how to craft a space that promotes a healthy work-life balance and is just as energizing as it is relaxing. Stress-free sanctuary, coming right up.
Once the pandemic hit, Dani Sandels (@danisdomain on Instagram) knew she'd have to make some changes to her growing family's home. Here, she runs through how she tweaked the space to keep up with her husband, 2-year-old son, baby daughter, and three dogs through long, busy days. The finished product in Ottershaw Village in Surrey is a master class in fun-yet-functional décor.
I love the bedrooms in your home. The kids' rooms are super fun, and your room looks so soothing. What do you think about when decorating a bedroom for a good night's rest?
Thank you! I am really interested in color psychology and have always read about how blue is symbolic of the sky and the sea. I find the color blue to be really calming, so it made sense to put it in the bedroom.
I used blue on two walls, keeping the other two walls fresh and white as I wanted a cool and airy feel. The plants I've chosen for the master bedroom are ones that have great air-purifying qualities, and I've grouped them together to create a sanctuary feeling.
I also have a diffuser with relaxing essential oils, such as lavender, that adds to a good night's rest!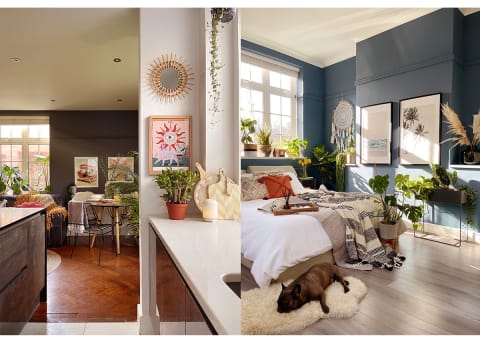 What object in your home brings you the most joy and why?
Such a great question! I have a large monstera in our living room, which was one of my first houseplants. It reminds me of how far our home has come, which always brings me joy. Plus, it's a stunning plant!
Did the way you use your home change at all during the pandemic? How did you go about tailoring it to fit any of your new needs (work, play, etc.)?
Since I was spending all my time at home, projects that I probably would have put off became more of a priority. I also wanted to learn new skills and pull some positives from the situation.
The first change was to the garden: I created an outdoor "living area"—a space that we could enjoy as a family during the day and where my husband and I could go to chill out during the evenings.
I also made quite a few changes in the kitchen. We added open shelves, and I completed my first attempt at tiling! We removed a large shelving unit and created a "mini pantry" in the kitchen too, which has made a huge difference.
I also decorated the nursery for my daughter, Banks, and added a pink ceiling, which has completely transformed the room.
My husband has always had our home office for work. However, I redesigned my desk into a space that I could enjoy working from and seek out some peace and quiet when needed!
Being at home has definitely made me more conscious of my design and décor choices. The biggest challenge has been balancing decorating and DIY projects around a toddler and baby, but it seems to be working well so far!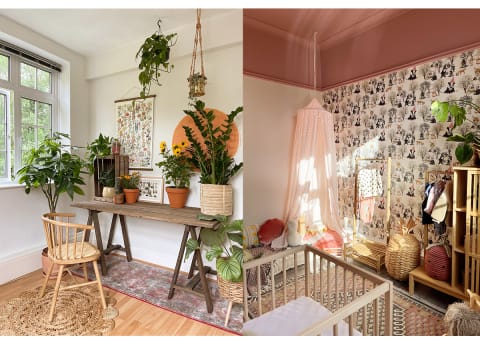 How does your home energize you? How does it restore you?
Houseplants are a huge passion of mine, and caring for them has become a real hobby. Having a collection of plants definitely energizes me—not only because they have health benefits but because they inspire me to learn more about them. I really like the connection to nature, and I feel plants create a very positive, restorative home environment.
What's the oldest thing in your home? Newest?
The oldest thing in our home is the parquet flooring, which is an original feature that covers the downstairs of the house. We have recently uncovered the parquet flooring in our living room, too, and are in the process of restoring it.
The newest thing is probably the DIY pantry in our kitchen, which used to be a closed wall unit/cupboard.
What noises can be heard in your home? What smells?
We have three dogs and two young children, so there is usually lots of noise at home! Often, it's lots of giggling, and you can hear the babies playing—or Peppa Pig on TV in the background! I usually have one of the doors open as I like hearing the birds outside, too. We live in quite a secluded spot, and the birds are always beautiful to listen to.
I am obsessed with incense sticks and diffusers, so I have a couple on the go most of the time. (Since we have dogs, I am especially conscious of how our home smells!)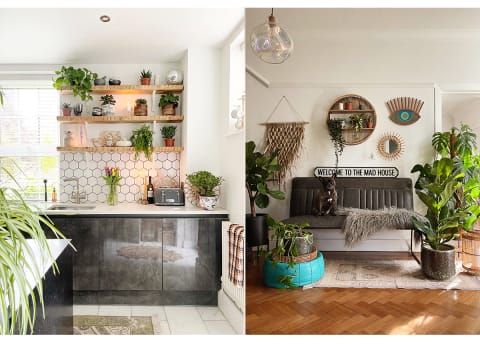 What's the most sentimental thing hanging on your walls, and what's the story behind it?
I actually have quite a lot still packed up to go on our walls (would you believe?), but I do have one "Welcome to the Madhouse" sign that my parents got us a while ago now. Originally, it was a bit of a joke, but it has proven quite appropriate recently thanks to the chaos of small children and three dogs (and a very loud husband!)—especially during the pandemic. Although it's not that old in age, it's something that I know we will have forever.
Years ago, our home used to belong to my grandparents, and although we have made changes to suit our family, everything in our home feels massively sentimental and special. I think they would love what we've done and would be very happy to see us bringing our family up here.
What does the word home mean to you?
A happy, safe, and loving place for my little family, where we can all be together making memories.
Recreate the look: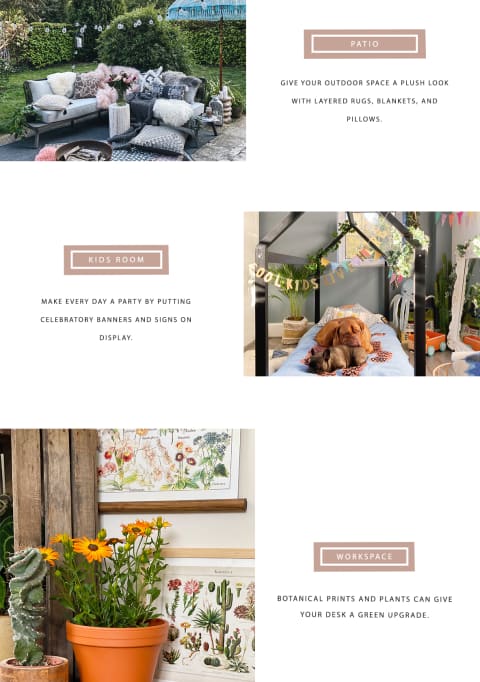 Image by Dani Sandels / mbg Creative
This interview has been edited and condensed for clarity.