A Holistic Derm's 3 Underrated Hacks For Hair Growth & Smooth Skin

mbg Beauty & Wellness Editor
By Jamie Schneider
mbg Beauty & Wellness Editor
Jamie Schneider is the Beauty & Wellness Editor at mindbodygreen, covering beauty and wellness. She has a B.A. in Organizational Studies and English from the University of Michigan, and her work has appeared in Coveteur, The Chill Times, and Wyld Skincare.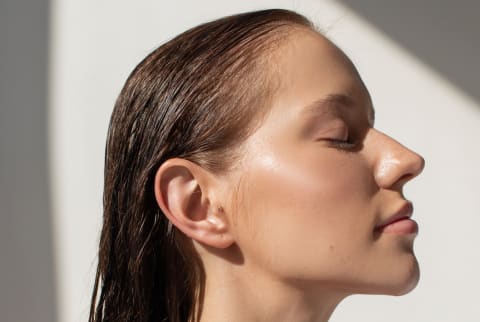 Image by Sergy Filimonov / Stocksy
December 10, 2021
If you're in the market for skin and hair care tips, Mamina Turegano, M.D., FAAD's TikTok is a gold mine. The triple board-certified and integrative dermatologist is chock-full of in-the-know hacks—her tips are quippy, they're effective, and they're always grounded in science. We highly suggest taking a scroll through her vast collection of helpful nuggets, but in case you need a primer, we sourced some of her best tricks on the mindbodygreen podcast.
Below, Turegano shares her favorite beauty tips right now, from the hair growth remedies she swears by to DIY hacks for clear skin:
Advertisement
This ad is displayed using third party content and we do not control its accessibility features.
"I have a very strong interest in hair loss, and I always try to find tips and tricks to address it," Turegano notes. One of those clever tricks is using pumpkin seed oil: "What's interesting about pumpkin seed is that it also works on the androgens, more so in the testosterone family, and a lot of it can play a role with hair loss," she continues.
One study even compared the topical to 5% minoxidil (the active ingredient in many commercial hair-growth products) for its effects on female-pattern hair loss—while the minoxidil did outperform the pumpkin seed oil, "they still saw hair regrowth with pumpkin," Turegano notes. As for how to use the all-natural hair growth remedy, she recommends applying it as a leave-on treatment—apply it to the scalp, leave it on overnight, and wash it off in the morning—or adding it to your shampoo (we covered her full tutorial here, if you're curious).
And because of pumpkin seed oil's ability to block androgens, Turegano says it can also be helpful for clearing breakouts. "Androgens play a big role with acne development on the skin," she says, as they can increase oil production. Pumpkin seed oil, however, can simultaneously reduce those androgens and moisturize the skin in the same beat. As board-certified dermatologist Keira Barr, M.D. once told us about getting rid of under-the-skin pimples: "Pumpkin seed oil is rich in unsaturated fatty acids that can help reduce inflammation, and it also has anti-androgenic effects. You can dilute 1 to 5% tea tree oil in pumpkin seed oil to support acne treatment."
Advertisement
This ad is displayed using third party content and we do not control its accessibility features.
In the natural hair growth space, you'll often hear experts (including Turegano!) praise rosemary oil—that's because a randomized comparative trial found that the essential oil was just as effective as 2% minoxidil. "I'd be curious to see how rosemary oil would compare to 5% minoxidil," Turegano notes, but for an all-natural remedy, it's pretty promising.
You can even combine rosemary and pumpkin seed oil in the same treatment to reap both of their benefits, as the two play nice with each other. "Pumpkin seed works more on hormones, but rosemary oil boosts circulation, and that can help stimulate and nourish the hair follicles," Turegano explains. Think of it like supporting hair growth from multiple angles.
"My take with warts is that they can be kind of crazy," Turegano says. "You can throw everything in the kitchen sink and nothing budges, or sometimes they'll go away on their own." Again, the best plan of action is to address the issue from multiple angles, consulting a professional before diving into any sort of DIY treatment. "But I will also tell people to make sure you keep your warts covered. Duct tape does a good job at doing that."
One study even found that placing duct tape over warts (replacing the tape every six days) was more effective than cryotherapy (or freezing the warts, a common traditional treatment). Why does this work? Says Turegano, the makeshift bandage keeps the wart away from oxygen. "Oxygen can actually feed the warts, so you want to suffocate it," she says. Simply cut a piece of duct tape to the size of the wart (or as close to it as possible) and secure it over the area, replacing it every six days until the wart falls off.
Of course, this remedy might not work for everyone. While keeping warts covered is generally a good idea, Turegano notes, you may need to add some other methods to the mix. I've also seen [taking] higher doses of zinc for a couple of months can help things, too," she says. (Here's a randomized controlled trial to back it up.) "I'm all about hitting it from any simple, easy, cheap home remedy that's not painful." But if a professional recommends cryotherapy to clear the area, that's probably your best bet.
Advertisement
This ad is displayed using third party content and we do not control its accessibility features.
The takeaway. 
When Turegano shared her go-to skin and hair care hacks, we took notes. These three tips above are science-backed and derm-approved, and they're shockingly easy to test for yourself.