The Best Snacks A Nutritionist Packs On Her Outdoor Adventures
Registered Dietitian
By Frances Largeman-Roth, R.D.
Registered Dietitian
Frances Largeman-Roth, R.D. is a Registered Dietitian Nutritionist, a New York Times best selling author and nationally recognized nutrition and wellness expert.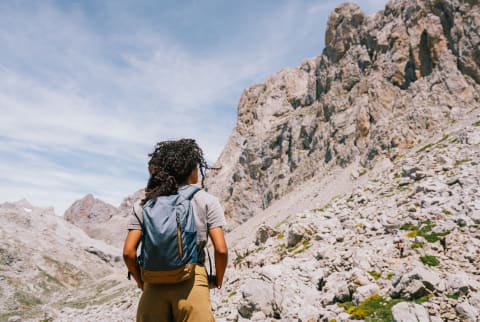 Image by Kike Arnaiz / Stocksy
October 1, 2020
We carefully vet all products and services featured on mindbodygreen using our
commerce guidelines.
Our selections are never influenced by the commissions earned from our links.
This year, perhaps more than ever, many of us have taken to the trails and parks to find a safe way to stay active. In fact, according to data from the Outdoor Industry Association, Americans have taken up outdoor activities in record numbers. That's why bike shops are sold out, and you're lucky if you can find a pair of hiking boots online.
With all this hiking, camping, and even bird-watching going on, I've been inspired to use my nutritionist knowledge to suss out the best fuel for each activity. Here are my top snack picks for staying energized while you hit the trail safely.
Best for hiking: Jerky
A hike can be anything from a walk on an unpaved road to a 10-mile trek over challenging terrain. You'll want to layer up for fall hikes, wear sturdy footwear, and also make sure you have a snack that can go the distance. Beef jerky—and any dried meat or seaweed—is ideal for this endeavor. You can shove it in a backpack or fanny pack and know that it will last for days.
While it sounds really odd, my new fave jerky has a fruity twist. Each grass-fed pack of Wild Willett beef jerky has no added sugar or preservatives (unlike many brands) and comes in three fruit flavors: pineapple, orange, and strawberry. The beef is marinated in fruit puree, plus honey and tamari, which gives it its surprisingly craveable flavor. Stow it and go!
Best for bird-watching: Bars
Bird-watching has never looked so good. Observing feathered friends, either in a state park or from the comfort of the backyard, has become a national obsession since you can easily do it while maintaining social distance. But sometimes you need to wait for quite a while to see that red-winged blackbird or scarlet northern cardinal, and all that patience can make you a bit peckish.
Bars are a favorite on-the-go snack because they're portable and tasty. But you want to grab one with some good nutrition cred too. I like Clif's Nut Butter Bar, which provides a super-satisfying mix of nutrients, including 5 to 7 grams of plant protein, plus 9 to 11 grams of whole grains. The Maple & Almond Butter bar is made with USDA organic ingredients and is just the thing to hold you over while you focus those binoculars on a downy woodpecker.
Best for nature walks: Plantain chips
Leaf peepers, it's time to bust out that cozy fleece and plan a socially distanced outdoor excursion. Leaves are just starting to hit their peak throughout most of the country, and I can't wait! Walking or driving through those blazing crimson-, marigold-, and persimmon-tinged trees can take several hours, and you can't sustain yourself on cider and doughnuts alone (trust me—I've tried). A bag of chips is pretty easy to pop into a down vest, but fried potato chips probably aren't the best pick for your day trip. Enter: plantain chips.
If you haven't sampled plantain chips yet, get ready to fall in love. A plantain is similar to a banana, but it's larger, starchier, and less sweet. And when they're turned into chips, they're the perfect, crunchy snack. I'm smitten with the ones from Artisan Tropic, which are made from Colombian-grown, single-sourced plantains and cooked in responsibly sourced palm oil. Each bag of the Sea Salt flavor has just 160 calories, plus 2 grams of fiber and 190 milligrams of potassium. You can crunch on the chips while crunching through the leaves.
Best for camping: Trail mix
Even camping—and glamping—novices are starting to get in on the act these days. There's been a huge rise in this type of travel since the spring, and it looks like things are going to keep trending that way. It's a low-cost, pandemic-friendly way to spend a weekend, and you can drive to campsites nearby and pitch a tent with your family, close friends, partner, and even your pup.
If you're camping, you're definitely going to be making a campfire. S'mores are delicious fare, but for something that will sustain you until the morning, I recommend good old trail mix. It's definitely easy to make your own trail mix with popcorn, almonds, candy-covered chocolates, and some dried fruit. But if your Zoom meeting ran long and you're strapped for time on your way to the campsite, grab this tasty Double Feature Trail Mix from Whole Foods. It's a hearty combo of almonds and cashews, plus mini peanut butter cups and sour cherries and goes perfectly with ghost stories.
Wherever your outdoor adventures take you, have fun and stay safe.
Frances Largeman-Roth, R.D.
Registered Dietitian
Frances Largeman-Roth, R.D. is a Registered Dietitian Nutritionist, a New York Times bestselling author and nationally recognized nutrition and wellness expert. Frances is the author of Smoothies & Juices: Prevention Healing Kitchen, Feed the Belly: The Pregnant Mom's Healthy Eating Guide and Eating In Color: Delicious, Healthy Recipes for You and Your Family. She is also the co-author of the bestselling The CarbLovers Diet.

Frances is a freelance writer and recipe developer for numerous publications, including Today.com, Parents, and Parade. She has appeared on numerous national TV shows, including The Today Show, The Dr. Oz Show, The Rachael Ray Show, Good Morning America, Access Hollywood Live and CNN. Frances contributes expert quotes to national publications and also helps healthy food brands share their message. Frances is a member of the James Beard Foundation and the Academy of Nutrition and Dietetics. She received her undergraduate degree at Cornell University and completed her dietetic internship at Columbia.

Frances, her husband and three kids live in Brooklyn, NY. To learn more, go to her website, or follow her on Instagram.