HelloFresh vs Purple Carrot: Which Meal Kit Delivery Service Should You Try?
Written by
Kelsea Samson
Kelsea Samson is a writer, content manager, certified yoga instructor and founder of The Mindfulness Program for Kids and Yoga for the Blind in Tampa, Florida.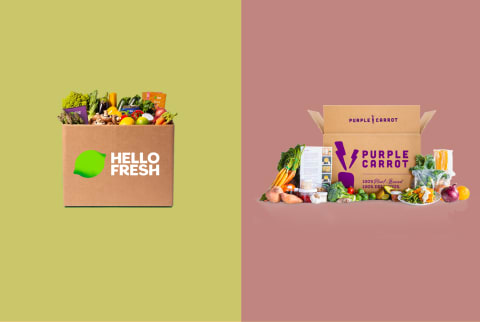 June 18, 2023
We carefully vet all products and services featured on mindbodygreen using our
commerce guidelines.
Our selections are never influenced by the commissions earned from our links.
Oftentimes making nutritious, homemade meals can take a backseat to busy schedules and vibrant social lives. To make your life simpler, there's a plethora of meal kit delivery services offering healthy, affordable options. Let's take a closer look at two of our top picks: HelloFresh vs Purple Carrot.
Subscription-based meal services make it easier to prepare and cook healthy meals at home with minimal effort and little cleanup. While the basic concept is quite similar, there are a few key differences to consider when deciding which is better, HelloFresh or Purple Carrot.
HelloFresh vs. Purple Carrot:
HelloFresh
Cost per meal:
From $9.99 per serving
Dietary considerations:
Low-calorie
Pescatarian
Vegetarian
Beef-free
Pork-free
Seafood-free
Who should try it?
People without strict dietary preferences or food allergies will enjoy HelloFresh. Anyone with a busy schedule (or who simply doesn't like grocery shopping) should try HelloFresh for quick, simple meals. The 4-serving plan is great for families of three or four.
Who should skip it?
Similar to Purple Carrot, HelloFresh might not be the best choice for those with strict dietary restrictions or preferences.
Purple Carrot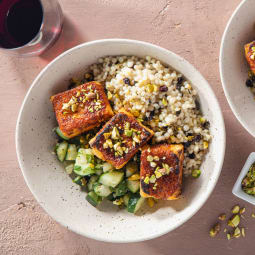 Cost per meal:
From $11 per serving
Dietary considerations:
Vegetarian
Vegan
Gluten-Free
Who should try it?
If you want quick and easy access to plant-based meals at a reasonable cost, Purple Carrot is a great option. It's a convenient choice for people who don't have too many dietary restrictions and who are looking to trying unique recipes.
Who should skip it?
People with dietary preferences or restrictions such as low-carb, keto, or paleo might have a tough time finding enough options with Purple Carrot. Some recipes can also be intimidating for people who aren't comfortable in the kitchen. That said, the instructions are broken down in a very easy-to-follow manner.
Advertisement
This ad is displayed using third party content and we do not control its accessibility features.
HelloFresh pros & cons:
Pros:
100+ weekly menu options
Affordably priced with great deals for first-time customers
Seasonal, local produce
Pre-measured ingredients
Cons:
Limited organic ingredients
Can't tailor meals to specific allergens
Purple Carrot pros & cons:
Pros:
Healthy, vegan recipes
A great way to kick-start a plant-based lifestyle
Sleek online interface
Exciting, flavorful vegan recipes
Cons:
Limited dietary preferences
No customizations allowed
Uses conventional produce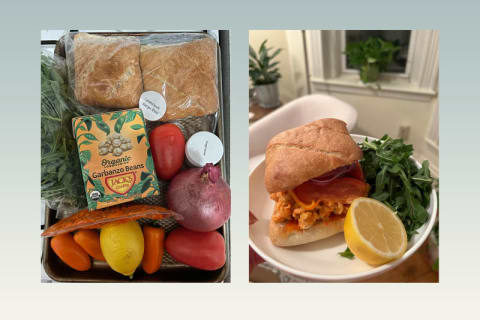 How does Purple Carrot work?
One thing to love about this plant-based delivery service is the easy-as-(vegan)-pie signup experience. You'll first set up an account for the weekly meal kit subscription service and select a category preference for recipes.
You can choose between high-protein meals which have at least 20 grams of protein per serving, low-prep meals which are designed to use fewer pots and pans, gluten-free, and "no preference" (a great choice if you're up for anything).
Next, you'll choose the number of meals you want each week and whether you'd like two or four servings per meal. While the serving sizes aren't customizable for households of odd numbers, we'll often plan ahead to have leftovers for the next day.
At checkout, your cart is based on the number of meals and serving size you've selected.
For the first week of your subscription, Purple Carrot will recommend meals based on your provided preferences. From there, you can select meals from a list of options.
Each meal notes dietary preferences such as gluten-free, soy-free, or high protein. Prep time and calories will also be displayed.
Every week features eight rotating dinner recipes, plus options for breakfast, lunch, and snacks. On busier weeks, you can opt to receive prepared meals or frozen meals instead of the meal prep kits.
Since Purple Carrot is a weekly subscription service, you'll pay per week—and you can pause or cancel your subscription at any time free of charge.
Purple Carrot sample menu:
Gnocchi al Pesto
Spicy Curry Noodle Salad
Romesco Polenta with Cashew Cheese
How does HelloFresh work?
From easy-to-follow recipe cards to its user-friendly app to a seasonal magazine with menu highlights, HelloFresh has a handle on convenience. To get started, you'll create your HelloFresh account by personalizing your meal kit plan.
Here, you'll set your preferences so that their system will show you the most relevant recipes for you. You can choose up to six options from meat and veggies, just veggies, family-friendly, fit and wholesome, quick and easy, and pescatarian.
You'll be able to swap proteins and sides if they aren't a perfect match and choose from over 60 recipes on its website under "weekly menus". Here, you'll discover recipes by cook time, notable mentions like "Hall of Fame" and "Best of 2022", and descriptors like calorie smart, carb smart, protein smart, vegan, and more.
After setting your preferences, you'll choose your plan to be for two or four people with two to six recipes per week. HelloFresh will then populate meals based on your preferences, and you'll be notified that you have a certain amount of time to swap meals before your box is out for delivery.
You should get your first delivery box containing your pre-measured ingredients and recipe cards with nutritional information and step-by-step cooking instructions within a week of placing your order and is sent in a box with cooling technology that will keep the ingredients fresh for up to 48 hours.
If you need to skip a week or cancel your subscription, you can manage your entire account from the mobile app or the website.
HelloFresh sample menu:
Balsamic Rosemary Pork Chops
Silky Sicilian Chicken Penne
Sweet Thai Chili Burgers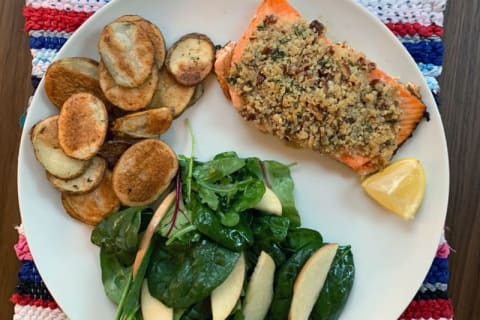 Cost of Purple Carrot vs HelloFresh:
If you're wondering which meal kit delivery service is the least expensive, you should know that HelloFresh is one of the most affordable subscriptions that still prioritizes high-quality, and often locally sourced, ingredients. It's worth noting that shipping isn't included with HelloFresh like it is with Purple Carrot.
The more recipes and servings you order, the lower the cost per serving. Generally, HelloFresh meals are under $10 a serving and Purple Carrot meals are right above $10 a serving.
Here's a quick comparison of costs:
Purple Carrot
3 meals of 2 servings each: $79.50 per box, $318 per month, $13.25 per serving
2 meals of 4 servings each: $88 per box, $352 per month, $11 per serving
Shipping cost: free
HelloFresh
3 recipes of 2 servings each: $59.94, $239.76 per month, $9.99 per serving
2 meals of 4 servings each: $78.32, $313.28 per month, $9.79 per serving
Shipping cost: around $9 per box, depending on your location
HelloFresh vs. Purple Carrot
| Brand | Serving Price | Max Meals Per Week | Shipping Cost | Dietary Considerations |
| --- | --- | --- | --- | --- |
| HelloFresh | From $9.99 per serving | 6 | $9.99 | Low-calorie; Pescatarian; Vegetarian; Beef-free; Pork-free; Seafood-free |
| Purple Carrot | From $11 per serving | 4 | None | Vegetarian; Vegan; Gluten-free |
HelloFresh vs. Purple Carrot: dietary considerations
Both Purple Carrot and HelloFresh will note the common allergens when you view your curated weekly menu items and when you're browsing the weekly menus. So while you can pick recipes free of allergens like soy, nuts, dairy, and gluten, if you have a food allergy, having your box picked for you won't be as seamless.
If you have a severe food allergy, these products might have cross-contamination from being processed in the same facility. It's also worth mentioning that HelloFresh only lets you swap recipes once the weekly menu they've picked for you is set to ship.
The main dietary difference is that all of Purple Carrot's recipes are vegan and plant-based while HelloFresh has 100+ recipes and many of which have meat. If you are looking to enjoy a plant-based lifestyle, Purple Carrot might be a better option for you than HelloFresh.
HelloFresh vs. Purple Carrot: sustainability and environmental impact
HelloFresh uses some organic ingredients like local and seasonal produce at peak freshness. The brand states that its produce has a "31% lower life-cycle carbon footprint than those of the same size from a supermarket," according to an analysis the company published in 2022.
We also love that the HelloFresh boxes and packaging are recyclable (the only thing you can't recycle are the water liners).
Purple Carrot, on the other hand, states that most of its non-produce items are organic, but that its produce comes from various sources.
Purple Carrot boxes and packaging are also recyclable, and the brand takes pride in not using as much material to ship their boxes. This is thanks to the fact the ingredients in the box aren't always pre-measured out for each recipe like HelloFresh.
HelloFresh vs. Purple Carrot: Which should you try?
Vegans, plant-based eaters, and those looking to eat more vegetables would likely enjoy Purple Carrot thanks to its inventive, global recipes that are easy to make. Those looking for an affordable meal kit delivery service that prioritizes quality, organic produce, and easy-to-make recipes should opt for HelloFresh.
FAQ:
Is purple carrot vegan?

Yes, Purple Carrot meals are completely vegan and omit all animal products.
Is HelloFresh processed foods?

Using HelloFresh means that a person is cooking from scratch using fresh ingredients and no processed foods.
Is purple carrot easy to cancel?

Yes, it's easy to pause or cancel a Purple Carrot subscription. You can also choose to either skip up to 10 weeks of delivery or skip a week without completely pausing your account.
Is HelloFresh healthier than fast food?

Yes, meal kits are a better option than ordering take-out or having fast food because they use high-quality, fresh ingredients and not processed foods.
Can you lose weight on HelloFresh?

While HelloFresh isn't specifically designed for weight loss, you can select the Fit & Wholesome plan which caps meals at 600 calories per serving and can fit into your eating plan for weight loss.
Are meal kits worth the money?

Subscribing to a meal kit delivery service can save you time in the kitchen so you can make healthy meals at home without stress. Approachable for a wide range of budgets, time commitments, and cooking skills, both Purple Carrot and HelloFresh are great ways to keep eating healthy interesting without dropping too much money at the grocery store on rare ingredients that you'll only use for one recipe.
The takeaway
A meal kit delivery service makes dinnertime stress melt away with easy and delicious recipes that come right to your door. Between HelloFresh and Purple Carrot, you've got two solid options for different palates, dietary preferences, and schedules. If you're interested in kick-starting a plant-based lifestyle, be sure to check out our line-up of the 7 best plant-based meal kit delivery services to see how Purple Carrot stacks up.
Meet The Experts
Kelsea Samson
is a writer, content manager, certified yoga instructor and founder of The Mindfulness Program for Kids and Yoga for the Blind in Tampa, Florida.