4 Healthy & Low-Waste Ways To Use Leftovers From Thanksgiving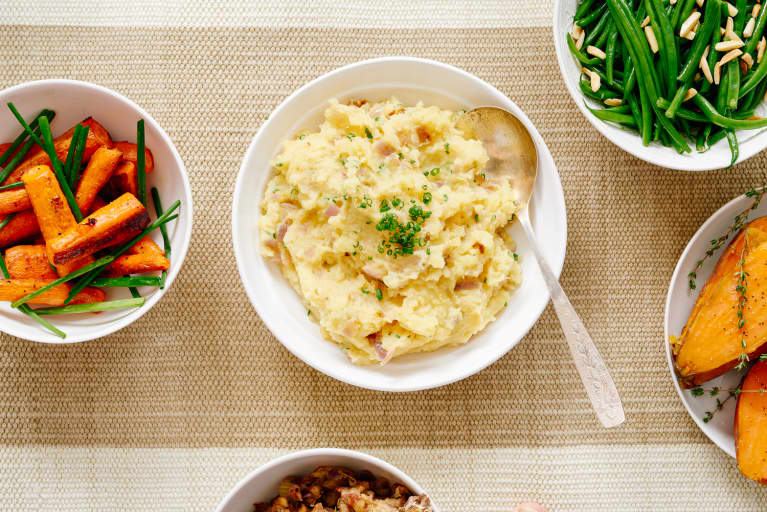 No matter how carefully you plan, leftovers after any big gathering, and Thanksgiving in particular, seem inevitable. But with the average U.S. household tossing upward of 30% of the food we purchase, food waste is a big concern—and leftovers are definitely a factor.
Finding clever ways to repurpose leftovers is the best way to make the most of food, without letting it go to waste, especially if you're not into the idea of eating Thanksgiving dinner over and over again. Below, find a few of our favorite ways to reimagine any leftovers (but yes, especially Thanksgiving ones):
1.
Vegan bubbles & squeak
Though Brits may not celebrate Thanksgiving, this suggestion takes a page out of their book. Bubbles and squeak is a classic pub offering, often made with leftover vegetables. This recipe in particular calls for leftover mashed potatoes and sprouts—two items that often grace the Thanksgiving table.
Maybe salad doesn't sound like the most inspired use of leftovers, but this one has a fresh, herby homemade dressing to top whatever leftovers you add to your leafy greens. The recipe calls for chicken, but in a post-Thanksgiving week, swap in shredded turkey. And maybe throw some leftover vegetables into the mix, too!
3.
Healthy leftover pizza
For an adaptable and delicious way to use those Thanksgiving leftovers, this guide to making them into the ultimate pizza is the way to go. Skip red sauce in favor of any other saucy or spreadable leftover—like mashed sweet potatoes or maybe gravy, if you have it? Then just top is as you would a pizza, and decide if you really need cheese on that masterpiece.
4.
Eggy bread and veggie muffins
Back to breakfast: These savory muffins are the perfect place to use past-their-prime rolls or bread, and leftover vegetables. Sure, the recipe calls for cooking specific vegetables from scratch, but you can save yourself time and waste by using whatever is hanging out in the fridge on Friday.
Whether you're using them in a new breakfast recipe or tossing them atop a salad, actually making use of leftovers is a major key in the fight against food waste in our own homes. Some other big changes you can make? Starting to compost, if you can, and adopting some strategic zero-waste habits will help close out this year more sustainably.
Want to turn your passion for wellbeing into a fulfilling career? Become a Certified Health Coach! Learn more here.