Not Sure What To Do With Leftovers? How About This 15-Minute Green Goddess Salad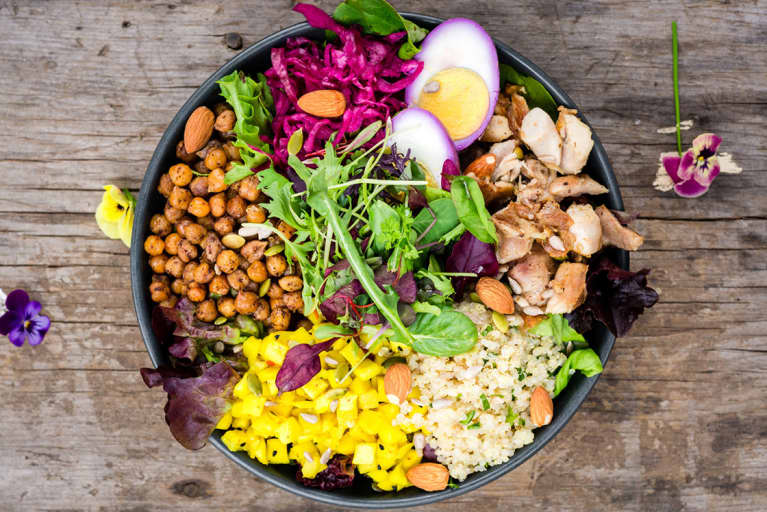 Our editors have independently chosen the products listed on this page. If you purchase something mentioned in this article, we may
earn a small commission
.
Do you ever stare at the leftover food in your fridge and feel overwhelmed, wondering what to do next? Not only is throwing out food hard on our wallets, it's also contributing to the estimated (alarming) one pound of food wasted per person per day.
Sara Dickerman, the author of the new cookbook Secrets of Great Second Meals, has set out to make leftovers something to get excited about. How? By developing recipes that use your existing ingredients in a new way that actually tastes good. We're not talking throwing together your leftovers and hoping the dish tastes OK—these sophisticated recipes take your second meals seriously.
The inspiration for her green goddess salad came from two common leftover culprits: cooked chicken and chickpeas. Instead of giving them the boot, she uses them as the staples for the protein-packed green goddess salad. Besides adding texture and flavor research suggests that chickpeas support heart health, improve digestion, and aid in weight loss. This anytime-of-day salad can be made over and over again differently depending on your leftovers. Stuck with extra roasted veggies, potatoes, fish? Swap out the chicken and chickpeas for what's in your fridge, and you've got yourself an ideal second meal.
1 garlic clove, peeled
1 cup Italian parsley leaves
¼ cup tarragon leaves
¼ cup roughly chopped chives
2 anchovies, roughly chopped
2 teaspoons champagne vinegar
¼ cup mayonnaise (preferably homemade)
½ teaspoon fine sea salt, plus more to taste
8 ounces shredded cooked chicken (roughly the meat from 1 breast and 1 thigh)
3 cups cooked chickpeas, drained
2 large carrots, unpeeled if they aren't too bitter, coarsely shredded (about 1 cup)
6 cups lettuce or other tender greens, such as baby spinach, baby kale, sorrel, or tatsoi
Freshly squeezed lemon juice to taste
Aleppo pepper and freshly ground black pepper to taste
To make the dressing, bring a small pot of salted boiling water to a boil. Have ready a medium bowl full of ice water and a slotted spoon or a spider. Drop the garlic clove into the boiling water and cook for 30 seconds. Place the parsley, tarragon, and chives in the water and stir until they wilt, about 20 seconds. Quickly use the slotted spoon to remove the garlic and herbs to the ice water. When they are cold, pull the garlic and herbs out of the ice water and squeeze them firmly to remove excess water. Chop roughly.
In a blender or a food processor, combine the garlic, herbs, anchovies, vinegar, mayonnaise, and sea salt. Pulse a few times, then keep the motor running to blend the ingredients into a smooth green puree.
To make the salad, in a large bowl, toss the chicken with ¼ cup of the dressing. Toss in the chickpeas and carrots with a bit more dressing to lightly coat. Finally, gently toss in the lettuce or other greens, adding a bit more dressing if desired. Taste and adjust the seasoning with more salt or lemon juice to taste. Finish with a sprinkling of Aleppo pepper and black pepper.