Close Banner
Advertisement
This ad is displayed using third party content and we do not control its accessibility features.
The Healthiest Foods At Taco Bell, According To Nutritionists

Contributing Health & Nutrition Editor
By Stephanie Eckelkamp
Contributing Health & Nutrition Editor
Stephanie Eckelkamp is a writer and editor who has been working for leading health publications for the past 10 years. She received her B.S. in journalism from Syracuse University with a minor in nutrition.

Expert review by
Jessica Cording, M.S., R.D., CDN
Registered Dietitian
Jessica Cording, MS, RD, CDN, INHC is a registered dietitian, health coach, and author with a passion for helping people simplify their wellness routine and build sustainable healthy habits.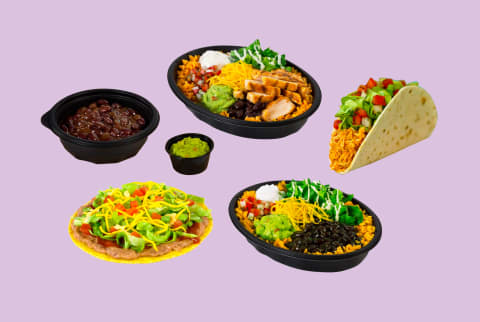 Image by mbg Creative x Taco Bell
We carefully vet all products and services featured on mindbodygreen using our
commerce guidelines.
Our selections are never influenced by the commissions earned from our links.
Summer means lazy beach days, family reunions, and road trips—most of which require at least a few hours in the car or hanging at the airport. And while we'd love to prep and pack enough healthy, homemade fare to last us the duration of our travel time, that's not always realistic. At some point your choices will inevitably be limited to whatever's available off the next highway exit. So, you just have to do the best you can—but we're here to offer some help. Each week this summer, we'll be polling top dietitians for their go-to healthy picks from fast-food and fast-casual restaurants so you're never caught off guard. Next up:
Taco Bell
!
Taco Bell has a whole "Power Menu," which is very customizable and features items that are all 510 calories or less and over 20 grams of protein. Try a Power Menu Bowl with lettuce, tomatoes, guacamole, pico de gallo, and a choice of chicken, steak, or black beans. For a plant-based snack that will fill you up for a while, doctor up a side order of black beans with guacamole.
2.
Spicy Tostada or Power Menu Veggie Burrito (customized)
Full disclosure, I haven't been to a Taco Bell since high school. I automatically went to the vegetarian menu and was pleasantly surprised by the options. I opted to skip the meat as a way to reduce the sodium and saturated fat content of the dish, but it should be noted that all of the dishes are heavy on the salt, even when you choose from the veggie options.
I would customize the Spicy Tostada and have it with black beans, avocado, extra lettuce, extra tomato, and pico de gallo. Another option is to customize the Power Menu Veggie Burrito. I'd remove the cheese and go easy on the avocado ranch sauce (I love that you have the option to add just a little bit) and add pickled jalapeños, lettuce, and tomato. The key is to boost the original offering with extra veggies and make mindful and intentional choices around what you add or remove.
3.
Black Bean Burrito (customized)
I go for Taco Bell's Black Bean Burrito. It does have a high sodium count at 1,020 mg, but you can lower that to 860 mg by customizing it without the red sauce. I like this pick because it offers up 13 g of plant protein, plus 8 g of fiber and 20% of your daily iron needs for less than 400 calories. If you want it dairy-free, ask them to leave off the three-cheese blend. I like the Brisk Mango Iced Tea, but I just fill my cup halfway with the tea and fill the rest with water. That cuts the drink to 60 calories and about 15 g sugars.
4.
Chicken Soft Shell Taco plus sides
If in a pinch and I need to order something at a fast-food restaurant like Taco Bell, I try to keep my order pretty simple. For example, I would stick with a Chicken Soft Taco with a side of guacamole and black beans versus options like the Double Decker Taco, which is double the calories. The side of guacamole and black beans adds healthy fat and fiber to the meal, which can increase satiety and make you feel more satisfied.
5.
Chicken or Steak Tacos "Fresco Style"
Taco Bell has done a really good job with trying to offer cleaner options on their fast-food menu. I would order either the Soft Shredded Chicken or Steak Tacos "Fresco Style," which replaces mayo-based sauces, cheeses, reduced-fat sour cream, and guacamole on almost any menu item with freshly prepared pico de gallo. Both the steak and shredded chicken offer high amounts of protein while keeping the sugar low. Double up on the lettuce and pico de gallo. You can also ask for an empty bowl and turn the two tacos into a leaner, cleaner version of their taco bowls (since their bowls are almost triple the sodium of this option).
As with all fast-food chains, it's best to avoid the meat- and animal-based products, which are not high quality. Taco Bell does offer more vegetable-based options than other fast-food chains. The Power Menu Veggie Bowl has black beans, guacamole, pico de gallo, and seasoned rice. I recommend ordering it without the sour cream and avocado ranch dressing. There are ingredients I normally avoid, including added sugars, natural flavors, canola oil, corn oil, and xanthan gum, but it's better than other options. Taco Bell also offers a side of black beans as well as a side of black beans and rice, which are nice plant-based options.