Waterproof Mascara Giving You Grief? A Hack To Remove It Without Losing Lashes

mbg Beauty & Wellness Editor
By Jamie Schneider
mbg Beauty & Wellness Editor
Jamie Schneider is the Beauty & Wellness Editor at mindbodygreen, covering beauty and wellness. She has a B.A. in Organizational Studies and English from the University of Michigan, and her work has appeared in Coveteur, The Chill Times, and Wyld Skincare.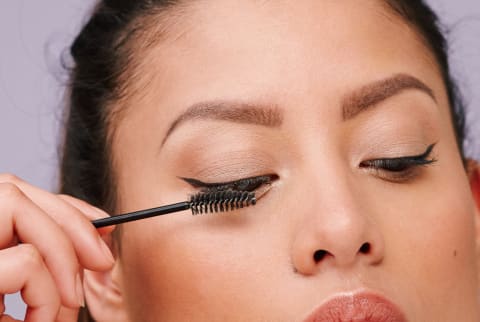 June 4, 2021
Our editors have independently chosen the products listed on this page. If you purchase something mentioned in this article, we may
earn a small commission
.
Summer heat can do a number on our makeup. If you're one to break a sweat as soon as you step under the sun, you're likely familiar with the unfortunate scenario: Your foundation melts, your powders look caky, and your mascara puddles into an inky mess. To sweat-proof the situation, we recommend opting for cream or liquid formulas that won't grip or pill, as well as a waterproof mascara to keep your lashes from smudging midday.
With the latter, though, there's a slight issue: A waterproof mascara is one clingy companion. Most formulas clutch your lashes for dear life—which is great for long-lasting curl but not so fun when you're scrubbing off the pigment at the end of the day. Rub too harshly, and you might even lose delicate lashes in the process (they do grow back, but you'll want to avoid physical stress to keep them fluttery).
Advertisement
This ad is displayed using third party content and we do not control its accessibility features.
Still, we love a good waterproof mascara—stubborn as it may be. So we'll share a handy trick that will transform how you use the sweat-proof product this summer, makeup-artist-tested and approved.
A waterproof mascara hack that makes removal easy. 
The best hack for waterproof mascara is to simply alter how you apply it: "First, swipe on a few coats of non-waterproof, and finish with a coat or two of waterproof," celebrity makeup artist Katey Denno once told us. By layering a regular mascara option underneath, you'll have a non-waterproof foundation on your lashes—which won't have a death grip, so it makes removal a breeze at the end of the day. The waterproof on top, however, clings to the flutters and ensures the mascara won't melt into raccoon-like streaks.
In terms of that bottom layer, you can choose any formula you please—some prefer a clear mascara if they don't want to pile on tons of pigment, while others find doubling up on inky options makes the lashes even more spidery and dramatic. You can't really go wrong, so long as you have some sort of primer between your eyelashes and the waterproof number. Try ILIA's Limitless Lash Mascara for your base layer (a personal favorite) with a few coats of Milk Makeup's KUSH Waterproof Mascara on top.
When you're ready to remove all traces of makeup, simply soak a reusable cotton pad with makeup remover (here are a few natural options that put in the work), and press it onto closed lids for a few beats; let the solution seep into your lashes, and the pigment should lift right off. No scrubbing or tugging required.
The takeaway.
Waterproof mascara is a must for sweaty summer adventures—but removing it at the end of the day can be a drag. If the stubborn formula is giving you and your lashes some grief, try layering a non-waterproof option underneath. With the regular formula as a base, it's easier to slide the pigment off.
Advertisement
This ad is displayed using third party content and we do not control its accessibility features.
Heal Your Skin.
Receive your FREE Doctor-Approved Beauty Guide