The Ginger Broccoli Pasta Salad We're Making For Memorial Day Weekend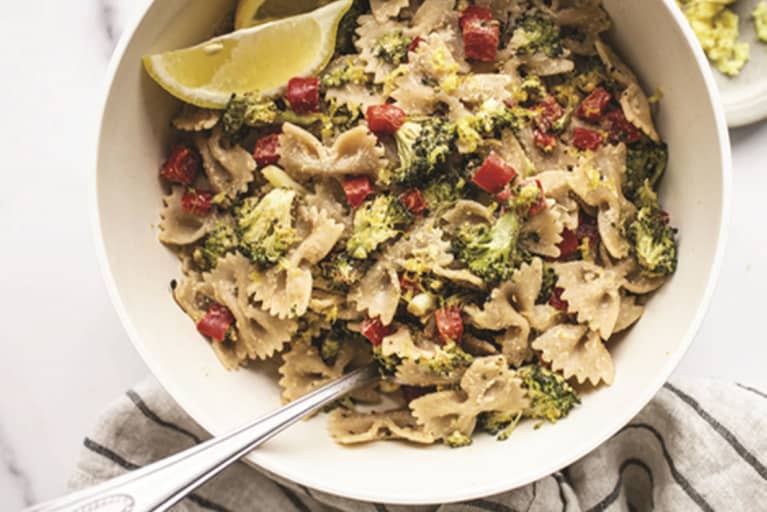 Our editors have independently chosen the products listed on this page. If you purchase something mentioned in this article, we may
earn a small commission
.
When you think of Memorial Day Weekend what are some of the first foods that come to mind? Hamburgers and hot dogs? How about pasta salad?
Savory and refreshing, pasta salad is the ultimate barbecue side dish, and this particular variation from The Fiber-Fueled Cookbook, by gastroenterologist Will Bulsiewicz, M.D., MSCI, is packed with vitamins and minerals from the colorful array of veggies it contains.
Not only does this recipe taste great, but it also features the antioxidant-rich ingredient ginger, which can provide gut-soothing properties alongside zesty lemon and tahini for creaminess. "The green from the broccoli and the red from red bell peppers are easy on the eyes, aren't they? But it's more than just good looks," says Bulsiewicz. "The vitamin C from the bell peppers actually increases absorption of the iron in the broccoli. They're complementary in every way."
As you enjoy the holiday weekend, this ginger broccoli pasta salad should grace the table of every celebration, helping your reach your veggie intake goals while ushering in warmer weather.
Ginger Broccoli Pasta Salad
2½ cups roughly chopped broccoli florets (see Pro Tip)
1 medium red bell pepper, diced
2 teaspoons olive oil (optional)
8 ounces uncooked pasta of choice (gluten-free/quinoa/bow ties)
2 tablespoons freshly squeezed lemon juice
½ teaspoon lemon zest
2 tablespoons tahini
1 teaspoon Dijon mustard
1 teaspoon apple juice or ½ teaspoon 100% maple syrup
1 teaspoon low-sodium tamari or soy sauce
1 teaspoon grated fresh ginger
Salt and freshly ground pepper, to taste (optional)
Preheat the oven to 400℉. Toss the broccoli and bell pepper with the olive oil and a pinch of salt and pepper until well coated. Place in a single layer on a large baking sheet and roast for 15 to 20 minutes, until the broccoli is lightly browned but still has a slightly crunchy texture. (If you want to roast the broccoli and pepper without oil, see the Pro Tip below.)
While the broccoli is cooking, bring a large pot of water to a boil. Cook the pasta according to the package directions, then drain and set aside.
While the pasta is cooking, make the dressing. Whisk together the lemon juice, lemon zest, tahini, mustard, maple syrup, tamari, and ginger. Taste and adjust to preference, adding more lemon juice for a brighter dressing, more ginger, or more tahini for a creamy dressing. Add salt and pepper, if desired.
Toss together the crispy roasted broccoli, bell pepper, and pasta with the dressing.
PRO TIP
Cruciferous veggies produce cancer-fighting phytochemicals called isothiocyanates (like sulforaphane) when they are chopped or crushed. To maximize the cancer-fighting phytochemicals, we want to CHOP our broccoli, then STOP for 10 minutes to let the chemical reaction take place. CHOP then STOP with cruciferous veggies!