A Face Yoga Exercise & Why It's Helpful For Youthful, Glowing Skin
mbg Spirituality & Relationships Writer
By Sarah Regan
mbg Spirituality & Relationships Writer
Sarah Regan is a Spirituality & Relationships Writer, and a registered yoga instructor. She received her bachelor's in broadcasting and mass communication from SUNY Oswego, and lives in Buffalo, New York.
Image by Danil Nevsky / Stocksy
October 4, 2020
Our editors have independently chosen the products listed on this page. If you purchase something mentioned in this article, we may
earn a small commission
.
From fine lines to asymmetry, many of us turn to topicals, facials, and even cosmetic procedures to achieve a desired look. But if you've ever experienced the benefits of a yoga practice, you might be interested to know you can flex your facial muscles in a similar way.
With the Face Yoga Method, created by Fumiko Takatsu, that's exactly the idea. And this simple practice leads to a more toned face, a smoother complexion, and so much more. Here's what her method is all about, plus an easy move that takes only 30 seconds to start working some magic.
Advertisement
This ad is displayed using third party content and we do not control its accessibility features.
What is face yoga all about?
Takastu, who is originally from Japan, was in a car accident nearly 17 years ago that left her body out of alignment. Specifically, she noticed her facial symmetry and posture were "off." Finally, after trying all sorts of creams and facials, she had the epiphany that the face, just like the body, has muscles.
She began actively training her face muscles, paying attention to how she used her face just like her body, creating targeting moved for certain issues. She soon saw results, and other people took notice, too. More and more people began trying her method, using the "face yoga" moves to isolate certain muscles in the face and achieve visible results.
But her method, Takastu notes, isn't only physical. "It's not just an exercise, it's a mindset," she says, "that helps people see—and it doesn't matter how old they are—that they can be in control of their face." She also stresses the importance of self-care and self-respect. "When you do face yoga, you're respecting yourself," she says.
What are the benefits?
Physical benefits:
Takastu has seen a number of benefits in her work with people, including better facial symmetry, smoother wrinkles, fewer fine lines, and less droopy eyelids. On top of that, she notes face yoga can reduce smile lines and under-eye bags, tone the neck and jawline, and generally lift the cheeks, "which gives you a younger look," she adds.
She even had one client who was an opera singer report her range increased, thanks to neck exercises strengthening the muscles in her throat.
Overall, Takastu says most people notice their faces look more toned, plus skin appears plumper and more smooth. And keeping up with a consistent face yoga practice can help prevent any unwanted skin changes before they even occur.
Advertisement
This ad is displayed using third party content and we do not control its accessibility features.
Mental benefits:
As Takastu makes clear, the Face Yoga Method is a mindset as much as it is a physical practice. She's seen people became more confident, she notes, and it also helps build "self-acceptance, self-love, and positivity."
Try it yourself.
For a quick and easy exercise that Takastu says can help release tension from face and neck and improve circulation, try a move she calls the Big O. "It brings more oxygen to the skin which is good for it," she says. And while it only takes 30 seconds she says, "you'd be surprised how much circulation you get just from doing it."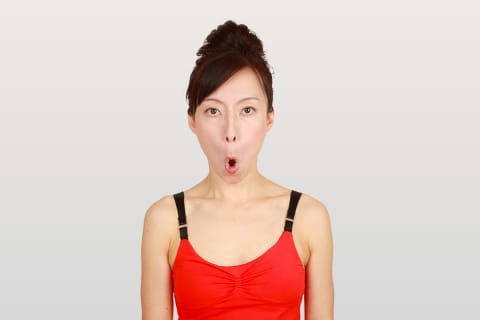 Advertisement
This ad is displayed using third party content and we do not control its accessibility features.
How to do the Big O:
Sit nice and tall and feel the center of your face in the body. The top of your head, center of your forehead, tip of your nose, peak of your lips and chin, sternum, and belly button should all be in one line.
Take deep breaths in and out through your nose.
Drop your jaw as if you're yawning, opening your mouth without wrinkling your forehead.
Look at the tip of your nose and slowly raise your gaze with only your eyes—don't move your head. Gaze toward the center of forehead.
Then, if you can, look at the ceiling. Hold for 10 seconds while breathing through your nose.
Repeat two more times.
Note: Always make sure to do face yoga with freshly cleaned hands. It's also not a bad idea to wash your face after, making this the perfect new addition to your nighttime skin care routine.
Just like we all love to maintain our well-being through a full-body yoga flow, Face Yoga offers a virtually free—and effective—option for maintaining our skin.
Advertisement
This ad is displayed using third party content and we do not control its accessibility features.
Reset Your Gut
Sign up for our FREE doctor-approved gut health guide featuring shopping lists, recipes, and tips