New Study Finds 2 Factors That Can Increase Motivation To Exercise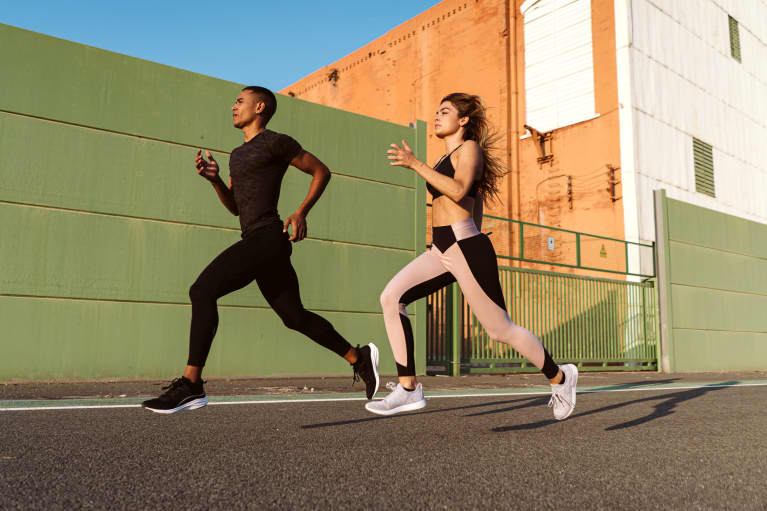 November 23, 2020 — 23:31 PM
Sometimes, the hardest part of a workout is simply starting it. When fitness goals are high but motivation is low, what do you do? According to new research by Western University published in the International Journal of Behavioral Nutrition and Physical Activity, a workout partner and a little reward might just be the encouragement you need.
Finding what motivates us.
Researchers sought to better understand how the addition of a buddy incentive on the fitness app Carrot would affect users' activity. The app had already indicated people tend to work out more if there is a small financial incentive. Points that translated to discounts on things like gas and movies led to more steps on average (600 steps more per day, to be exact).
Then, the app started a new feature that lets users partner up to get more points, so researchers began comparing the activity levels of single users versus pairs. Over a 24-week period, data from over 60,000 users found the new approach led to 1,100 more steps on average for paired users.
The benefit of a partner and a reward.
It should be noted that after 12 weeks, partners on the app barely earned enough for a cup of coffee. So, it's not like these are huge financial incentives. But—they seem to work.
"Even though it's a very small reward," says lead author of the study Emma Pearson, "it does motivate people both to participate in the challenge and to achieve the challenge. Having a partner who shares the same aims and rewards builds on that incentive. It's feeling connected with someone, having someone to hold them accountable."
And in a time when gyms are once again closing due to COVID-19 restrictions, it's important we all find ways to stay motivated. "When it's more of a struggle getting people to get together and helping people improve their physical activity levels," Pearson adds, "you can still connect virtually."
There are two big takeaways here: First, apps that include reward-based systems are a good idea if you're on the virtual workout train. "More people are using wellness and activity apps. I think it's important to design ones that actually work and have the methodology to show they work," notes study co-author and kinesiology professor Marc Mitchell.
And on top of that, finding a partner to work out with can help keep you both motivated and accountable. Maybe the two of you even figure out your own reward system or compete with each other. (Whoever runs faster buys the other coffee, for example.)
So, next time you're in a slump, consider phoning a friend and/or implementing some sort of rewards system. Your body and mind will thank you.