3 Wellness Essentials This Integrative Medicine Doctor Can't Live Without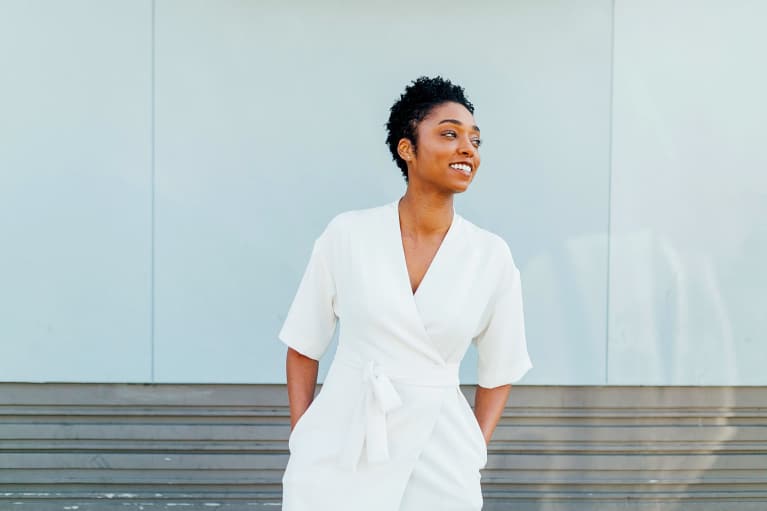 The mbg Collective is a curated group of our most trusted wellness advisers. Since 2009, we've had the brightest, most passionate, and mission-driven leaders in wellness share their intimate stories and world-class advice. Now, we're giving you unparalleled access to the people who, alongside mbg, are putting the "WE" back in wellness. Consider them your personal guides, there to support you and sustain you on your journey.

For mbg collective member Tiffany Lester, M.D., it wasn't enough to get her medical degree at the University of Cincinnati. This Missouri-native journey started with an alternative medicine class in medical school. She then went on to study medical acupuncture and functional medicine while simultaneously completing a two year fellowship with Dr. Weil, arguably one of the most impactful figures in the integrative medicine world.
Then she became one of the buzziest names in wellness.
It wasn't long before Dr. Lester became the wellness world's it-woman. Last year, she performed ear acupuncture on revitalize guests, which was a huge hit and quite possibly the most popular treatment. When she's not practicing medicine at Parsley Health San Francisco, she's talking natural beauty with Nue Co.—she was recently tapped to be a medical adviser to the buzzy brand. "There's a need for both types of medicine," she said. "I think about the work I do at Parsley—all practices are run by M. D.s because of the extra validity, medication, specialist, referral. It would be great if medical doctors could learn the functional, integrative pieces up front." One of her biggest dreams is to start a medical school that offers an integrative health curriculum.
I really try to keep it simple.
As a natural beauty expert, she works with almost all of her clients to determine the best skin care regimen for them. The reality is that many people don't start to look at their beauty routines until they reach a milestone, whether that's pregnancy or illness. According to Dr. Lester's research, women use 17 times the number of products men do. "It's important that we use products that are safe—no endocrine disrupters," she said. She often advises her clients to become their own advocates without simply trusting companies. She also counsels them to know what to look for on a beauty label.
Dr. Lester's natural beauty routine.
"I really try to keep it simple," she said. She tries to use no more than three to five products in her morning or evening routines and lets them work their magic. For treatments, she uses True Botanicals' vitamin C booster in the morning, and Marie Veronique's retinol serum in the evening. To moisturize, she'll use rosehip oil—both expensive and inexpensive. "I try a lot of different products, and like to have a mix of price points," she said. Dr. Lester uses Vapour Organic Beauty deodorant in vanilla lavender (the purple label) and said that switching to a natural deodorant is one of the most important steps for women.
As for her makeup routine, Dr. Lester's philosophy is to take good care of her skin so she can wear less. "RMS Beauty has the right color shades for my skin tone," she said. She wears W3LL People mascara, Cocokind's matcha stick under her eyes, and the beet stick as lip balm. Finally, if she wants to glam it up, she'll use RMS Beauty eye shadows.
Here are Dr. Lester's wellness and beauty essentials—the things she absolutely must do on the daily.
Dr. Lester shares the three tips that have made the most impact on her feelings of well-being:
Sleep is one of the most secret anti-aging tools we have. Bonus: It's totally free. We can spend money on expensive creams, makeup, fitness clubs, but sleep is underrated especially when it comes to looking and feeling our age. Giving your body time to detox and just rest is one of the best things you can do for yourself and your health.
2. When traveling, I pack magnesium.
I bring magnesium glycinate supplements to take at bedtime because they calm the nervous system and are great for cramps. I use the Nue Co.'s magnesium spray with lavender and argan so it smells delicious, and the arnica feels amazing on stiff or sore muscles.
I drink matcha every single day. I make a matcha "bulletproof latte," using a blender to mix all the ingredients together. I'll heat up unsweetened almond milk, MCT oil, ghee, vanilla extract, a scoop of matcha; blend it up; and I'm out the door! It gives me a little bit of a caffeine kick but with a calm alertness. It helps me focus, too, especially when I'm writing. I've been doing it for five years, and I do think it's changed my skin.
If you're feeling inspired by Dr. Lester's simplified take on wellness, check out this celebrity "green" makeup artist's top three beauty essentials.