Bookmark This: A Spiked Cozy Collagen Cocktail Recipe From An RD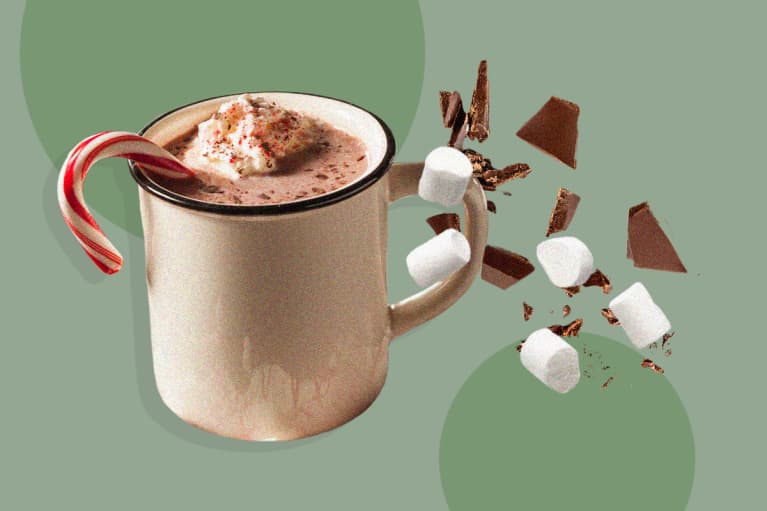 This article was produced to support the mindbodygreen supplements+ line. Our supplements adhere to the highest standards of ingredients and quality. We hope you enjoy these products, for more information
click here
.
Last updated on July 2, 2021
When the temperatures start dropping, there's nothing like a hot beverage to warm you up. This cozy treat is a healthier take on hot chocolate that's also enhanced with collagen powder, which helps support healthy hair, skin, and nails.* I love working with collagen because it melts right in—especially when you're adding it to warm beverages. I often add it to my morning coffee, but it can also make a nice addition to a seasonal cocktail.
Not to mention with this blend of collagen powder and organic cocoa, it can be a delicious way to sneak some protein and antioxidants into your day.* mbg's chocolate beauty & gut collagen+ contains vitamins C and E, biotin, turmeric, and SGS—plus the amino acid L-glutamine for gut health.* The chocolate version is made with organic cocoa powder (the recipe calls for a touch extra for an even richer chocolate taste) and organic monk fruit extract, for a subtle sweetness with no aftertaste.
I get a lot of questions about which types of alcoholic beverages are the healthiest, and I always say that it's really best to think about what you will find the most satisfying and be able to enjoy mindfully. That said, please enjoy responsibly! I think this recipe pairs really well with a dark, sweeter spirit like bourbon or rye, but feel free to use what you prefer. (Note: This is also a delicious "anytime treat" if you skip the booze.)
Spiked Collagen Hot Chocolate
2 cups unsweetened oat milk
1 ½ tablespoons cacao powder
1 ounce dark chocolate, chopped
½ teaspoon ground cinnamon
Optional: additional 1 to 2 tablespoons of allulose, maple syrup, or honey
2 ounces bourbon**
In a small saucepan, whisk together milk, oat milk, cacao powder, dark chocolate, cinnamon, and collagen over medium heat. Sweeten, if needed, to taste.
When the hot chocolate begins to boil, remove from heat and stir in the bourbon.
Divide among 4 small mugs. Enjoy immediately.
**Variations: Use any brown liquor you prefer, or try a cacao or coffee liqueur for extra flavor. You can also enjoy this without alcohol.