A Clean & Natural Cosmetic Chemist On What She Uses In Her Own Skin Care Routine
mbg Beauty Director
By Alexandra Engler
mbg Beauty Director
Alexandra Engler is the beauty director at mindbodygreen and host of the beauty podcast Clean Beauty School. Previously, she's held beauty roles at Harper's Bazaar, Marie Claire, SELF, and Cosmopolitan; her byline has appeared in Esquire, Sports Illustrated, and Allure.com.
November 22, 2022
We carefully vet all products and services featured on mindbodygreen using our
commerce guidelines.
Our selections are never influenced by the commissions earned from our links.
Beauty routines are never truly stagnant—practices evolve and change like we do. In As of Late, we chat with influential folks about their current products and rituals. Here, we get a snapshot of what they're doing right now: the sacrosanct formulas they use until the last drop, the fresh launches they've got their eyes on, and of course, the why behind it all.
When you think of folks to turn to for beauty product recommendations, a few types of people may come to mind. I'd like to think "beauty editors" would make its way onto the list—as well as other beauty professionals like dermatologists, stylists, estheticians, nail techs, trichologists, and so on. Of course social media influencers, trusted peers, and even review forums can help inform our search for products to try out.
But for a thoughtful, critical analysis of a formula—and its potential efficacy—there's no one better to turn to than a cosmetic chemist, like Krupa Koestline.
Cosmetic chemists are the folks actually doing the very arduous task of creating the products we so dearly love. Cosmetic chemists know what ingredients play nicely together, what sort of preservative system is needed for different types of formulas, and how to build a robust product that addresses the sought-after effect. Really good ones stay up to date on innovations and trends in the market while also utilizing the classic ingredients we know to be beneficial.
This all makes for a person with very discerning taste: "It takes a lot for me to be surprised by something and really takes a lot for me to fall in love with a product," says Koestline. Here, a few things she actually has fallen in love with.
Tried-and-true: Skip facial soaps & opt for oils.
"In the last five years, I stopped using soap on my face. I've always had combination skin—not excessively oily except for my teenage days. But then when I was pregnant, my skin became extremely dry, so I didn't want anything harsh on my face. So I stopped using washes.
"I really thought about it and realized that no matter what kind of surfactant or foaming agent you use, it's really not meant for your face. As soon as you put on a surfactant in the area, you're stripping away and completely changing the biome on your skin: You're taking off all of the good oils that you would normally have on your skin that are protecting you from all the bad bacteria. I don't know why we started using soaps on our face, but I don't agree that they should be used there.
"Instead, I use balms and oils, and I'll either put them on before the shower or in the shower. I really love how it makes my skin feel after: plump, moisturized enough, and yet not overly oily. I've forever used May Lindstrom's Blue Cocoon, which is very expensive, but it only takes a tiny amount to work into the whole face. It just works for me."
May Lindstrom The Blue Cocoon Solid Oil Facial Concentrate
$ 180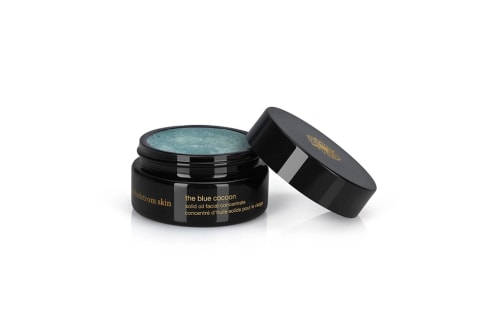 The surprise hit: A gentle acid.
"There was a time when everyone was using lots of acids. I'm not a fan of acids, especially outside of the spa. But I love this product because it doesn't have a crazy amount of acid and has just the right amount of moisturizers too. It's the perfect formula for what it does. I use it once or twice a week."
The secret: A simple routine.
"Even being a cosmetic chemist, I do not have a 15-step routine. Keeping it simple is the key. I feel for a lot of customers—especially all the people who don't understand skin care—they get bombarded with all of these products. It can be overwhelming. It is totally OK to take care of your skin with just a few products. You don't need a whole regimen."
The pleasure: An at-home microcurrent device.
"I did invest in a good microcurrent home device, and I think that really helps. It was quite expensive, as they tend to be, but it lasts a long time, and I think it was totally worth it. In my head, I have issues with sagging, so this helps address that. Plus it feels really good to just take a minute and do the whole routine."
The steal: Classic botanicals.
"Coconut oil and rose water are some of my favorite ingredients. Coconut oil works for everything—and I use it for everything. My son has pretty bad eczema, and coconut oil is the only thing that calms it down. I tend to get dry patches in the winter, so I like to use it for that. I put it on my elbows or just anywhere that feels a bit dry. Or when I'm wearing dresses or shorts, I put a tiny amount on my legs so they look nice and glossy.
I love rose water because it's the perfect thing to cool me down. It's very grounding. It smells beautiful. You know how when you are on a vacation, you come back home, you take that deep breath, and you're like, OK, I'm home. That's the feeling I get when I spray rose water. I keep one in the fridge, I have one in my purse, I keep them everywhere."
Kopari 100% Organic Coconut Oil Melt
$ 21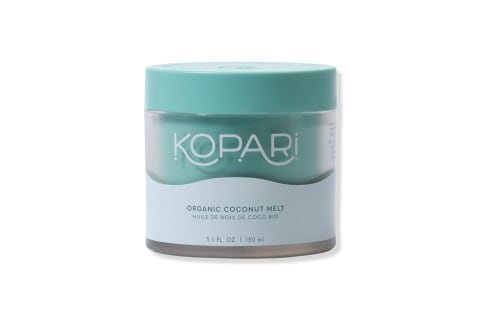 The thing my mom taught me: Masking regularly.
"Masking is something my mom taught me. She would save stuff. For example, if we were in orange season, she'd save orange peels. Or if she got a really good batch of yogurt, she'd save a bit. If we got apricots, she'd set some aside. All the stuff from the kitchen that you'd normally just throw away, she'd save for masking.
"I do a face mask every weekend. I always had a set of like three to four face masks, and whatever is going on with my skin, I'll use one of those masks to help. The mask I pick is totally dependent on how my skin looks and what is going on in my life in general.
"When my skin is acting up—like I'm closer to my period or I'm breaking out—I'll do Aveda's Tourmaline mask. When my skin feels congested, I'll leave it on, and after it dries a bit, then I'll massage it in. It has physical exfoliants that are not too harsh. Then I'll rinse it off.
"The Tata Harper floral is hydrating, so I'll use that when my skin is feeling too dry. Maybe I've had a really good weekend with lots of drinks, and now my skin is a little dehydrated. That's why I'll do a hydrating mask.
"I'll also have The Ordinary mask for when I've had sun exposure lately—I live in Florida, so it happens—or I've had a stressful couple of days and just want something reenergizing. It has AHAs to help shed off the old skin and get the new skin to the surface, so the complexion feels fresh and bright."
Ordinary AHA 30% + BHA 2% Exfoliating Solution
$8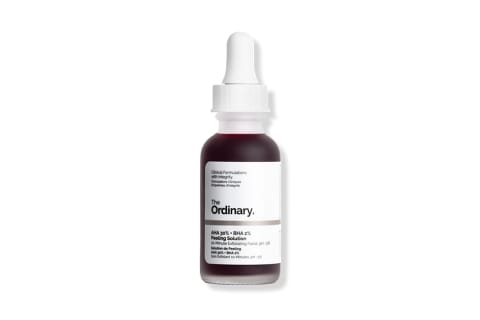 Alexandra Engler
mbg Beauty Director
Alexandra Engler is the beauty director at mindbodygreen and host of the beauty podcast Clean Beauty School. Previously, she's held beauty roles at Harper's Bazaar, Marie Claire, SELF, and Cosmopolitan; her byline has appeared in Esquire, Sports Illustrated, and Allure.com. In her current role, she covers all the latest trends in the clean and natural beauty space, as well as lifestyle topics, such as travel. She received her journalism degree from Marquette University, graduating first in the department. She lives in Brooklyn, New York.