This Oil & Veggie Combo May Explain The Mediterranean Diet's Benefits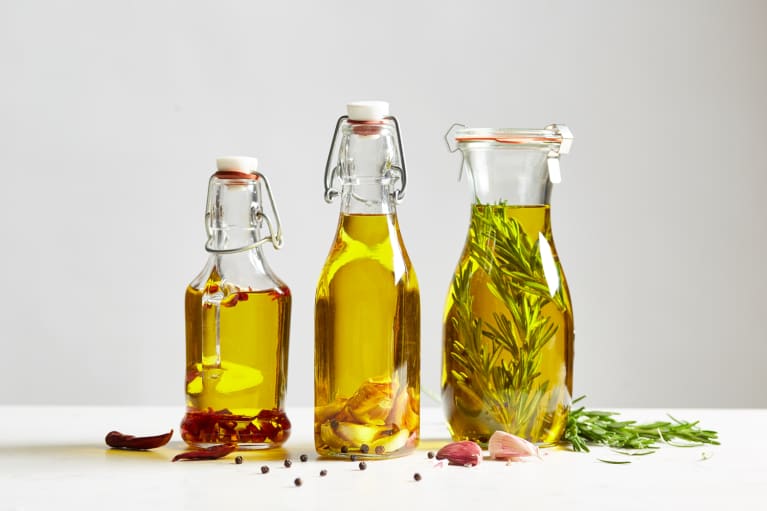 The Mediterranean diet, one that focuses on eating foods like fruits, veggies, olive oil, and fish, was voted the best diet of 2019, which boasts benefits like a healthier heart, weight, metabolism, and gut. While some of the benefits of this diet come from eating more whole foods and less red meat, scientists have found it may also have something to do with how the food is cooked.
A new study published in the journal Molecules found that when veggies like garlic, onion, and tomato were cooked in extra-virgin olive oil, their bioactive compounds (carotenoids and polyphenols) were more readily available for the body to absorb and use. The researchers decided to pick these veggies, as they are typical of a sofrito or sauté, which is common in Mediterranean cuisine.
While the Mediterranean diet is packed with veggies and fruits high in carotenoids and polyphenols, the researchers found that when cooked in extra-virgin olive oil, these compounds transferred into the olive oil, making it easy for the body to uptake.
Although this study was done on only a few vegetables, it highlights the possibility that extra-virgin olive oil absorbs the essential bioactive compounds in some vegetables and could be an optimal cooking technique for better health.
On top of getting more out of your veggies, you'll also get the benefits of extra-virgin olive oil on its own, which include keeping your skin hydrated and refreshed and helping maintain a healthy weight. Remember that you may lose the potency of some of these benefits when the oil is cooked, so also opt for uncooked extra-virgin olive oil on salads, toast, and in dressings from time to time.
While on the lookout for olive oil, choose extra-virgin olive oil and particularly an EVOO monovarietal (made from one type of olive), which experts suggest has the greatest potential to fight disease.
As a fan of extra-virgin olive oil, any style, anytime, I really can't think of better news.
Want to turn your passion for wellbeing into a fulfilling career? Become a Certified Health Coach! Learn more here.