Move Over, Hyaluronic Acid — This Is The Only Serum I Use For Bouncy, Juicy Skin

mbg Beauty & Wellness Editor
By Jamie Schneider
mbg Beauty & Wellness Editor
Jamie Schneider is the Beauty & Wellness Editor at mindbodygreen. She has a B.A. in Organizational Studies and English from the University of Michigan, and her work has appeared in Coveteur, The Chill Times, and Wyld Skincare.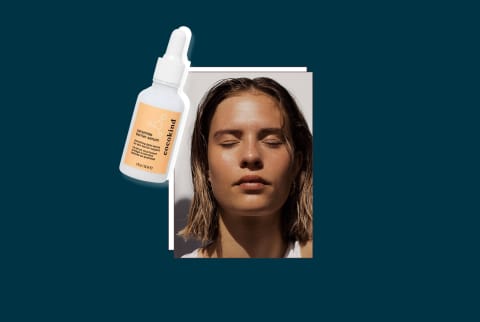 Image by cocokind / mbg Creative
May 19, 2023
Our editors have independently chosen the products listed on this page. If you purchase something mentioned in this article, we may
earn a small commission
.
Look, I have no personal qualms against hyaluronic acid. Love that humectant; I write about it not infrequently! However, I have noticed beauty fans starting to crave something a bit more than a stand-alone HA. Yes, hyaluronic acid was the reigning buzzy ingredient of the past few years, but now other star hydrators are coming for its crown.
If you, too, are looking for an elevated serum, I highly recommend snagging cocokind's Ceramide Barrier Serum. After finally getting my hands on the cult-favorite formula, I can confirm its swoon-worthy results.
Advertisement
This ad is displayed using third party content and we do not control its accessibility features.
Why use a ceramide serum?
First, a quick refresher on ceramides: "Ceramides on a basic level are intercellular lipids housed in the uppermost layer of skin cells and are crucial for skin barrier function," clean cosmetic chemist Krupa Koestline tells mbg about the ingredient. Think of them as the "glue" that holds the skin barrier together.
That said, they are vital for skin barrier function. The skin barrier works to keep precious moisture inside the skin and environmental aggressors and irritants out. Without ceramides fastening that shield, your barrier easily becomes compromised, which can result in irritation, dryness, and premature skin aging.
It's certainly a case for ingesting ceramide supplements. But the question becomes: Can topical ceramides help improve this barrier? According to Koestline, the answer is a resounding yes. "When applied topically, ceramides mimic the skin's own moisturizing system," she says. In fact, a clinical review1 found that topical synthetic ceramides could increase water retention, restore barrier function, and even improve the skin barrier in patients with atopic dermatitis (aka, eczema).
Advertisement
This ad is displayed using third party content and we do not control its accessibility features.
Are ceramide serums worth it?
So, yes, ceramide serums are a worthy addition to your skin care routine. And while I hate to pin hydrators against each other, I should note that ceramide serums are way less finicky than hyaluronic acid serums. See, humectants like HA draw water from the environment and into the dermis, which is why you should always apply them on damp skin. Otherwise, those humectants will pull water from your skin instead of the surrounding air, which can leave it even drier than before.
Ceramide serums don't have this same shortcoming—they're known as "skin-identical," ingredients that absorb all on their own. Better yet, cocokind's winning formula features aloe vera juice, glycerin, and beta-glucan, all of which have water-absorbing properties that can help moisturize the skin. When paired with a blend of five ceramides, these ingredients help lock in hydration and build up the skin barrier. You'll also find squalane, sunflower seed oil, and banana fruit extract in the formula, which help the skin feel more supple and comfortable.
Image by Jamie Schneider / mbg beauty editor
Advertisement
This ad is displayed using third party content and we do not control its accessibility features.
My results
I've heard great things about cocokind's famous ceramide serum from multiple beauty editors, yet I hadn't had the chance to snag one for myself. I'm so glad I finally did!
I've been testing the serum morning and evening for two weeks now, and I've noticed my skin looking so much softer, plumper, and way more hydrated. The serum itself leaves behind such a nice glow that lasts all day long—and provides the perfect base for makeup, I should add.
It's pillowy, conditioning, and fits seamlessly into my routine. On nights I exfoliate or use retinol (I'm an avid skin cycler), it helps calm my skin and nix any lingering redness. And I don't have to worry about re-wetting my face with a hydrating toner (as I do before applying hyaluronic acid) since the ceramide serum doesn't necessarily need a damp surface to do its job.
I'm not alone in my obsession: One reviewer even considers it their "hyaluronic acid replacement," while another praises its skin-calming abilities. "My skin is so dry, and hyaluronic acid was not cutting it," they write. "I had also damaged my skin barrier with too many actives. This serum made such a difference in helping it heal! I don't have nearly as many flaky spots, I'm less red and sensitive, and my skin feels so much better."
Another satisfied shopper dubs it "liquid gold" for any skin type: "This is my go-to product when my skin is feeling dry, oily, irritated, or just needs a pick-me-up," she notes. "Great for any skin type. My friend and I have different skin types but our drawer is always stocked with this ceramide serum!"
The takeaway 
cocokind's Ceramide Barrier Serum is a fabulous swap for hyaluronic acid that may even be more hydrating than the famous humectant. It's tagged at $22, which is pretty affordable compared to most hydrating serums, especially ones of this superior quality. Not to mention, cocokind is donating all ceramide serum profits to #HalfTheStory, an organization that helps teens rebuild their relationship with technology, in honor of mental health month. So you can bolster your skin barrier, then direct your dollar toward bolstering mental health.
Advertisement
This ad is displayed using third party content and we do not control its accessibility features.