A Clinical Psychologist's Top Tip For Boosting Self-Esteem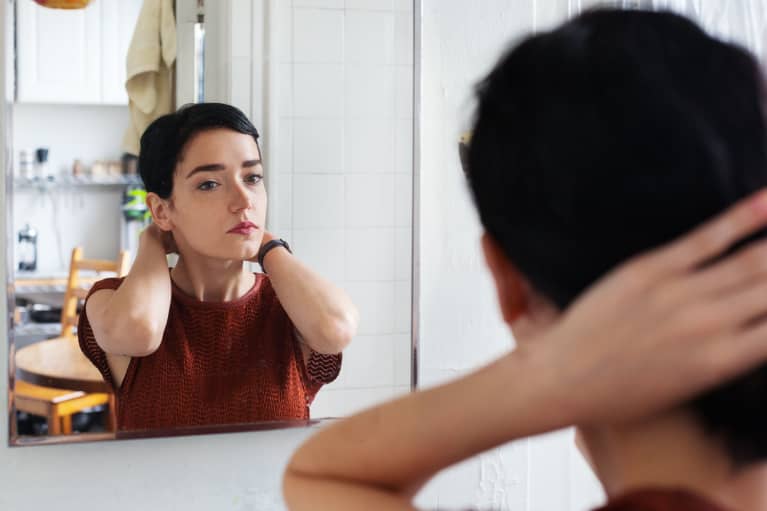 Self-esteem is ever-fluctuating throughout our lives, and though it's always important, it's not always so easy to find. On a recent episode of the mbg podcast, clinical psychologist and board-certified nutritionist Nicole Beurkens, Ph.D., CNS, weighed in on how to help build kids' self-esteem—and her advice applies to adults, too. Here's what she had to say.
Why we all need to call out the positives as much as the negatives.
How often do we get stuck in negative feedback loops that reinforce limiting beliefs about ourselves? This inner monologue of criticism can begin as early as childhood, which is why Beurkens stresses the importance of giving kids praise.
"No parent or teacher or anybody else intends to be overly negative with a kid, but it does tend to be the case that the feedback that we give them is around correcting them, right? [We tell them] the things we wish they weren't doing, or that they need to do differently, or that they need to do better," she says.
Perhaps you've found that you treat your own self this way or can recall times when you experienced that kind of criticism as a child.
If that's the case, according to Beurkens, one thing you can do for yourself is to try to strike more of a balance between spotlighting both the positive and negative things about yourself and what you've done. You can think about your strengths along with your challenges, actively calling out the things you appreciate and recognize about yourself with intention.
How to get started: "A rose and a thorn."
Beurkens adds that you can even make a daily ritual of identifying your own positive behaviors and qualities.
"An easy routine I sometimes have families do is an activity around the dinner table or at bedtime [called] 'a rose and a thorn,'" she says. All you have to do is identify "something that went well today, or that I feel like I did well, or that I'm proud of," she explains, "and something that was a challenge, or that really didn't go well, or that I feel like I screwed up on."
The beauty of this exercise, she adds, is it helps us reframe our perspective. "Our brains so easily focus on the negative [...] and that helps with the balance." When done with children, this practice can also help model the fact that we all screw up every now and again and that's just part of life.
We all make mistakes, but it's far too easy to get wrapped up in them and forget all the good we do, too. According to Beurkens, self-esteem thrives when we're really honest about our potential areas of improvement but also appreciative of our own strengths.