You've Been Making Salade Niçoise Wrong: How To Serve It The Traditional (Seasonal) Way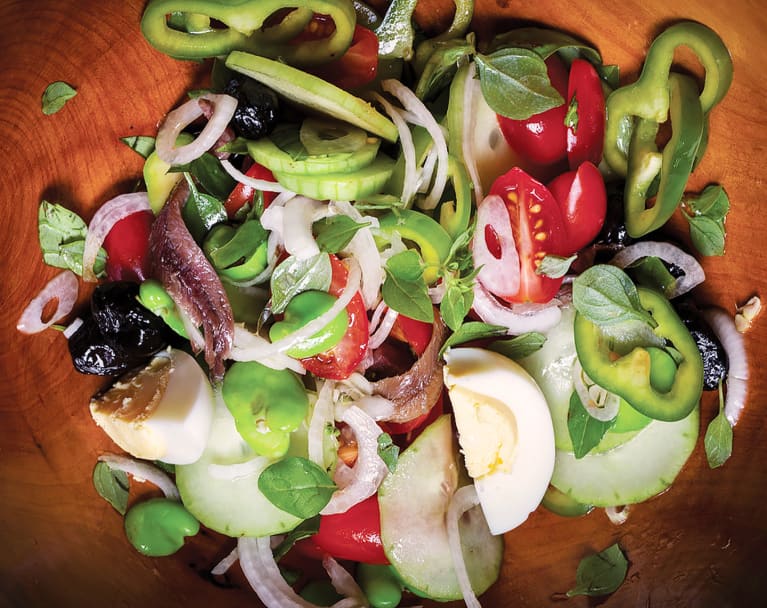 Salade niçoise. How we all love this blend of potatoes, green beans, lettuce, tomatoes, tuna, and...wait, stop! Do not ever tell any self-respecting inhabitant of Nice, France, that you like salade Niçoise with potatoes, green beans, or even lettuce. This will make you an outcast, a poor, sad excuse for a human being.
Why? Because a true salade Niçoise is a blend of seasonal vegetables that every Niçoise had at hand long, long ago. That selection did not include potatoes and green beans. Those ingredients were added by Auguste Escoffier, who came from the other side of Provence, where these vegetables were introduced sometime after the 17th century. Even tomatoes are a relatively recent addition, but, perhaps with some reluctance, the Niçoise find them acceptable.
There are a few other "rules" for salade Niçoise. A true salade Niçoise doesn't have any cooked ingredients but the eggs—it is the assemblage of fresh ingredients dressed only with olive oil, salt, and pepper. In addition, the olives must have their pits, and while anchovies are traditional, canned tuna is acceptable even to a purist. But the two are never added to the same salad—two fish would simply be too much.
Try this version of salade Niçoise and you'll forever want to save your green beans and potatoes for some other dish. This makes a meal, along with bread and a chilled rosé from Cassis.
1 pound cherry tomatoes, trimmed and cut in half, lengthwise
1 cucumber, peeled and thinly sliced
Fine sea salt
2 pounds fava beans in their husks, shucked (frozen fava beans work perfectly here; you'll need about 1½ cups' worth)
12 anchovy fillets or 8 ounces canned oil-packed albacore tuna
1 cup gently packed fresh basil leaves
1 garlic clove, cut in half
One 4-ounce green pepper, such as Cubanelle or shishito, trimmed and cut into thin rounds
4 small round spring onions or 8 scallions, cut in half lengthwise and sliced very thinly
½ cup black olives, such as Niçoise, with pits
About ¼ cup olive oil
3 large eggs, hard-cooked and cut into quarters
Freshly ground black pepper
Basil leaves for garnish
Place the tomatoes and cucumber slices in a colander set over a large bowl. Salt them with an even shower of salt (about 1 teaspoon), shake the colander so all the vegetables are evenly salted, and reserve while you prepare the rest of the salad.
Bring a small saucepan filled with lightly salted water to a boil over medium-high heat. When the water is at a rolling boil, add the shucked fava beans, let boil for 2 minutes, then remove the fava beans from the water, leaving the hot water in the saucepan. Carefully make a slit in the outer skin of each fava bean and squeeze or take out the tender green bean inside. Discard the skins. If the outer skin doesn't easily cut and peel off, return the fava beans to the hot water for a minute or two. (If using frozen favas, they're already peeled but will benefit from a quick plunge into boiling water, literally less than a minute. Drain and use them in the salad.)
Cut the anchovy fillets into large dice. If using canned tuna instead, crumble it into bite-size or smaller pieces. If using fresh, seared tuna, slice it thinly.
Tear the largest basil leaves into bite-size pieces. Reserve several sprigs of smaller leaves for garnish.
To serve the salad, rub a large salad bowl with the garlic clove. Place all the ingredients, except the tuna (if using) and eggs, in the bowl.
Mince the basil leaves and add to the bowl. Pour the olive oil over the salad, and toss very gently so all the ingredients are coated with oil. Taste for seasoning. Garnish the salad with the crumbled or sliced tuna (if using), the eggs, and the reserved basil sprigs, and serve immediately.
Traditional Ingredients for a salade Niçoise are tomatoes, hard-cooked eggs, anchovies, or tuna (not both fish at once!), cebettes (spring onions or scallions), black olives, basil leaves. In season, you can add fava beans, tiny artichokes, celery hearts, or small green peppers (not spicy).
Small artichokes peeled of their leaves are often included in a salade Niçoise. If you can find them, make sure that once the leaves and choke are removed, you rub the artichoke with a lemon to keep it from turning black. Just before serving the salad, thinly slice the artichoke and toss it with the rest of the ingredients.
If you cannot find fresh fava beans, use frozen. They benefit from a quick plunge into boiling water—see instructions. If you can't find either fresh or frozen favas, simply omit them from the salad.