ChomChom Review: How This Sustainable Alternative To Lint Rollers Saved My Space From Pet Fur
mbg Deputy Commerce Editor
By Braelyn Wood
mbg Deputy Commerce Editor
Braelyn Wood is the Deputy Commerce Editor at mindbodygreen. She has a B.S. in journalism from Northwestern University, along with a certificate in marketing.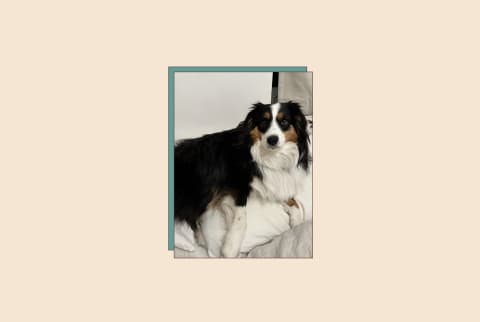 May 13, 2023
We carefully vet all products and services featured on mindbodygreen using our
commerce guidelines.
Our selections are never influenced by the commissions earned from our links.
Walks, feedings, and baths were all expected tasks after adding a dog to my household. But one thing I never anticipated spending so much of my day dealing with was pet hair. Whether it's trapped in my bedsheets or floating in my coffee cup, my dog's fur is everywhere. Trying to contain the loose strands became a full-time battle—and it was one I was steadily losing before discovering the ChomChom Pet Hair Remover.
What is the ChomChom Pet Hair Remover?
My tiny apartment in Brooklyn is one of my favorite spaces, but it can easily start to feel messy due the square footage. Knowing that clutter can make me feel overwhelmed—with one study even linking it to a lower quality of life1—I try to be on my spring cleaning routine. This extends to everything from keeping my dishes clean to removing my dogs extra pet fur.
Beyond vacuuming my apartment twice a day, my go-to method for getting pet fur off fabric surfaces around my home was a lint roller. The sticky sheets trapped fur and lint without messing up my freshly made bed. The portable size also made it super easy to quickly clean up a mess when my dog left the room without having to pull out the vacuum.
But each roll of stick sheets only lasted a week or so before requiring a replacement, a side effect of my mini Australian shepherd's fluffy coat. I started to feel guilty about the excess waste and set out to find a more eco-friendly alternative.
My search led me to Amazon, where the ChomChom device had already impressed more than 106,000 shoppers who gave it a perfect rating. I was intrigued by the low-waste design, which captured fur in an easy-to-access chamber, and the under-$30 price. I removed the lint roller refills from my virtual cart and added the ChomChom instead.
How the ChomChom works
Similar to a lint roller, the ChomChom operates best running back and forth in the same direction on a fabric surface. The movement creates an electrostatic charge, which draws loose fur and lint onto the nylon brush. When moved in the opposite direction, another internal nylon brush scrapes off any fur and deposits it into the collection chamber.
While it sounds complicated, the product itself is super easy to use and far more effective than a lint roller. Revamping my entire couch takes less than 60 seconds, including the back cushions and side panels. Although my bed takes slightly longer—because I have to create resistance to prevent the ChomChom from getting caught on loose fabric—I can still have my sheets looking freshly washed in a matter of minutes.
Once the compartment is full, I simply press the button on the handle to pop open the fur chamber. I can then dump loose pet hair out of the canister and directly into the compost, a tip from mbg's senior sustainability editor Emma Loewe. (Yep, it's totally compostable along with my food scraps.)
My favorite ways to use the ChomChom
No fabric surface is safe from the wrath of the ChomChom. Both my roommate and I use the device on our sheets, duvets, and pillows a few times a week to pick up loose fur. It gives our spaces an easy refresh without needing to wash our bedding multiple times per week. The couch also receives regular rubdowns with the ChomChom, and it's the only reason the budget-friendly seating still looks so high-end.
The ChomChom is also a phenomenal addition for keeping clothing fur-free. We use it on our wool winter coats, dark denim, and black tops to remove any random pet hair. Similar to bedding, it needs to be held taut to prevent the brush from getting caught up on loose fabric. However, it's far more efficient than any lint roller I've previously used, even if it does require some unique maneuvering.
My only complaints about the device are that it's mostly made from plastic and it's rather loud. But it's worth noting the plastic is BPA-free, and the manual device is still quieter than a vacuum, even if my dog ran out of the room the first time that I tried to use it. (Now she sits patiently on the other side of the couch until my work is done, only to immediately undo it.) Plus, the durable design shows no wear or tear even after hundreds of uses over a nearly 3-year span—so I expect it to last.
The takeaway
Dealing with pet fur sucks, but having the right tools can make the process way less painful. Adding the ChomChom to my lineup of cleaning products gave me a more sustainable way to tackle pet fur around my home without creating too much waste—and for less than $30. Plus, it's an easy way to capture pet hair for composting, one of the easiest ways to reduce your environmental impact.
Braelyn Wood
mbg Deputy Commerce Editor
Braelyn Wood is the Deputy Commerce Editor at mindbodygreen. She has a B.S. in journalism from Northwestern University, along with a certificate in marketing. After interning at Bustle Digital Group and Cosmopolitan, her love of products (and a good deal) led her to the commerce space, and she joined Meredith Corporation as its first health and wellness-focused shopping writer. During this time, her byline appeared in Health, Shape, InStyle, People, and Travel Leisure, as she covered topics like workout gear, home goods, and coronavirus essentials to help shoppers lead healthier lives. In her current role, she helps readers find the best deals, uncover the latest launches, and understand which items are worth the splurge (or not) from her home in Brooklyn, New York.