Close Banner
Advertisement
This ad is displayed using third party content and we do not control its accessibility features.
paid content
 for

3 Easy Ways To Be A More Eco-Minded Pet Parent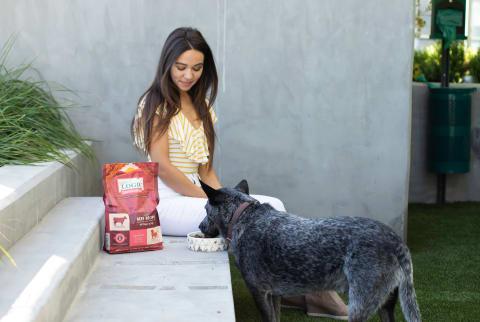 Image by Nature's Logic / Contributor
When it comes to sustainable habits in everyday life, the natural tendency is to think about your individual relationship with the planet and world you inhabit. From how to set up your kitchen for low-waste success, to your a.m.-to-p.m. at-home lighting scheme and electricity use, you consider how your unique actions affect the health of the world at large.
While this is a necessary first step toward a more eco-conscious life, it's also important to think about the things, both inanimate and animate, that you're responsible for beyond your own body and mind. From vehicles and appliances to your children—human and pet! Your furry best friend can't be responsible for himself, so it's important you consider your pet's little carbon pawprints for him. To help make the process a mere walk in the park, here are a few helpful tips and swaps.
Choose eco-conscious supplies.
Just as you would for your human children when buying toys, toiletries, and beds, opt for products made from recycled or sustainably conscious materials. Brands like Aussie Naturals use materials like jute, natural wool, and coconut fibers in their products, which are responsibly made to naturally stand the test of time...and your dog's playful biting.
When it comes to shampoos, conditioners, and other grooming must-haves, look for environmentally friendly options like Earthbath that are paraben- and synthetic-free and come in eco-friendly packaging. You can even choose to bypass packaging altogether with low-waste options like shampoo bars. They'll provide all the grime removal without extra packaging. Win-win.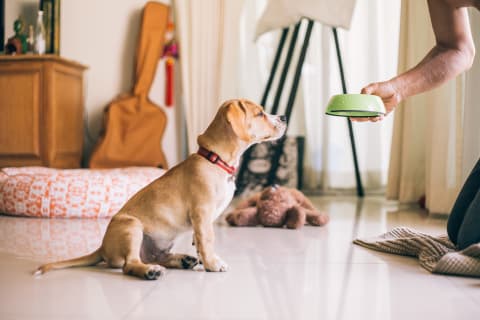 Image by JOVO JOVANOVIC / Stocksy
Change up the doggy diet.
"You are what you eat" doesn't apply only to humans! What your pets consume matters, and unlike when you sit down at the table sometimes, you're in complete control, no craving -management necessary. When considering a food for your pet, opt for a brand like Nature's Logic, which is a premium, 100% natural food. When we say natural, we mean TRULY natural: There are zero chemically synthesized vitamins, minerals, or other human-made nutrients, and no artificial flavorings, colorings, or chemical preservatives. If your jaw dropped at this list, you're not alone. It's shocking how often unrecognizable ingredients are found in the common dog food you see on the shelves, so choose wisely.
Flip over your pet food and take a look at the nutrition facts just as you would your own grocery haul. With Nature's Logic, you can feel confident knowing your dog won't be exposed to any potential toxicities from human-made additives, and you're doing good for the planet. Headquarters, as well as the production of the kibble and packaging, is powered with 100% renewable electricity. The brand's Distinction line is packaged in Certified Plastic Neutral bags, and the newest recipes are made with MSC-certified seafood. Plus, their latest treat options come in bags made of 45% Post-Consumer Recycled materials. Synthetic-free nutrition, responsibly packaged, and manufactured with renewable energy—could you ask for anything more?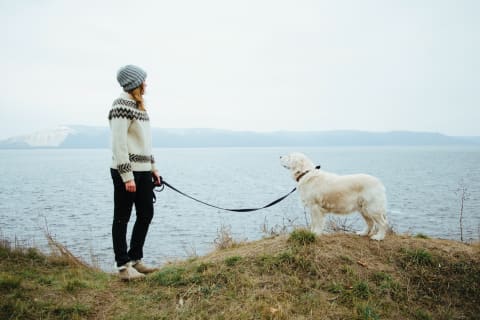 Image by ZHPH PRODUCTION / Stocksy
Take sustainable strolls.
When out on brisk walks with your pup, you bask in the exercise, good company, and scenic views. Of course part of the experience is the inevitable moment when you have to "pick up" after them.
Rather than grabbing a plastic bag you may (though shouldn't!) have lying around, try using Earth Rated compostable poop bags—an ideal zero-waste container for your dog's, well, waste. Check your municipality to be sure they accept pet waste for composting, but many do. For longer walks, be sure to bring along some snacks for yourself and your dog in stasher bags. They're the perfect storage tool to toss into your bag or backpack when on-the-go with your pet.
In today's world, eco-friendly pet parenting doesn't have to be a headache. Brands are looking out for you and the furriest members of your family, so you can look out for the planet. Follow these simple tips and you, your pet, and the planet will be healthier long term.