Break Out The Dutch Oven For This Hearty One-Pot Vegetarian Stew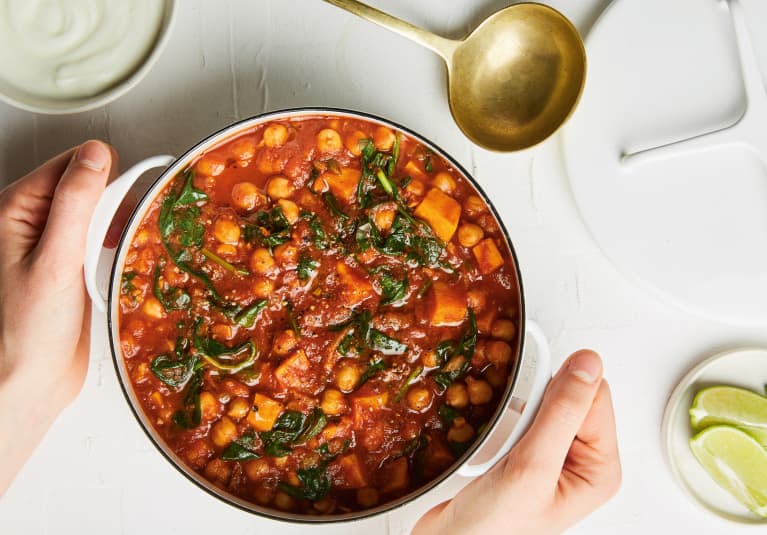 This is a tasty vegetarian meal you can have on Meatless Mondays or whenever you find yourself craving a simple, nutritious dinner. Initially, I made it as a filling for another recipe, but I couldn't resist eating it all on its own! This stew is buttery and vibrant, and the garnishes of yogurt and lime wedges add a touch of acidity and tanginess to balance the flavors.
One-Pot Sweet Potato, Spinach & Chickpea Stew
¼ cup ghee or virgin coconut oil, divided
1 small yellow onion diced
1 clove garlic, minced
1½-inch piece of fresh ginger, peeled and minced
1 teaspoon ground coriander
1 teaspoon ground cumin
1 teaspoon garam masala
1 teaspoon sea salt
Pinch of chili powder
1 28-ounce can crushed tomatoes
1 medium sweet potato, peeled and diced into ½-inch cubes
2 cups canned chickpeas, drained and rinsed
¾ cup water
4 cups packed baby spinach
Plain full-fat yogurt or plain coconut yogurt, to serve
Lime wedges, to serve
In a large Dutch oven or a heavy-bottomed pan with a tight-fitting lid over medium heat, melt 2 tablespoons of the ghee or coconut oil. Add the onion, garlic, and ginger. Cook, stirring occasionally, until softened, 7 to 8 minutes.
Add the coriander, cumin, garam masala, salt, and chili powder. Stir to combine. Cook for 1 minute until fragrant.
Add the tomatoes, sweet potato, chickpeas, and water. Stir to combine. Bring to a boil, then reduce the heat to medium. Cover and cook until the sweet potatoes are fork-tender, 30 to 35 minutes.
Remove the lid and add the spinach. Cook for 5 more minutes, uncovered, until the filling thickens and the spinach wilts.
Remove the heat. Gently stir in the remaining two tablespoons of ghee or coconut oil. Serve with yogurt and lime wedges.
Want to turn your passion for wellbeing into a fulfilling career? Become a Certified Health Coach! Learn more here.