11 Makeup Artist Tips That Will Make Brown Eyes Pop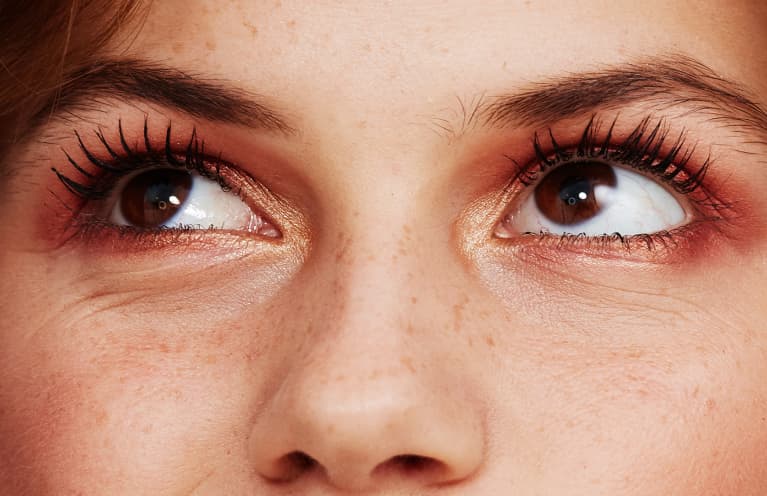 Our editors have independently chosen the products listed on this page. If you purchase something mentioned in this article, we may
earn a small commission
.
Van Morrison sang about brown-eyed girls, and the reality is that brown is the most common eye color in the world, thanks to genetics and a concept known as dominant alleles. However, there are so many variations of brown—think honey, amber, caramel, and deep chocolate—and it's not a simple category by any means. So when it comes to makeup, brown-eyed beauties can find more than a few tricks to make their orbs pop.
In truth, there's no hard rule that you have to apply your makeup a specific way just because you have brown eyes. No, the makeup police aren't going to come knocking on your door just because you decided to line your brown peepers with a neon pink hue. But just like some shades can enhance specific skin and undertones, a few makeup techniques can help accentuate your eye color. If you've got baby browns, these makeup tips are designed to make your eyes the center of attention.
Makeup tips for brown eyes.
While this isn't an exhaustive list of brown eye makeup tips, feel free to use this guide as a starting point—whether you're new to wearing makeup or want to shake up a go-to routine that's become a little too…well, routine:
1.
Make golden/hazel eyes pop with a gradient lid.
If you're a fan of gradient eye looks, you'll appreciate this tip from celebrity makeup artist (MUA) and founder of Preface Cosmetics Lynn Simpson. We all know that brown eyes can come in a range of shades from deep brown to light hazel. For those of you with hazel or golden eyes, Simpson recommends playing up those light hues by creating a fun gradient visual on your lids.
She shares that "with lighter brown eyes…I love to really make the lightness pop with amber golds on the center lid, and darker bronze/espresso tones to contour the outer corners of the eye." To finish this look, line with a black liner for a bold effect.
2.
Intensify brown eyes with matte brown shadow.
It might seem like an odd recommendation that using brown shades on brown eyes can enhance their appeal—but it can! The trick is to choose hues that contrast with your eye color. Lighter brown eyes can take advantage of rich chocolatey shades, while deep brown eyes can play with fun caramels. However, if you're trying to create contrast with light brown shades and you have a deeper skin tone, make sure that you pick hues that remain visible against your skin but don't create an ashen cast. So you'll want to pay attention to your undertones and pick shadows accordingly.
3.
Brighten eyes & face with an inner corner highlight.
Global MUA Natasha Moor—and founder of Natasha Moore Cosmetics—encourages all brown-eyed makeup lovers to remember to brighten with highlight. "Apply highlighter on the inner corner of your eye. It brightens up your face, and the reflection will make your eyes sparkle."
4.
Consider hair color when picking eyeshadows.
Eye color alone, along with your skin's undertones, aren't the only factors to keep in mind as you plan your eye looks. You also need to consider your hair color. For example, for people with a lighter hair color, cooler shadow tones can work well with the natural brightness in your hair. Meanwhile, those with darker strands may find that warmer shades help create contrast so that their brown eyes don't blend in with their naturally dark hair.
5.
Consider a mascara-focused eye.
Moore often opts for a mascara-focused look over a heavy liner—think wide, Bambi-like brown orbs. But she recommends that if you can't stand the idea of going without a liner, use "a very thin liner [which] will accentuate the color [of your eyes] and make it pop."
6.
The classic brown on brown pairing.
While it's not a hard rule, there's nothing wrong with a little brown-on-brown makeup action. Brown liner can make brown eyes pop on all skin tones. Again, it's just about finding the right shade that compliments your undertones. When paired with a good mascara (or pair of false lashes), you can create a winning combination.
7.
The blue and brown combo.
And on the subject of eyeliner, don't forget the power of a bold blue line. There's quite an array of shades to choose from: Beauties with darker brown peepers can opt for rich navy or electric blue hues to help build contrast and visual interest. Meanwhile, light brown eyes play well with both light blue and deeper hues.
While classic lines and simple cat-eye or winged liners are great options for a blue hue, you can also play with unique eyeliner techniques to make the color stand out even more. And while you can focus on the upper lash line, feel free to have more fun with it by lining your lower lash line and smudging it for a bolder effect.
8.
The blue-brown multi-liner twist.
If the idea of skipping black eyeliner is simply too much to fathom, consider this funky graphic liner idea: Instead of solely lining your upper lid in blue, start with a thin black line that's closest to your lash line. Then follow up with your preferred blue hue directly above the black line you created. Consider making it dramatic with a fun cat-eye or wing on the outer corners. So while you'll still get the classic definition from black liner, the blue gives it a fun, modern twist.
Before you cringe at the thought of getting glitter particles in your eyes (ouch!), know that you can also find versatile pressed or crayon shimmer shades that offer a bold, glimmering look without the eye-irritating scratchiness or additional prep (or the environmental concerns from those microplastics).
For this, you'll want to stick to shades in the brown family. Think copper, brown, gold, and bronze. You can wear them alone or pair them over warm, matte brown hues to create a contrast that helps your eyes pop. If you want, you can line your upper lash line in classic black or opt for a rich brown. Just be sure to invest in a good mascara to help finish the look. (Find our favorites here.)
10.
Don't forget about purple.
Similar to blue shades, purple complements brown eyes perfectly. Again, you'll want to find colors that don't just work with your eyes but your skin and undertones, too. Warm skin tones will fare well with warmer hues (regardless of whether they're light or dark), while cooler skin tones might prefer an icier purple shade.
11.
Think about color mascara.
In case you haven't noticed, brown eyes pair exceptionally well with vibrant color. That said, consider swapping out your tried-and-true black mascara for a nontraditional colorful alternative. If a bold shade is too intimidating, Simpson recommends you "play with burgundy mascara. It will go on almost black, but the tone against your eye color will really make a huge difference."
In reality, having brown eyes doesn't mean you can't rock colors other than soft earth tones. Thanks to platforms like Instagram and TikTok, you can find a plethora of creative makeup looks—and you'll see not everyone rocking a neon-hued cut crease has green or blue eyes. But for those who want to build their makeup application education, our tips are the perfect starting point to becoming a makeup maven. If you feel slightly overwhelmed by the thought of winged liner (you're not alone), check out our step-by-step guides to applying both liner and shadow.