How To Make A Protein-Packed Breakfast Board + A Recipe To Try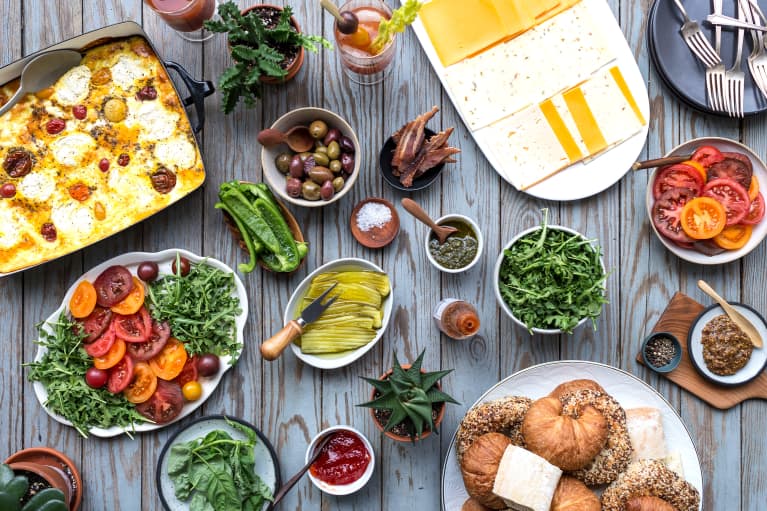 Our editors have independently chosen the products listed on this page. If you purchase something mentioned in this article, we may
earn a small commission
.
Breakfast boards are an enchanting way to eat. Besides sheer versatility, this morning take on the classic cheese board is a fabulous opportunity to unleash your culinary creativity, perk up leftover food, or curate a selection of tasty ingredients. All it takes is a little bit of planning, joy, and strategy to make your breakfast board not only aesthetically cohesive but also bursting with healthy components.
How to create a breakfast board.
Breakfast boards usually require minimal culinary skills to assemble, which is perhaps why they're so popular for entertaining a group of any size. Even though they may seem simple, give yourself plenty of time to bring your creation to life—the act of building your breakfast board can be as exciting as the nibbling itself. And it doesn't have to be an individual project, either; consider collaborating with a loved one.
The theme for your breakfast board can be as diverse and innovative as you'd like. From seasonal-inspired to protein-packed breakfast boards, go for an idea that best suits your needs (and ingredient preferences).
2.
Choose your ingredients.
Boards are all about the ingredients you use to create them, shares Shelly Westerhausen, author of Platters & Boards: Beautiful, Casual Spreads for Every Occasion. "Try to use ingredients that are as fresh and unique as you can find; this is a chance for you and your family to try something new, so stop by a farmers market or artisanal food shop to find unique jams and sauces," she says. "Not only will these items keep your boards interesting, but they will be conversation starters."
Choose ingredients that play well together and sound good to you—flavor, touch, smell, and texture-wise. The magic of creating a food board is that you can mingle and blend the components as you'd like, while pairing foods that complement each other.
Not only can you fine-tune the ingredients according to taste (and eating styles), but you can also easily scale up or down to accommodate your number of guests.
3.
Have fun with serving supplies.
To get started, think of your boards, trays, serving bowls, ramekins, trays—or any other type of food vessel—as your foundation, which will also determine the space and surface you'll work with.
Although options for displaying beautiful food might seem infinite, it's worth giving it some thought and attention beforehand. Using a pink Himalayan salt slab as your backdrop, for instance, makes food pop and look different than it would on a darker, walnut wood board.
Also, consider the tools for your breakfast board concept: mini utensils, wooden picks, tongs, napkins, cheese knives and markers, glass domes, parchment paper, etc. These simple tools can truly elevate the noshing experience.
Finding the perfect breakfast board idea can be an imaginative journey to navigate by yourself, or with the help of your favorite cookbook luminaries. When it comes to protein-laden breakfast board inspiration, this recipe from Westerhausen (along with her co-author Wyatt Worcel) will surely jump-start your creative board genius.
Breakfast Sandwich Table Spread Recipe
Having a brunch gathering? Prepare this collection of fixings that allows your guests to customize their sandwiches.
Serves 12
Strategy: You have two options for presentation here: You can make an assembly-line table off to the side for guests to gravitate to when they are hungry, or you can set up a big spread on your dining-room table if you are planning for everyone to sit down at once to eat. If going the assembly-line route, buy presliced cheese and make sure to slice the bagels, croissants, and ciabatta beforehand to keep your guest line moving. Cluster ingredients onto several trays or boards based on these groupings: bread, toppings and cheeses, and spreads and garnishes.
Drink Pairing: You are making a huge spread for your guests, so if anyone offers to bring drinks, suggest Bloody Mary supplies and put them in charge of whipping them up when they arrive.
Ingredients
4 bagels, sliced
4 croissants, sliced
4 slices of ciabatta bread
12 tomato slices (from about 3 large tomatoes)
2½ cups (50 g) arugula
Ricotta and Tomato Baked Eggs (recipe below)
2 bell peppers, cut into strips
4 Swiss cheese slices
4 pepper Jack cheese slices
4 Cheddar cheese slices
½ cup (125 g) Pistachio Herb Pesto (recipe below) or store-bought pesto
6 tbsp. (90 g) Whole-Grain Lager Mustard (recipe below) or store-bought whole-grain mustard
½ cup (150 g) Tomato-Thyme Jam (recipe below) or store-bought savory jam (such as red pepper jelly)
1 bunch fresh basil
12 oz. (330 g) Bread and Butter Pickled Vegetables or store-bought pickles
36 pitted olives
Fine sea salt
Freshly ground black pepper
For an assembly line setting: Place serving plates and utensils for the guests to use on the far left of the table. Place the bagels, croissants, and ciabatta on the first tray (the one that is farthest to the left). Place the tomato slices on a rimmed dish (to keep the juices from spreading) and add to a second tray along with the arugula, baked eggs, bell peppers, and cheeses. Place the tongs near the cheese along with any spoons or forks that will be needed to easily pick up the vegetables.
Place the pesto, mustard, and jam in three small bowls. Place the pesto bowl, mustard bowl, jam bowl, basil, pickled vegetables, olives, salt well, and pepper grinder on the last tray, along with serving spoons for each one, and put it to the far right of the table. As soon as it's all ready and set up, call your guests to the assembly line. Make sure they come and enjoy it while it's hot!
Alternatively, if you are planning to host a sit-down brunch, set the table for 12 with plates and utensils. Transfer all of the food into individual bowls and/or serving dishes and place them out on the table. Make sure to have enough serving spoons and forks on the table as well for dishing the food out. Serve as soon as it's ready and set up.
Ricotta & Tomato Baked Eggs (serves as a board component)
8 eggs
1¼ cups (300 ml) whole milk
1 tsp. fine sea salt
1 tsp. dried oregano
Dash of freshly ground black pepper
8 oz. (230 g) whole-milk ricotta
15 cherry tomatoes
1 heaping tbsp. shredded Parmesan cheese
Preheat the oven to 375°F (190°C) and grease a 9-by-13-inch (23-by-33-cm) pan.
Whisk together the eggs, milk, salt, oregano, and pepper. Pour the mixture into the prepared pan.
Spoon heaping spoonfuls of ricotta into the egg mixture, placing them as evenly as possible throughout the eggs. Sprinkle in the tomatoes, filling any spaces between dollops of ricotta.
Sprinkle the top with Parmesan and bake until the eggs are completely set and starting to brown, about 30 to 40 minutes.
Remove from the oven and season with salt and pepper.
Let cool for 10 minutes and then serve warm.
Pistachio Herb Pesto (serves as a board component)
3 cups (80 g) fresh herb leaves such as basil, mint, sage, or parsley
⅓ cup (50 g) pistachios
1 garlic clove
1 tbsp. freshly squeezed lemon juice
2 tbsp. grated Parmesan cheese
½ cup (120 ml) olive oil
Fine sea salt
Freshly ground black pepper
In a food processor, pulse the herb leaves, pistachios, garlic clove, lemon juice, and Parmesan five times or until everything is chopped into small pieces. With the food processor running, slowly pour in the olive oil and process until a thick pesto forms, about 15 seconds. Season with salt and pepper.
Serve right away or store in an airtight container in the refrigerator for up to 5 days. Bring to room temperature before serving, as the olive oil may solidify in the refrigerator.
Whole-Grain Lager Mustard (serves as a board component)
This tangy and spicy mustard (makes 2 cups) pairs nicely with sweet fruit and savory cheeses. Keep the mustard spicy as is, or add more honey at the end to sweeten it up to your liking. Don't skip soaking the seeds overnight in the vinegar mixture, as it helps mellow them out. Yellow mustard seeds are milder than brown, so feel free to use all yellow if you want a milder result or more brown to make it even spicier.
Ingredients
½ cup (100 g) yellow mustard seeds
¼ cup (50 g) brown mustard seeds
½ cup (120 ml) apple cider vinegar
½ cup (120 ml) pale ale beer
1 tbsp. lightly packed brown sugar
⅓ cup (110 g) honey + more as needed
Salt
Combine yellow and brown mustard seeds, cider vinegar, beer, and brown sugar in a small bowl or medium glass jar. Cover and refrigerate for 24 hours.
Transfer to a food processor and process until almost smooth, about 30 seconds. Add the honey, and process for another 15 seconds. Taste and season with more honey or salt, if needed.
Serve right away or store in an airtight container in the refrigerator for up to 1 month.
Tomato-Thyme Jam (serves as a board component)
½ cup (100 g) sugar
½ fresh thyme leaves
About 10 Roma tomatoes, cored and quartered
3 tbsp. freshly squeezed lemon juice (from about 1 lemon)
1 tsp. fresh lemon zest (from about 1 lemon)
1 tsp. fine sea salt
½ tsp. freshly ground black pepper
In a food processor, pulse the sugar and thyme leaves for 15 seconds, until fragrant and the thyme is evenly mixed throughout the sugar. Add the tomatoes, lemon juice, and zest, salt, and pepper, and pulse for an additional 15 seconds, or until the sugar has dissolved.
Transfer the tomato mixture to a 12-inch (30.5-cm) nonstick skillet. Bring to a boil over high heat and let boil, stirring occasionally, until reduced by half, about 10 minutes. Turn the heat to medium-high and cook for an additional 10 to 12 minutes, stirring often, until it reaches the consistency of jam and becomes glossy.
Remove from the heat and let cool.
Season with salt and pepper. Serve right away, or store in an airtight container in the refrigerator for up to 7 days.